Week 7's Monday Night Football game between the 4-1 Baltimore Ravens and the 1-5 Jacksonville Jaguars was one of the most despicable displays of offensive football you'll ever see.
Ever.
The Jags eked out a grotesque 12-7 victory in a game that was highlighted by four Josh Scobee field goals and 105 rushing yards from Maurice Jones Drew.
It was lowlighted by nine Jaguars completions and 28 Ray Rice rushing yards.
As always in life, there's a bright side to even the ugliest misfortunes. In last night's case, that was Twitter snark!
Let's look at some of the Twittersphere's funniest tweets from Ravens vs. Jags, starting with our very own @BleacherReport handle!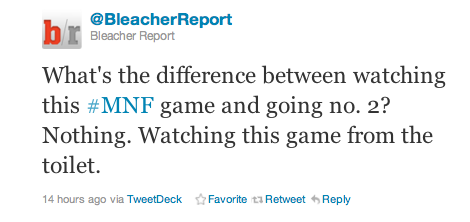 Always wanted a flat-screen in my bathroom. Well done.

Probably should've been listed as "doubtful." Or, more likely, on IR.

Even still, was genuinely surprised to find out the World Series had a higher TV rating than Monday Night Football.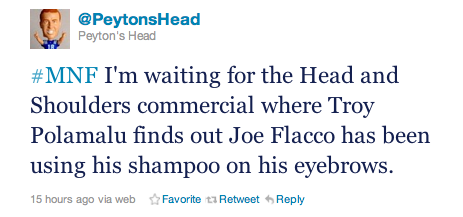 Oh no you di'ent.

I find this hard to believe. Jim Caldwell hasn't cracked a smile since '83.

Thanks for reading!