Blue Division:
Robert Aitken vs. Charlie Groenewegen vs. Eric Kanes
What if Chris Benoit had not killed his family and was still alive today?
NOTE FROM ERIC: This article is being written for Bleacher Report's "CvC" tournament. If you like this article, make sure to vote for it on Saturday when the poll goes up. Until then, enjoy the read!
What's up, ladies and gentlemen? My name is Eric Kanes and today I am happy to announce that I have advanced to Round 3 of the "Creature vs. Creature" competition. However, the topic that I have been assigned is a very controversial one, to say the least. It's something that we all often think about but don't often talk about - "What if Chris Benoit had not killed his family and were still alive today?"
Now, this won't be an easy topic to write about. It's hard to predict exactly how different things would've been had Chris Benoit not done what he did. However, I will do my best to write this piece from the heart and give my sincere thoughts on exactly how different the landscape of WWE would have been had the tragedy not occured.
I think the Benoit tragedy really changed a lot more than we could ever think. However, I also think that there are three things in particular that would've gone a completely different path had Chris Benoit still been alive.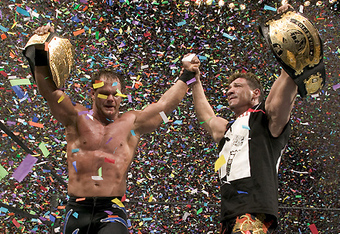 WWE's TV Rating
As we all know, the primary reason that WWE changed from a TV-14 to a TV-PG rating back in the summer of 2008 is because of Linda McMahon's political campaign at that time. Linda McMahon herself claimed that it was "a marketing strategy to attract a younger generation of wrestling fans."
Nonetheless, at that time, WWE was receiving a ton of bad press so it is no secret that the move was done to improve WWE's public image in preparation for the campaign. It is also no secret that 95% of that bad press came from Chris Benoit's double murder suicide case. The case gave Linda McMahon's competitors a lot of leeway.
Therefore, directly, the PG rating was instated because of Linda McMahon's political campaign. Indirectly, it was instated because of the Benoit tragedy.
With that said, do I think that WWE would still have the TV-14 rating had the tragedy never taken place? Absolutely.
The PG rating is undeniably a great business move because WWE can get advertisers that they never would've gotten otherwise. With the huge advertisers that WWE has now, they can afford to lose money from things like ticket sales and PPV buys because they make up for it with the money that they make from their advertisers.
However, had Benoit still been alive, I don't think WWE would have seen as much of a decline in ticket sales and PPV buyrates. As this chart that shows RAW ratings from 1995-2008 proves, the Benoit tragedy turned a lot of people off from wrestling. Post-Attitude Era, the ratings remained in the 3.7-4.1 range for the most part. After the June 25, 2007 edition, which was the Benoit tribute, ratings quickly began to plummet.
The PG Era itself turned a lot of people off as well. Nowadays, people are impressed when RAW gets a 3.2 rating. With that said, had all of these events not gone down, WWE would still have a TV-14 rating because ticket sales and PPV buyrates would not be as much of an issue to the point where they have no choice but to go PG.
With that said, we would still be able to see the occassional blood in matches like Hell in a Cell. We would still be able to see occassional cursing and bra and panties matches. Most importantly, rivalries that are the staples of the PG Era such as Chris Jericho vs. Shawn Michaels, Jeff Hardy vs. CM Punk, and The Nexus vs. John Cena could've gone a lot further than they already did.
Chris Benoit's Career
When Chris Benoit committed the double murder suicide, his career came to an abrupt end. Now, don't get me wrong - Chris Benoit already had a very illustrious career. He had a career that spanned over 22 years and the highlights included becoming a World Heavyweight Champion, WCW World Champion, 5-time United States Champion, 4-time Intercontinental Champion, 6-time Tag Team Champion, Royal Rumble winner, and the 12th Triple Crown Champion.
However, had Benoit stayed alive and remained with WWE for four more years, I think he could've ended his career as one of the all-time greats.
Here's exactly how I think the remainder of his career would pan out:
On June 24, 2007, the day of Night of Champions, Chris Benoit would have defeated CM Punk to become the new ECW World Champion.
However, his reign would be cut short for two reasons: 1) At that time, WWE also wanted to push Johnny Nitro and 2) Edge would shortly tear his left pectoral muscle leaving SmackDown without a World Champion. As we all remember, this lead to one of the lowest points in SmackDown history as The Great Khali went on to win the 20-man battle royal and become the new champion. I think this was done not because the company was so high on Khali, but rather because there was a huge lack of a better choice.
So, that is why I believe that Chris Benoit would drop the ECW World Championship to Johnny Nitro, who would later go on to change his name to John Morrison and feud with CM Punk, and Benoit would go on to enter SmackDown's 20-man battle royal and win a la Kurt Angle in 2006. That weekend, at The Great American Bash, Chris Benoit would defeat Batista and Kane at The Great American Bash and retain his newly won World Heavyweight Championship.
Over the span of the next several months, Benoit would go on to defend the world title against Rey Mysterio and Batista, putting on several classic matches with these guys, unlike the botch-fests that we saw from Khali.
Just like Khali, Benoit would lose the title to Batista at No Mercy so Batista could go on to feud with The Undertaker and Edge. After Matt Hardy would go out with an injury, Benoit would shortly rekindle his feud with MVP.
At WrestleMania 24, Chris Benoit would compete in the Money in the Bank ladder match. If you recall that time period, you'll remember that Jeff Hardy was originally scheduled to win the match but he was suspended due to drug issues. The briefcase was shoehorned on CM Punk (whose character wasn't really developed at the time) for lack of anyone better. That would've been the perfect opportunity to have Benoit win.
During the draft in June 2008, Chris Benoit would've been drafted back to ECW. CM Punk would've stayed on ECW. At that point in time, John Morrison and The Miz were the WWE Tag Team Champions. We would've had a series of classic tag team bouts except instead of Kofi Kingston, Chris Benoit would've been CM Punk's partner and instead of being on RAW, these bouts would've been on ECW, giving the brand some much needed recognition.
After having this rivalry for several months and having Benoit and Punk win the titles and then lose them back to Miz and Morrison, Benoit would've told Punk that now, he's ready to take the next step and move on to bigger and better things. He would've then announced that he's cashing in his money in the bank briefcase at Night of Champions 2008 against Chavo Guerrero. Benoit would go on to win the match and then have a long reign as ECW World Champion. He'd defeat CM Punk in a friendly rivalry and then go on to defeat the likes of Evan Bourne, Matt Hardy, and Jack Swagger. At WrestleMania 25, he'd finally lose the ECW title to a returning Christian after a nice 20-minute bout.
In the 2009 draft, Benoit would be drafted back to SmackDown. Now, in 2002 SmackDown had six guys who constantly put on fantastic bouts together. They were Edge, Rey Mysterio, Eddie Guerrero, Chavo Guerrero, Kurt Angle, and Chris Benoit and they are commonly referred to as the "SmackDown Six." In 2009, with Benoit on the show, that could've been replicated to an extent with the new "SmackDown Six" being Chris Benoit, Chris Jericho, Rey Mysterio, CM Punk, Jeff Hardy, and John Morrison. With the addition of Benoit, SmackDown could've become even more wrestling-heavy.
Benoit would spend a year similar to John Morrison - putting on classic matches on a weekly basis against the other five guys.
However, the time span after the 2010 Draft would be when Benoit would really shine. As most people remember, Edge, Chris Jericho, John Morrison, and a lot of other top stars were drafted to RAW. The Undertaker suffered an injury and afterwards, the ridiculous "vegetative state" angle with Kane started. That angle still could've taken place. However, it did not have to be the main angle for the world championship.
Here is how things should've gone - instead of losing the world title to Rey Mysterio at Fatal Four Way, Jack Swagger should've lost it to Chris Benoit, making Benoit a 3-time World Heavyweight Champion. Going into SummerSlam, Benoit would re-vive his feud with CM Punk, except this time, Punk would be the heel leader of the Straightedge Society. After defeating Punk at SummerSlam, Night of Champions, and Hell in a Cell in another epic series of matches, Punk would be traded to RAW in exchange for Edge, who would've still been a heel. After defeating him at Bragging Rights and Survivor Series, Benoit would finally drop the title to Edge in what could've been the greatest TLC match of all time.
Edge would go on to defeat Benoit at Royal Rumble, in Benoit's specialty - a submission match, after making him tap out to the Edge-ucator. However, Benoit would go on to defeat five other men at Elimination Chamber to become #1 contender yet again except at WrestleMania, this heated rivalry would end in a retirement match. Chris Benoit would win but immediately vacate the title, announcing that he himself must retire (he would be 44 years old at this point). And at that point, Benoit would have ended his storied career as a 4-time World Heavyweight Champion, the face of SmackDown, and a surefire Hall of Famer.
Chris Benoit's Legacy
Of course, this goes without saying. Had Chris Benoit not done what he did, his legacy and the way he'd be remembered would've been entirely different. Rather than being remembered as a murderer, he would've been remembered as one of the greatest wrestlers of all time.
As I already mentioned, he'd probably go on to have several more reigns as World Champion, he'd probably become the face of SmackDown and ECW, and he'd, without a doubt, be inducted into the Hall of Fame.
It's a shame that Chris Benoit's life had to end the way it did because had it not, the landscape of wrestling would have been entirely changed for the better.
-----------------------------------
If you enjoyed this article, make sure to add me on Facebook.