Claudio Marchisio will not be leaving Juventus this summer despite his ever-decreasing role, according to the latest rumours from Italy.
As reported by Gazzetta dello Sport (h/t Calciomercato), the fan favourite is well aware there are plenty of players ahead of him in the pecking order, but he wants to stay with the Old Lady, nonetheless.
The report names Miralem Pjanic, Sami Khedira, Blaise Matuidi, Emre Can and Rodrigo Bentancur as players all expected to start ahead of Marchisio this season.
Can arrived from Liverpool this summer, while Bentancur impressed during the World Cup and is in line for a breakout year as one of the club's most exciting youngsters.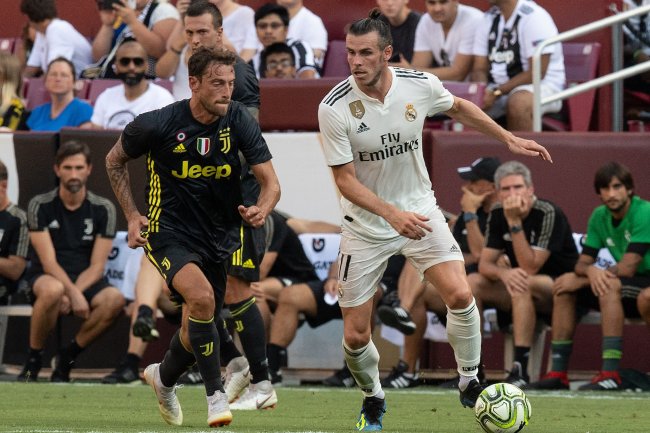 NICHOLAS KAMM/Getty Images
Marchisio is one of the few players to graduate from the academy and find success with the first team in the last decade, and that has made him very popular with the fans. The 32-year-old has also impressed with his versatility, moving out into a wide role if needed.
But his playing time has steadily decreased the past few seasons, and the arrival of Can led to plenty of speculation. Newspaper Corriere della Sera and gossip site Tutto MercatoWeb (h/t MLS' Ian Quillen) reported on American interest before the German even joined.
The Italy international has given no indication he's looking for a transfer, however:
TOGETHER, like a family 🏳️🏴👌 #ForzaJuve pic.twitter.com/bEQrsWATAL

— Claudio Marchisio (@ClaMarchisio8) August 8, 2018
As a local favourite, homegrown star and versatile, experienced veteran, it would be a smart idea to keep Marchisio around. There will be plenty of minutes to go around, and injuries always happen―especially for a team that has so many older players.
If Il Principino is content with his current role, there's no reason to push him out at this time.