As the NBA offseason winds into the late-July doldrums, when most of the big-name free agents are gone, one remains: Clint Capela.
ESPN.com's Tim MacMahon reported Capela's asking price July 10: "Sources told ESPN that the [Houston] Rockets' initial offer to Capela was in the four-year, $60 million range, with the blossoming star center seeking a deal similar to Oklahoma City Thunder big man Steven Adams' four-year, $100 million contract."
Jonathan Feigen of the Houston Chronicle tweeted:

Rockets offer to Clint Capela on July 1 was five years, $85 million, two individuals with knowledge of the offer said. With incentives, the deal could be worth $90 million. Rockets remain optimistic sides a deal will be reached. "Absolutely," one of the individuals said.

— Jonathan Feigen (@Jonathan_Feigen) July 11, 2018
That's a fair offer, and it's a far cry from chump change, but it's a lot less than he could have gotten in most years relative to the NBA pay scale. However, there are a few things working against the Rockets' restricted free agent.
Almost no one has the cap space for what he's requesting. According to Spotrac, the Sacramento Kings have about $20.5 million in practical space, but they have plenty of young bigs in Willie Cauley-Stein, Harry Giles III and Marvin Bagley III.
Furthermore, even if they made a bid, the Rockets would likely match, according to Sam Amick of USA Today.
So Capela has become the restricted free agent who suffered because he was too good and will probably end up making less money for that reason. If he were worse (see Zach LaVine or Jabari Parker), someone might have been likely to put a bid on him. But the certainty of him getting matched inhibits teams from doing so.
That's one strike against Capela.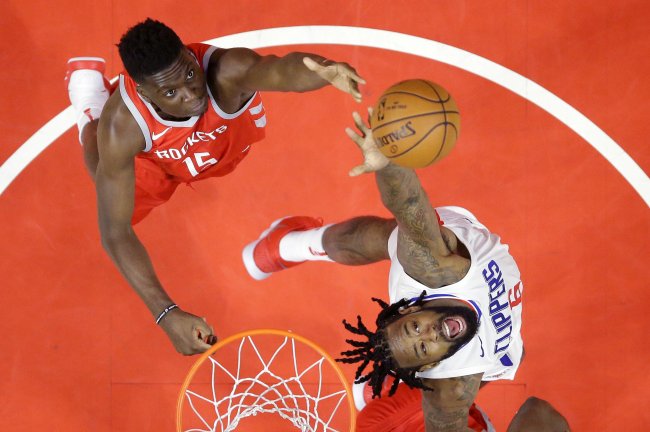 Mark J. Terrill/Associated Press
In addition, the value of centers has taken a nosedive. DeAndre Jordan signed a one-year deal worth $22.9 million with the Dallas Mavericks. Other than him, though, not many centers have gotten big-time money in recent years. The game has changed, and three-point shooters and wings are more important than having a giant in the middle.
That's strike two.
He still has one more pitch to swing at, though, in that the question isn't only what Capela is worth to the rest of the league, but also what he's worth to the Rockets.
Those two questions don't necessarily have the same answer.
It's a similar situation to that of the Golden State Warriors' Draymond Green, who is arguably a top-10 player while he's on Golden State. (For clarity, I'm comparing the circumstances, not the players.) Put him on another squad, however, and he might drop out of the top 20.
Green plugs so well into so much of what the Warriors do that he makes them better, and they make him better. Thus, Green is worth more to the Warriors than he would be to anyone else.
Capela is in the same position.
He has incredible chemistry with James Harden, developed from having played together for a few years. Whether it's grabbing nutmeg passes at his waist and deftly flushing those at the rim or ooping on any of Harden's several on-point alleys, he has an intuition for when the ball is coming and where it's going.
With his long arms and soft hands, he rarely lets the ball get away from him. His tremendous dexterity for a 6'10" big man means he's able to finish consistently.
According to NBA.com, 406 of his 441 field goals were in the restricted area, 213 of them were flushes and 93.4 percent of those dunks were assisted. He was extremely effective around the rim, finishing 69.3 percent of his attempts within three feet of the basket.
For all the talk about the Rockets and their so-called "Moreyball"—named for general manager Daryl Morey—threes are great, but dunks are even more valuable. To put things in perspective, to be as efficient as Capela is at the rim, a sniper would have to drain 46.2 percent of his three-point shots to match the "Swiss Rolls" to score the same number of points on the same number of shots.
Beyond that, though, there's the element of having the court stretched more. Now, when you think of Capela, you don't exactly think "court stretching," but his ability to help his team do so is significant. Having one player who can dominate inside means defenders have to cover that area of the court as well.
A four-out, one-in offense uses more floor space than a five-out one.
Capela takes advantage of the defenses Harden and Chris Paul break down with their dribbling, and as such, he is an essential part of the Rockets offense. It prevents teams from saving energy and focusing on chasing shooters off the three-point line.
Defensively, Capela does things, too. There's his rim protection. Opponents shot 5.1 percentage points below their season averages when he was the closest defender within six feet of the rim. He also finished fourth in the league in blocks per game with 1.9.
While that's good, there are other rim protectors out there. Capela is special to the Rockets because of his ability to switch and stay in front of guards in the pick-and-roll. His lateral quickness allows him to do so, and his length lets him challenge their shots.
Capela is one of the first to get up and down the court, too.
If you want evidence of how important he is, look no further than Rockets coach Mike D'Antoni, who told The Ringer's Kevin O'Connor in January 2017:
"But as D'Antoni told me, 'Other than the point guard, it's the most important piece.' That's because they directly impact the team's success in key areas. D'Antoni's centers must have the following core skills: defending the rim on pick-and-rolls, running the floor 'consistently, not every once in a while,' and having soft hands to finish or pass out of the pick-and-roll."
Capela is amazing at each one of those things. You might find better centers, but you won't find many (if any) who are better at that collection of things.
As a result, Capela thrives with the Rockets, just as Green does with the Warriors. And like Green and the Warriors, if he were playing somewhere else, he might not have the same value.
This is one of those perfect situations where the player makes the team better and the team makes the player better.
Capela is worth $100 million to the Rockets—but only to the Rockets—which is why he'll end up having to settle for a little less.