LeBron James never left the Cleveland Cavaliers as a free agent in 2010.
No, this isn't an attempt to suppress painful memories of Cavs fans everywhere, but rather a clarification of what actually happened.
After announcing he would be joining the Miami Heat, both front offices worked together on a sign-and-trade that sent James and his talents to South Beach, netting the Cavaliers' two first-round draft picks and two second-round picks in the process. Cleveland also received a $14.5 million trade exception and the right to swap 2012 first-round picks.
The Cavs obviously preferred to keep James, but they were also smart enough to recognize that if he was going to leave, they might as well get something in return.
Could history repeat itself in 2018?
Cleveland would love to max James out on a five-year contract. Or sign him to another one-and-one. Or watch him pick up his $35 million player option for next season. Whichever. No pressure.
A future with James means the opportunity to retool, flip the No. 8 overall pick in the draft for help and make a fifth straight trip to the NBA Finals. Watching him walk as a free agent to the Los Angeles Lakers or another attractive destination with cap space would kick off an automatic rebuild for the Cavaliers.
There is a middle ground.
If James wants to leave Cleveland, a trade would be in everyone's best interest.
Why a Trade Works for James
While James was adamant about not waiving his no-trade clause during the 2017-18 season, this summer should be a different story.
Fewer teams have max space than in previous years, mostly thanks to the plethora of awful contracts handed out during the cap-spike summers of 2015, '16 and '17. Now that these spikes have cooled off, only a handful of teams can offer James a maximum deal without first gutting the roster.
This isn't a problem if James wants to join the Chicago Bulls, Indiana Pacers or Atlanta Hawks. Thanks to the Cavaliers taking Jordan Clarkson (and giving up their 2018 first-rounder, no less), the Lakers are the only serious contender for James' services that can offer him (and another star) a full max without shedding money.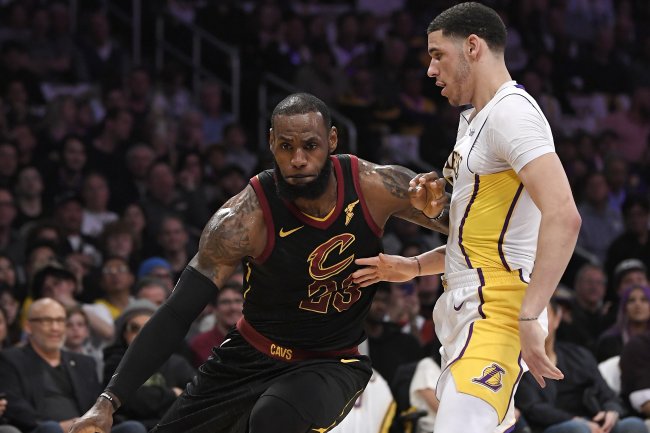 Mark J. Terrill/Associated Press
Yes, James in L.A. has amazing marketing potential, as well as the ability to bring in Paul George, Chris Paul or another star that he would love to play with. The thought of having to battle teams like the Houston Rockets and Golden State Warriors simply to reach the NBA Finals has to give him some pause, however.
Instead, agreeing to a trade or sign-and-trade unlocks a world of possibilities for James.
No longer do teams need cap space to sign him. This opens up doors to join the Rockets, 76ers, San Antonio Spurs or any other team in the NBA that would acquire James if given the opportunity.
It also lessens the sting on his legacy, assuming there's no accompanying television special, of course. He could even force owner Dan Gilbert to hold a press conference saying it was all his idea. At least, he should.
Why a Trade Works for the Cavaliers
Again, this is not an argument saying the Cavs need to trade James no matter what. Not at all. It's simply stating that if he decides to leave, Gilbert and the Cavaliers shouldn't be petty and refuse to work out an actual transaction.
Two things here are undeniably true: If James leaves, this is a team that would struggle to make the playoffs and should immediately transition to rebuilding mode. When this happens, teams need as much young talent and as many high draft picks as possible.
There is no better example of this than the No. 8 pick in the draft that Cleveland now holds. Of course, this pick originally belonged to the Brooklyn Nets and was traded to the Boston Celtics in 2013 along with first-rounders in 2014 and 2016, including the right to swap picks in 2017. The Celtics gave away aging franchise stars Kevin Garnett and Paul Pierce but have since turned those picks into Marcus Smart, Jaylen Brown, Jayson Tatum and the key piece of the trade for Kyrie Irving.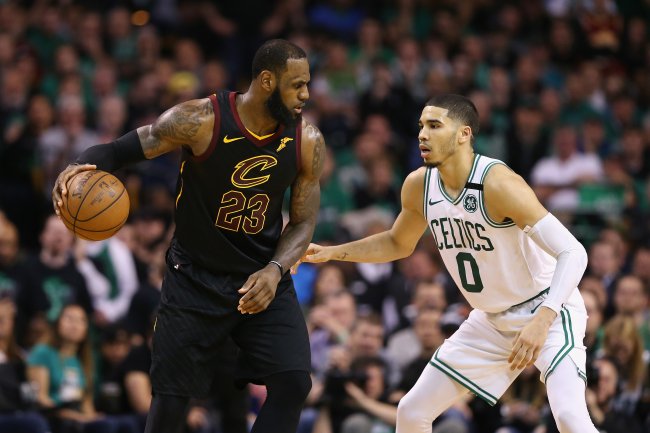 Maddie Meyer/Getty Images
If Boston didn't make that deal, we're likely still seeing an underdog team struggling to win playoff series led by Isaiah Thomas. Now, the Celtics have perhaps the brightest future in the league.
If he's leaving, the Cavaliers and James can work together to help facilitate a move to whatever team he chooses, acquiring draft picks or young players in the process.
What Potential Deals Would Look Like
Houston is an obvious fit for James. The Rockets were perhaps a healthy Chris Paul hamstring away from taking down the Warriors in the Western Conference Finals—this after winning an NBA-best 65 games in the regular season.
The Rockets are completely capped out, however, with nearly $80 million committed to just eight players and a $35 million cap hold on unrestricted free agent Chris Paul. They'll also need to draw up a new deal for center Clint Capela, one that could reach $20 million per year or more.
Cleveland could send James to Houston, with Eric Gordon coming back to the Cavaliers and a third team with cap space (the Bulls?) to eat Ryan Anderson's two years and $42 million. Chicago would likely receive multiple first-round picks from the Rockets for its trouble. The Cavs would then use Gordon as trade bait while shaving about $20 million in salary, enough to get below the luxury tax for the first time since James returned.
Philadelphia is another intriguing option here and could potentially net the Cavs the biggest return of all. James may be a little shy about joining a core comprised of players in their early 20s. Unless, of course, someone like Paul George came with him.
The 76ers can open up about $30 million in cap space, right around where George could max out with a new contract but about $5 million short of James.
If James can convince George to stay out of L.A. and remain in the East, Cleveland could trade James to the Sixers so that they could keep the cap space necessary to sign George. The Cavs couldn't get Joel Embiid or Ben Simmons back in return but should instead ask for Markelle Fultz, Dario Saric, Robert Covington and Jerryd Bayless. That may be a lot for Philly, but it would be worth it for a combination of James, Embiid, George and Simmons.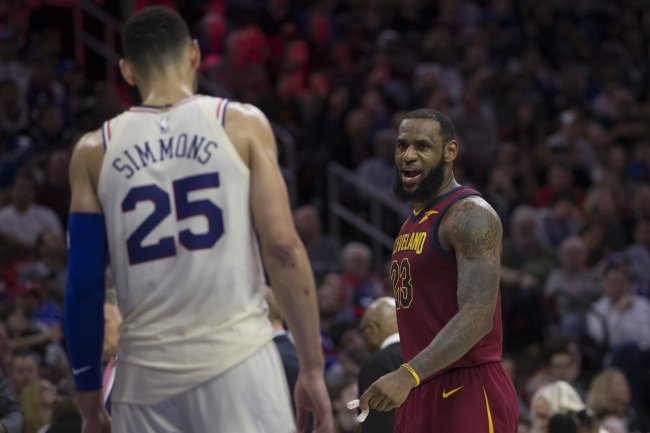 Mitchell Leff/Getty Images
A third option includes opening up three max contract spots, the same strategy that lured James out of Cleveland the first time. The Lakers can already sign James and George outright, but what about opening the door for someone like Chris Paul?
Such a move would include a third team that would be willing to take on Luol Deng's remaining two years and $36 million, with a prospect and/or draft picks as compensation. Los Angeles could send Deng and Lonzo Ball to the point guard-needy Phoenix Suns, giving them a core of Devin Booker, Ball, Josh Jackson and whomever they take at No. 1 in the 2018 draft.
Cleveland's incentive here would be to transfer James out of the East and ask for Brandon Ingram in return. Moving Tyson Chandler's expiring deal from the Suns to the Cavaliers balances out the money. Los Angeles retains Julius Randle, Kyle Kuzma and Josh Hart while getting James via trade and George as a free agent. Such a move would leave the door open for Paul or Durant, bumping the Lakers from a yearly lottery team to championship contender immediately.
If James decides to leave, the least he could do is opt into his 2018-19 contract or agree to sign a new one and be traded.
Doing so would kick off Cleveland's rebuild with a bang, help facilitate James' move and instantly make his new team a title contender.
Greg Swartz covers the Cleveland Cavaliers and NBA for Bleacher Report. Stats provided by NBA.com and Basketball Reference unless otherwise noted. Contract numbers by Spotrac.