On the heels of his third-round knockout of Justin Gaethje at UFC 218 on Dec. 2, Eddie Alvarez declared himself the most violent man in the Octagon.
"I want the best fights, I want them to be violent, and I want the fans to be jumping and screaming the same way they were on Dec. 2 in Detroit," Alvarez said on this week's The MMA Hour with Ariel Helwani. "That felt good to me, so I want to continue to feel good about the fights that I'm in."
This isn't a new concept in combat sports, obviously. Especially in MMA, there has always been a class of fighters whose pride in putting on exciting slugfests allows them to exist outside the rat race of traditional divisional title pictures.
From Tank Abbott to Wanderlei Silva to Donald Cerrone and now Alvarez, there's a special niche for people who prioritize action and entertainment over mere wins and losses.
But if Alvarez has anointed himself the UFC's new god of violence, clearly Robbie Lawler remains its godfather.
Josh Hedges/Zuffa LLC/Getty Images
Lawler's meeting with Rafael dos Anjos Saturday in the main event of UFC on Fox 26 will be his 19th fight in the Octagon and his 41st overall since turning pro in 2001. During two separate stints in the UFC, as well as significant runs in EliteXC and Strikeforce, he established himself as one of the preeminent purveyors of violence in the sport's modern era.
Any similar status enjoyed by younger fighters like Alvarez, Cerrone and Gaethje must necessarily share a lineage with—and likely owe a debt of gratitude to—the path walked by Lawler.
However, as he approaches what will almost certainly be his last fight before he turns 36 next March, it's unclear how long Lawler can go on carrying that torch.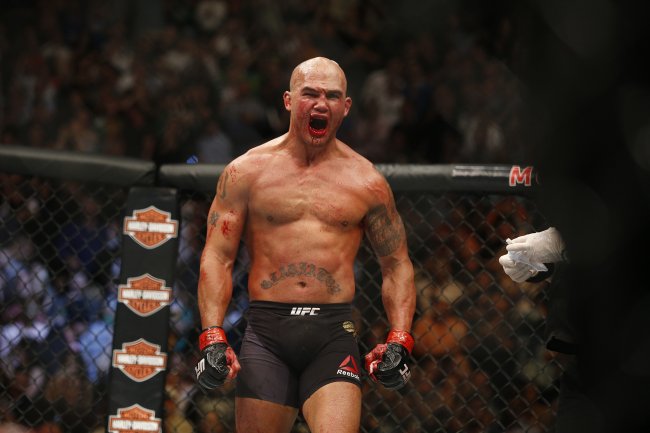 John Locher/Associated Press
Since returning to the UFC from Strikeforce in 2013, he's gone 9-2, won (and lost) the UFC welterweight championship, collected five of the fight company's performance-based bonuses and had two bouts that were declared the Fight of the Year by various media outlets.
His feud with Johny Hendricks over the 170-pound title in 2014 and his UFC 189 tangle with Rory MacDonald in 2015 are both all-time greats.
As a man of very few words, he's never given any indication he's ever wanted to be anything other than professional MMA fighter.
Yet Lawler has started to slow down in recent years.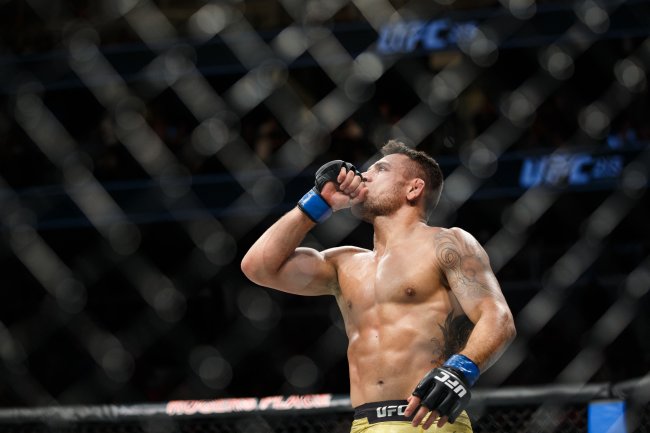 Codie McLachlan/Getty Images
After fighting four times during 2014—a year he capped by winning the welterweight title from Hendricks at UFC 181—he's navigated the ensuing years at a more deliberate pace. Lawler fought just once in 2015, though that appearance was his vicious slobberknocker with MacDonald.
Assuming he makes the date against Dos Anjos this weekend, Lawler will have fought twice each year in 2016 and 2017. After losing his title to Tyron Woodley via first-round knockout at UFC 201, he's competed just once during the last 18 months—a unanimous decision victory over Cerrone at UFC 214.
Lawler has never talked much about retirement. Then again, he's never talked much about anything, at least not with the media.
His quiet stoicism has become part of his appeal, as fans learned to love his low-key assurances that bad things were about to happen. Take, for example, Lawler's comment on a potential welterweight matchup with Conor McGregor during the summer of 2016:
Against Dos Anjos, Lawler will face another former champion who moved up from 155 pounds midway through 2017 and has since won two straight fights.
The size difference will be noticeable between Lawler and Dos Anjos, but the 33-year-old Brazil native also has a long history as an aggressive, hard-nosed fighter with good all-around skills. Historically, it's the sort of fight that Lawler would win, but OddsShark has the two going off in a near dead heat.
How Lawler fares here might tell us a lot about how much he has left in the tank. Leading up to their bout, MMA Junkie's Mike Bohn and Abbey Subhan compiled some stats that starkly demonstrate how much damage he's taken in recent years:
"Lawler has absorbed 781 significant strikes in UFC competition since Jan. 1, 2013, the most of any fighter in the company since that date. Lawler's 539 significant strikes absorbed in UFC title fights are the most in history. Lawler's significant strike disadvantage of -82 against Carlos Condit at UFC 195 marked the largest disparity in UFC history for a fighter who won a decision."
If Dos Anjos can dictate the pace of their bout, either through his in-your-face striking attack or grinding wrestling game, it could put to the test a version of Lawler who has been increasingly inactive while sustaining an increasing amount of damage during his fights.
Robbie Lawler vs Dos Anjos this Saturday LIVE and FREE on FOX!!! pic.twitter.com/p2SNB6xHZC

— Dana White (@danawhite) December 12, 2017
Because he remains so highly regarded, a victory by Lawler could conceivably set up a title rematch with Woodley. The current champion has struggled to find compelling and marketable challengers—and his efforts to lure in a big fish like McGregor or Georges St-Pierre have so far been unsuccessful.
Considering the unpredictable nature of the existing UFC landscape, all parties involved could do a lot worse than trying to set up a Lawler-Woodley rematch.
A loss to Dos Anjos, on the other hand, makes such ideas untenable.
It would push Lawler a step further down the path of age and diminished returns.
It would raise more questions about how long he can stick around and whether he can continue to avoid handing down his unique position in MMA to someone like Alvarez.