A near-perfect marriage is on its way as Ronda Rousey inches closer to joining WWE.
The former UFC bantamweight champion is an obvious fit for the sports entertainment giant. Rousey is a hard-hitting athlete who loves the world of WWE. She's a crossover star. She has both presence and punching power.
But despite it all, she's no sure thing. A number of nagging issues are more than enough to have a pessimist envision Rousey underwhelming in the squared circle.
The wait to see how she fares in the transition from MMA to WWE appears to be winding down. After months of speculation and rumors, the latest word is that Rousey is on her way soon.
Martin Rogers of USA Today reported: "She is finalizing details of her move to WWE."
Once that move officially happens, Rousey will have a whole host of things on her side. For one, she's the kind of mainstream celebrity the company covets. WWE will roll out a red carpet for her, doing everything it can to make her run a hit.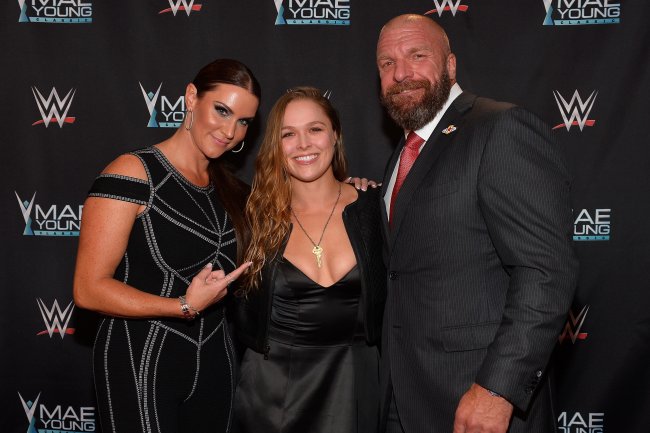 Bryan Steffy/Getty Images
She's bound to face the biggest names on the roster, and her matches will be treated like marquee events.
WWE won't bring in someone with Rousey's name power to do anything other than be a big-time attraction. She's likely to face the best WWE has to offer, be it SmackDown women's champ Charlotte Flair or Raw's apex predator Asuka.
The prospect of both those bouts has many, including Miami Herald columnist Scott Fishman, excited:

I can see the obvious money match for Ronda Rousey against Charlotte...But there is also Rousey vs. Asuka that intrigues. Especially if her undefeated streak stays intact. #WWE pic.twitter.com/nNJyfJtDWl

— Scott Fishman (@smFISHMAN) December 7, 2017
Once she's in the ring, Rousey is bound to do impressive things. Although she'll be a pro wrestling novice, her physical gifts will translate. She's an Olympic judoka and was once the most dominant fighter in UFC. Throwing human beings to the mat is her specialty.
It's easy to have doubts, however, about how she'll fare with the more theatrical side of the game.
Yes, she's been in movies. But there are no second takes in wrestling. It's a difficult, demanding art form where the audience can turn on you in a nanosecond.
When Rousey and her Four Horsewomen crew confronted Flair, Bayley and Becky Lynch during the Mae Young Classic this summer, the resulting scene was a flop.
Their exchange was middle-school-dance awkward. Rousey seemed to shrink in the moment.
Is that a preview of what she'll be like as a WWE Superstar or will the more charismatic side we saw during her MMA career emerge?
And Rousey's signing doesn't exactly come at the ideal time. Not long ago, she was sports royalty. The embarrassing defeats she suffered more recently not only left her face bruised, it hurt her buzz, as well. She's not as hot a commodity as she was when she was an invincible gladiator with a magazine-cover smile.
Jon Wertheim of Sports Illustrated: "The same way Rousey won fights in record time, her star has dimmed with unforgiving speed."
Rousey hasn't fought since last December. She hasn't won since August 2015.
That's not ancient history, though, especially in wrestling where nostalgia is a commonly consumed drug.
Shaquille O'Neal appeared in WWE well after his NBA career was done and did fine. Lawerence Taylor headlined WrestleMania XI years after he retired from the NFL.
Rousey will still bring plenty of eyes to the product. She will still be a game-changer. She will be the biggest female star to ever compete in a WWE ring.
Stats don't lie for @RondaRousey 👀 #UFC207 pic.twitter.com/zlLATP2Ysi

— UFC (@ufc) December 30, 2016
And her WrestleMania 31 appearance, where she took down Triple H and tortured Stephanie McMahon's arm, provided a glimpse of what's to come with her. Rousey looked at home on that mat with a limb in her possession and the crowd behind her.
A fighter and a famous face, Rousey will have ample tools in her toolbelt when she heads to WWE. She's made it everywhere she's gone thus far, from judo to UFC.
The inaugural UFC women's bantamweight titleholder isn't assured success in what promises to be her new home, but it wouldn't be smart to bet against her.