When Charlotte Flair and Natalya lock up at WWE Clash of Champions, it won't be a repeat of their previous bouts. Champion and challenger will be surrounded by the warriors and Divas of the SmackDown women's division in a lumberjack match.
Flair was set to face Natalya at the Dec. 17 pay-per-view to redo a SmackDown Women's Championship contest that The Riott Squad upended two weeks ago.
The clash suddenly has a different feel thanks to an added stipulation. Carmella, Lana and Tamina all pleaded with general manager Daniel Bryan to award them their own title opportunity. Ruby Riott and her crew stormed in to demand spotlight for themselves.
As announced by #SDLive GM @WWEDanielBryan, @MsCharlotteWWE defends her title in a #LumberjackMatch against @NatbyNature on Dec. 17, LIVE on @WWENetwork! #WWEClash pic.twitter.com/QfMgf5gpQC

— WWE Network (@WWENetwork) December 6, 2017
Bryan chose to make Flair vs. Natalya a lumberjack match with the rest of the division encircling the ring as the bout unfolds.
That decision is going to have a major impact on the title bout. For one, it's going to add a sense of chaos to the action. Each time Flair or Natalya leave the ring, there will be a chance for a brawl to break out as a swarm of fist-wielding women greet them at ringside.
That's good news for Riott, Liv Morgan and Sarah Logan. The Riott Squad is built for that kind of environment.
The title match now promises to showcase the new faction, to be a means to introduce the recent NXT transplants.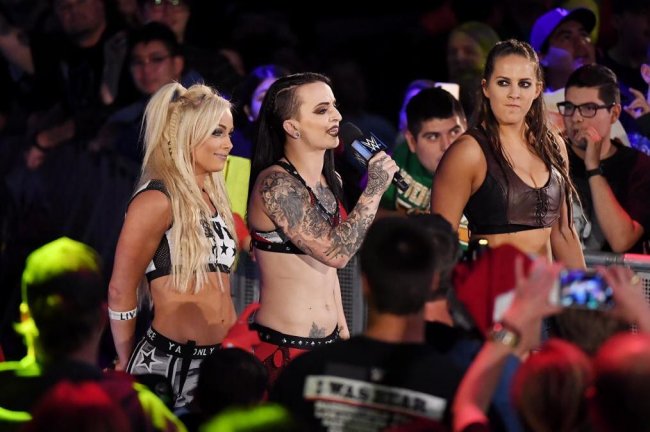 Credit: WWE.com
The trio is sure to get involved, figure into the finish and likely advance a rivalry with at least one Superstar. If The Riott Squad cost The Queen the title, she's sure to come after them. If Natalya comes up short, she's bound to blame the distractions and interference poised to occur at Clash of Champions on Riott's squad.
The lumberjack stipulation will also allow WWE to cover up the lack of buzz for this matchup.
The Flair-Natalya feud has little juice at the moment. But it will be harder to notice that because they won't be the only players on what will be a busy stage.
This route is the easy fix to a stagnant narrative.
PWTorch's Wade Keller pointed out this is all a way to cram everyone on the show. "Since WWE has a whole women's division, but doesn't want to fill a PPV lineup with three women's matches, they have to come up with situations like this to give all of the women some screen time," he wrote.
The amount of bodies and egos that will now fill up the ringside area is going to put Flair's reign in jeopardy, too.
Chaos will NOT get the best of @MsCharlotteWWE tonight! #SDLive pic.twitter.com/sCfyvjU4ri

— WWE (@WWE) December 6, 2017
Not only will she have to fend off Natalya and navigate her way through rowdy lumberjacks, there's a chance she will be out cold by the end of it. Should The Riott Squad attack after the bell, the door will be wide-open for Carmella to cash in her Money in the Bank contract.
The Princess of Staten Island could easily watch the champ take a beating by Logan, Morgan and Riott's hands and start salivating. The chances of Carmella stealing The Queen's crown went up as soon as the bout added its stipulation.
WWE Creative's options are multiplied by the inclusion of Riott, Carmella and everyone else. So at the very least, the SmackDown women's title tilt will be far more unpredictable.