Kevin De Bruyne has dismissed the notion that Paul Pogba will miss the Manchester derby because of karma after he revealed his hope that Manchester City would be without some of their key players for the match through injury.
According to Stuart Brennan of the Manchester Evening News, he said:
"I don't believe in that s--t, I'm a very straightforward guy. If someone believes it is karma then OK—everyone has their right to their opinion.
"I don't want anyone to get injured. It's a competition, you want to play against the best teams and the best players."
The Belgian echoed the words of his manager Pep Guardiola, who was similarly hoping to see his side test themselves against a full-strength Manchester United team, per City's official Twitter feed:
#PEP: I'd like Paul (Pogba) to play against us (next weekend) because I like to face teams with their best players possible.

I'm sure he doesn't want our players to be injured.

— Manchester City (@ManCity) December 3, 2017
Pogba had said of the Sky Blues: "Some day I hope they are going to slip and I hope, and I know that it's bad to say things like that, but I hope for us that some very important players get injured."
De Bruyne responded: "I don't care. He can say whatever he wants. We just have to be focused on whatever we're doing."
The Frenchman's comments have attracted attention in light of his subsequent suspension for the derby, brought on by a red card in the 3-1 win over Arsenal.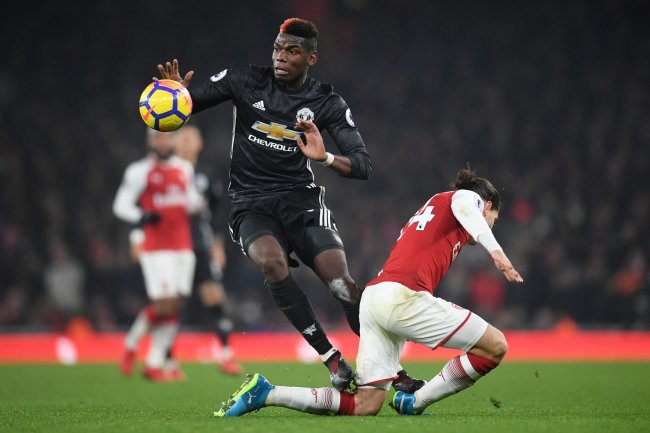 Laurence Griffiths/Getty Images
Pogba was stretching to control a pass but instead stood on the back of Hector Bellerin's knee after the Spaniard reached the ball first but found himself in an awkward kneeling position.
The midfielder's red card was deserved, but as the MEN's James Robson noted, it will take away from the spectacle of the derby on December 10:
The real shame of Pogba's red is that it deprives us of a potentially classic derby. Can't see Mourinho being anything like as open without his best player - and don't blame him one bit

— James Robson (@JamesRobsonMEN) December 3, 2017
United are certainly lacking without Pogba in the side, per football analyst David O'Brien:
Manchester United's Premier League win rate this season:

With Pogba - 87.5%
Without Pogba - 57.1%

🙃🙃🙃 pic.twitter.com/Q6cwjwXAyb

— Statman Dave (@StatmanDave) December 4, 2017
With the clash at Old Trafford, the stage was set for the midfielder to have a significant influence on the game one way or another, and his presence could have enabled Jose Mourinho to adopt an emboldened approach.
Without him, United will miss his verve and creativity in the middle, and they're now much more likely to set up to stifle City rather than attempt to match them.
De Bruyne will no doubt be key for the visitors, who have shown time and again this season that they're more than capable of unlocking sides who shut down and defend in numbers—Mourinho will need to be creative in his approach to the game even if his team may be lacking that quality on the pitch.