Before celebrating how Tiger Woods amazingly flashed back to his long-lost era of dominance Sunday, let's flip the calendar back to Thursday's opening round at the Hero World Challenge.
Even for Tiger's most devoted and hopeful fans, the goals were cautiously mundane as he walked to the first tee as barely a blip in the golfing universe, ranked 1,199th in the world. The 683 weeks he once spent at No. 1 were nearly a forgotten memory. He was viewed more as an elder statesman than a viable threat.
With no cut in this 18-man tourney, would his career-threatening spine that has required four surgeries in four years finally permit him to stay upright for four rounds? Finishing last against a world-class field was almost an assumption, but could he at least keep his scores in the 70s and avoid the anguish and embarrassment we've seen so often since his last win in 2013? And could he do something—anything—to move the narrative forward and away from that grizzled mugshot from his arrest in May, when police found him passed out behind the wheel and under the influence of painkillers and sleep-inducing drugs?
But Woods checked all of those boxes and plenty more while closing with a round of 68 that at times looked like a highlight reel from a decade ago.
Throughout the round, golf's one-time Superman hit towering tee shots that seemed determined to land on the supermoon that's hovering in our heavens. So yes, Tiger's back not only was fully tested but also provided firm evidence he still can hit it with the 20-somethings who took over the sport in his absence.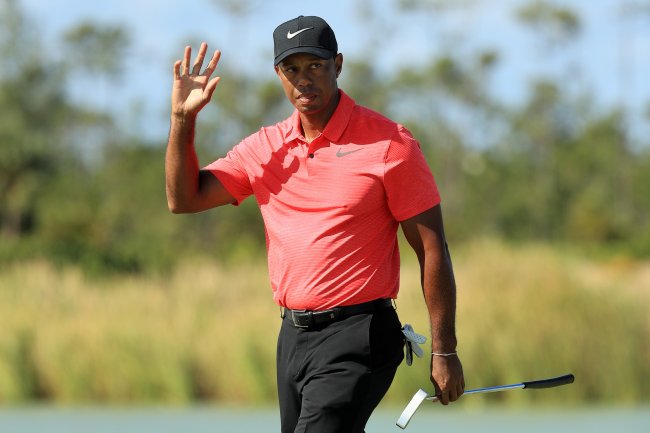 Mike Ehrmann/Getty Images
He did chunk a double-bogey midway through the round, and he closed with bogeys on 17 and 18 on makeable putts, but c'mon. With the lengthy intermission from competition and the approach of his 42nd birthday this month, the greatest golfer of the last 20 years was entitled to a smidgen of rust.
"I knew I was going to be able to play all four rounds. That wasn't an issue," Woods said on the NBC broadcast after his round. "The issue was how's my scoring going to be? My feel. How am I going to get used to adrenaline in my system for the first time in a while?"
Woods seemed at ease with that kind of energy surge when he curled in an eagle putt from 20-plus feet on No. 7. His card also included six birdies, as he erased the doubts that accompanied Saturday's struggling 75 amid British Open-like winds in the Bahamas.
"I've had some tough times through the years with my back, and then to come out on the good side and be able to get out there and play, it's pretty cool," Woods told NBC.
Bouncing back from Saturday's disappointment to a solid Sunday round was a significant development for Tiger. Even in recent successful years, Woods' Thursday-Friday dominance has vaporized when the weekend arrives, as the Golf Channel pointed out.
In 2012 and 2013, he ranked second or third for average scoring in Rounds 1 and 2, only to plummet on Saturday and Sunday. In 2012, his Saturday-Sunday scoring averages ranked only 45th and 32nd, respectively, and in 2013, they bottomed out at 48th and 95th.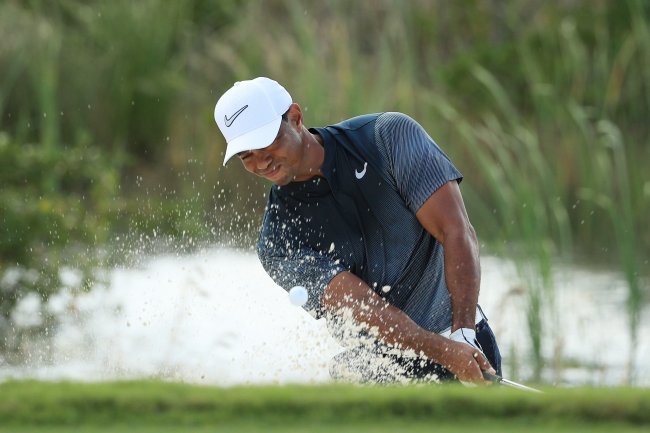 Mike Ehrmann/Getty Images
More importantly for Tiger, cameras only caught him wincing or cringing at the Hero World Challenge due to a putt rolling short or awry, not because a new wave of pain in his back.
"No pain. No," Tiger said Sunday, slamming the door on that issue for now.
And more importantly for golf, it genuinely looks like the game's Golden Goose could spend the coming season minting a new generation of nest eggs for everyone affiliated with the sport.
After all, who would have thought golf would demand an iota of attention on a weekend when the NFL was in full force and the field for the College Football Playoff was being finalized?
With jubilant tweets streaming in from Bo Jackson and other sports stars, Tiger told NBC that he also got life's big picture back in focus.
It's a great day to see @TigerWoods back on the golf course!

— Bo Jackson (@BoJackson) November 30, 2017
"I do have a better sense of it," Tiger said. "When I was struggling with my back, the world seemed very small. Just trying to do day-to-day stuff was very difficult for me to do. Now I'm able to sit back and enjoy it a little more."
The rebirth of that joyful side was evident all weekend. He was able to joke about what the betting line was on him being able to last four rounds. When he finally knocked home his first birdie Saturday on No. 14, he gave the crowd a self-mocking bow. And on Sunday, when he started to walk in a birdie putt on No. 1 only to see it slide away at the last second, he broke into a wide and self-effacing smile rather than bitterly lament the miss.
That generated big smiles not only on Woods' face, but throughout the golfing world.
For the first time in years, we can expect many more to come.
Tom Weir covered several golf majors as a columnist for USA Today.