LOS ANGELES — After pleading with the Los Angeles Lakers' public relations staff, Julius Randle reluctantly removed his hat.
"I really need a haircut, look at my chin," argued the 22-year-old forward, to no avail.
Tending to a newborn can reorganize a man's priorities; simple things like grooming can fall by the wayside. Randle is less than one month into fatherhood, as his fiancee, Kendra Shaw, gave birth to their son Kyden Randle on December 23.
With a sigh, Randle discarded his lid and turned on a smile for the throng of reporters who were eager to discuss his second triple-double of the season following the Lakers' 116-102 win Tuesday night over the Memphis Grizzlies. After putting up 19 points, 14 rebounds and 11 assists, Randle became the sixth player in the league with multiple triple-doubles on the season. His elite company consists of Russell Westbrook, James Harden, LeBron James, Draymond Green and Giannis Antetokounmpo.
The Lakers (13-25) need their young cadre of players to develop into the next generation of stars, and Randle may be the best of the bunch.
"It's hard to guard someone who can move like that and carry 260 pounds on them...and be 6'11"," Nick Young said. "He's turned into the juggernaut with handles."
Young may be giving Randle a couple of inches (the Lakers list him at 6'9"), but he makes two salient points.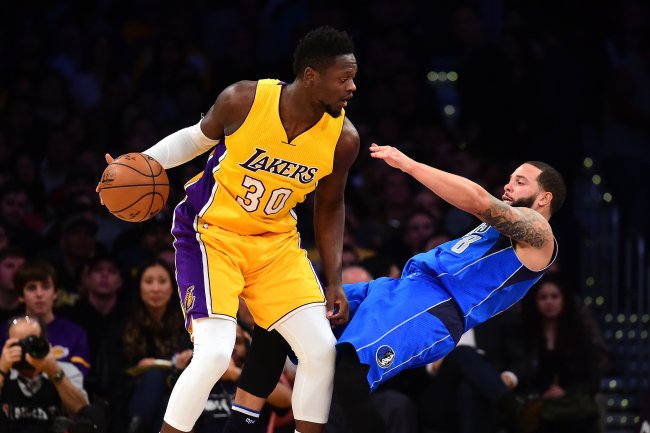 Harry How/Getty Images
Randle can be a mismatch nightmare for teams—but only when he brings that effort consistently.
The Lakers are finding sustained effort to be a consistent issue for their youthful core: Rookie forward Brandon Ingram is just trying to find his way. D'Angelo Russell may grow into an All-Star point guard but presently runs hot and cold.
That's the issue with rebuilding around inexperienced players.
"It comes with being young," Russell said. "Experienced teams do well, and a lot of the inexperienced teams don't. We've got to fall in love with the process and keep trusting our teammates."
In a way, it's coach Luke Walton's role to parent his players through their basketball adolescence.
Randle is an adult, but he's really just two years into his NBA career (after suffering a season-ending injury at the start of his rookie campaign). Walton is searching for the right buttons to press to keep Randle engaged on a daily basis.
"I told him I thought he was really, really good tonight, and not because of the numbers. I don't care about the numbers," Walton said after his team's victory.
"The thing that I liked the most about his game tonight was he was alert the whole game. He still made mistakes, but there was never a time he was on the court where he was just standing up and checked out of a possession. That's huge progress."
Randle tends to drift through stretches of games enough that his teammates have taken notice.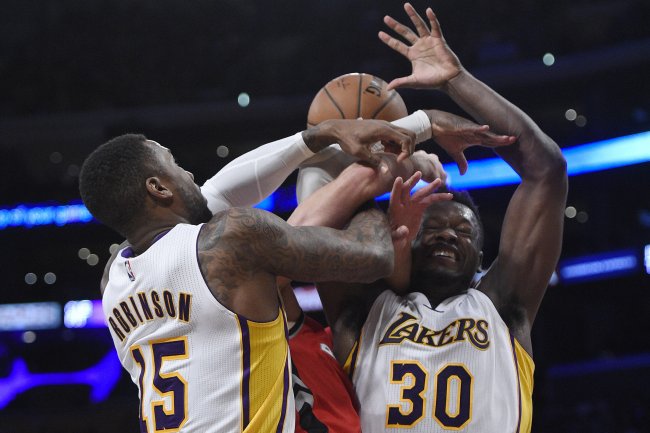 Kevork Djansezian/Getty Images
"He kind of goes in these modes where he's kind of zombie-like," Russell said. "He's not down on himself or mad at himself, he's just kind of distant. When he's on his P's and Q's and he's running, moving and using his ability, it's tough [for teams to handle him]."
"Tonight, he didn't take any plays off. He brought the energy defensively and offensively the whole game," Jordan Clarkson said. "That's what you have to do to be that triple-double kind of guy."
Even the rookie has picked up on it.
"I have trust in him, have the utmost respect in him," Ingram said. He offers Randle "constructive criticism...telling him that he needs to play better, telling him he needs to get after a little bit."
"We're here to help. We're not trying to bash anybody," he continued. "Just know that we have his back but of course we're going to get on him when he's not doing the things that Julius can do."
Walton laid into Randle during practice Tuesday in front of the squad, leaving the forward seething.
"He pissed me off," Randle said. "It's just him challenging me to do more and to accept the challenge to be coachable."
The Lakers rookie coach later called Randle at home to check on his state of mind.
"I asked him if he was still mad at me. ... And we talked out why I got on him at practice," Walton said. "Because I think he can be great, I'm going to continue to hold him to high standards. He obviously responded pretty well and gave us a real nice effort tonight."
Randle appreciated his coach reaching out once they were able to talk.
"I had my son on my chest. I had to get somebody to get the baby first," Randle said. "[Coach] just knows how to push my buttons—the right buttons, though, to get me going."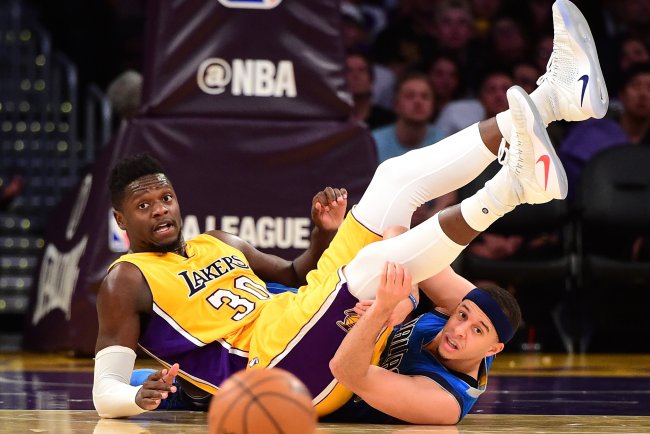 Harry How/Getty Images
"I'm just trying to grow up and be coachable. Earlier I might pout or whatever, and it throws me off my game," he continued. "[The goal is] not taking possessions off, doing more than what's asked or doing more than the norm. Playing to the best of my ability. Using all of my ability."
Randle seems to understand the message, but as he'll learn with his son, it's a long and winding road to maturity.
With recent rule changes, the NBA's new collective bargaining agreement may help the Lakers keep their young talent but hurt their chances at acquiring a star.
So the Lakers need Randle to emerge as one of the team leaders and into a star in his own right.
Lakers Insider Notebook
Dividing Up the Minutes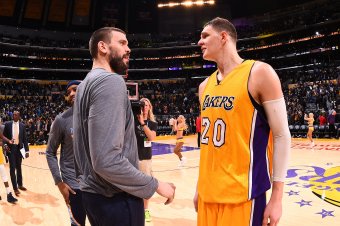 Andrew D. Bernstein/Getty Images
Walton strayed from his usual equal-opportunity rotation to favor the team's starters versus the Grizzlies, playing Timofey Mozgov and Randle 37 minutes apiece, Russell 32, Luol Deng 31 and Young 26.
On the season, Randle is the team's minute leader at 29.3 per night—a far cry from the days when guard Kobe Bryant would play nearly 45 minutes per game.
Walton insisted the rotation shift wasn't by design.
"The way we play, we have a lot of faith in our second unit," Walton said. "Our starters and bench play about the same minutes anyway, so it doesn't really matter."
Perhaps Walton's thinking will shift if the starters perform as well as they did against Memphis.
"We've got a great second unit. Everybody is capable. Tonight, they weren't horrible, they just weren't themselves and he went with us," Russell said. "When we're not horrible but we're not ourselves, he goes with them and we know that."
Cutdown Day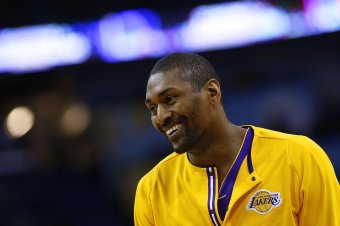 Jonathan Bachman/Getty Images
The Lakers have until the end of Saturday to decide on the contracts of Thomas Robinson and Metta World Peace. Their non-guaranteed, one-year minimum deals will lock in for the rest of the season if not placed on waivers before Sunday.
Robinson has earned a place in the rotation with his hustle and energy; He seems to be a lock to stick with his $1.1 million contract.
World Peace is in a more tenuous situation. Outside of his role as team mentor, the veteran forward has made just 13 appearances, shooting 23.8 percent from the field. The Lakers might be better off opening a spot on the roster in order to add a player via trade or free agency.
Recently, the team considered making room for forward/center Donatas Motiejunas as a possible replacement for Larry Nance Jr., who had injured his knee. Originally feared to have a torn ACL, Nance was lucky to escape with a bone bruise. Los Angeles passed on Motiejunas, who signed instead with the New Orleans Pelicans.
The Lakers can also choose to guarantee World Peace's $1.6 million salary in full and then waive him later, if needed. The team is currently at the maximum of 15 players with a total team salary of $93.6 million, just $529,921 below the NBA's $94.1 million salary cap, per Basketball Insiders.
All quotes were obtained firsthand unless otherwise noted. Stats are accurate as of January 4. Email Eric Pincus at eric.pincus@gmail.com and follow him on Twitter @EricPincus.