Unless he bolts at the last second again, Tiger Woods' return to golf is finally upon us.
Not surprisingly, the ever-elusive Woods will launch his latest of many comebacks at an offshore event, in the Bahamas. And, as befits a man of Tiger's stature, the field at the Hero World Challenge will be so limited that you almost expect the short list of elite invitees to play in tuxedos.
But there's no escaping that this tournament will be different from all the others Woods has played in.
For once, he won't be feared by anyone. That's the stark reality for the world's 898th-ranked player as he seeks to compete for the first time in 16 months. He's like golf's Rip Van Winkle, and after such a long slumber, it's getting harder and harder to remember the last time we saw him fist-pump as he walked in a 15-footer.
For this comeback, there's no sense of anticipation. It's not like when Tom Brady or Peyton Manning got back in the huddle after a year away or when Michael Jordan rallied for one final try.
Admit it, Tiger fans. You're praying your guy just manages to dodge crooked numbers and stay out of the 80s. If he can play 72 holes without having to schedule another back surgery, you'll consider it a win.
Achieving mediocrity will actually be a relief, and it will allow Tiger to invoke his mantra and drone on again about grinding through "the process."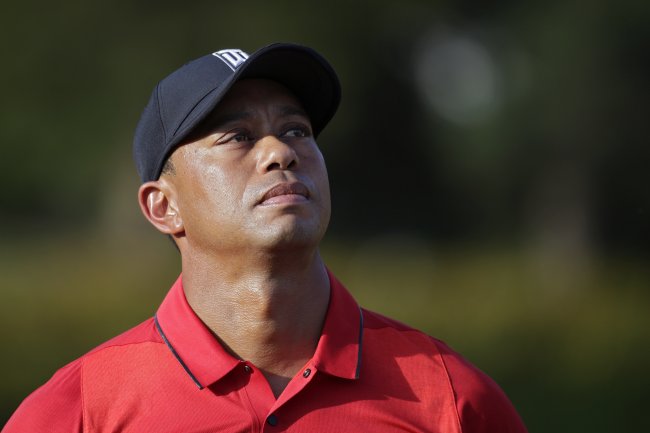 Rob Carr/Getty Images
It's not at all far-fetched to think another train wreck could be looming for Tiger. He played all four rounds of a tournament only seven times in 2015 and missed the cut three of the last four times he teed it up at a major.
So yes, expectations are low, and chances are high that the game has passed him by. His confidence seems shaky—if not shattered—through all the swing changes. He battled through a case of chipping yips, and it's fair to wonder whether the layoff will bring them back.
And when last seen on the course, his driver was in need of a learner's permit, and that's not good in an age when nearly 50 players are averaging at least 300 yards with the big stick.
All of which makes one wonder whether Tiger would still be hacking away if he had managed to grasp his holy grail and break Jack Nicklaus' record of 18 major championships.
Those with long memories can recall when nothing gave the PGA Tour greater angst than pondering how the game would survive when it no longer had Tiger. Well, while waiting since 2013 for Tiger to win again, the game has found several answers to that question. Among them: Jordan Spieth, Jason Day, Rory McIlroy and Dustin Johnson, just to name a few.
During recoveries from three back surgeries since 2014, the conversation about Tiger has steadily deteriorated. First from whether he can win another major to whether he can win anywhere, to whether he can be any kind of factor on the tour. Now it's down to whether we can watch without feeling the need to wince or turn away.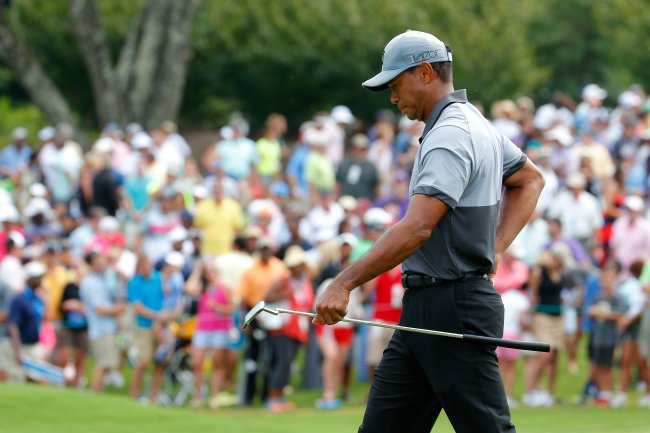 Kevin C. Cox/Getty Images
If his performance this week undergoes scrutiny, Tiger has only himself to blame. In the absence of significant updates or information emerging from his camp during the long layoff, it has been only natural for fans and writers to attempt to look into Woods' head and see what the heck is going on.
The best/worst of that was inspired by Tiger's announcement that he was jumping back into action at the 2016-17 tour's first event, only to withdraw from the Safeway Open just days before the curtain went up.
Was that just another round of what Associated Press golf writer Doug Ferguson has labeled "the Tiger tease"?
That's a legitimate complaint considering how the greatest golfer of the last 20 years keeps bouncing from go to stop. For golf fans, it has been like getting stuck at a busted traffic light.
Tiger's explanation was that his game felt "vulnerable."
Really? Wow. We kind of knew that, Tiger, since your game has been in hibernation since that 10th-place finish at the 2015 Wyndham Championship about 465 days ago.
Everyone's golf game is vulnerable from the instant they stick the wood peg in the ground. The bunkers, water hazards and undulating greens never go away.
Golf Digest's Jaime Diaz put on his psychoanalyst's hat and broached the possibility that Tiger, a man who has sealed the deal at 14 majors, perhaps had suffered an onslaught of stage fright.
"Indeed, the greater the fame and the attendant expectations and obligations, the harder it can hit," Diaz wrote.

That thought seems kind of comical considering how long Tiger has been at center stage, where every great shot, back grab and cursing episode go viral. But the stage-fright theory starts to make sense when you take a closer look at the cozy environment Tiger has chosen for his return.
The Hero World Challenge is Tiger's event. He's hosting, and if he really is as much of a control freak as some say, he can dictate every detail.
But Tiger shouldn't need to perform any major tweaks at the Albany Golf Club in the Bahamas given how accommodating the tournament format is for someone who has been away from competitive golf for so long.
The field is only 18-deep, and there's no cut at the halfway mark, so if a soon-to-be 41-year-old Tiger can't complete four rounds here, he can't do it anywhere.
.@TigerWoods hit balls for more than two hours Sunday at Albany pic.twitter.com/g4BpK6QigX

— Steve DiMeglio (@Steve_DiMeglio) November 27, 2016
"I'm ready to go," Woods told USA Today's Steve DiMeglio while also admitting to nerves.
"If I wasn't nervous, that would mean I didn't care," Woods said. "I don't want to be out there flat. I want to be out there so bad. And now I am."
Yes, but for how long this time?
Tom Weir covered several majors as a columnist for USA Today.