Week 4 marks the widespread start of conference play—which is amazing because the season still feels so young.
Sure, there have been great games and memorable moments, but how many teams does it feel like we have a read on?
Alabama, Louisville and Ohio State are good. Virginia and Kentucky are bad. We can say those things with confidence. Beyond them, it still feels like we're guessing.
That's what makes this weekend so refreshing. The slate is solid but unspectacular, with humble Top 40 matchups across the board. It's less about flash and more about depth—a measuring stick for teams we think might be contenders.
So what are we waiting for? Let's get into it!
Welcome to Week 4 of college football.
Games of the Week
No. 11 Wisconsin at No. 8 Michigan State | Saturday, Noon ET, BTN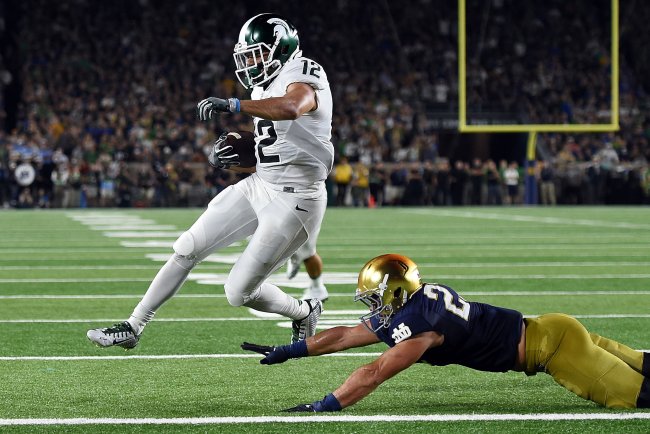 Stacy Revere/Getty Images
Two Big Ten powers pegged for down years look to stay undefeated.
The parallels between these teams are uncanny, extending far beyond their undefeated records. Both have new quarterbacks after losing veteran starters (Connor Cook for Michigan State, Joel Stave for Wisconsin); both struggled in one game against inferior competition (Furman for Michigan State, Georgia State for Wisconsin); but both can hang their hats on signature wins (Notre Dame for Michigan State, LSU for Wisconsin).
The story before this game will be the Badgers' QB competition. Bart Houston won the job out of camp and impressed against LSU, but after struggling in the first half against Georgia State, he was yanked for redshirt freshman Alex Hornibrook.
Hornibrook played well enough to keep the job, completing eight of 12 passes for 122 yards, one touchdown and one interception. When he entered, the score was 6-3, but he led three second-half scoring drives to keep the Badgers undefeated. Accordingly, sources tell Jeff Potrykus of the Milwaukee Journal Sentinel that Hornibrook will earn the start in East Lansing.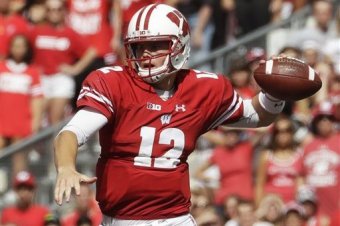 Morry Gash/Associated Press
If he does, that would be a tough assignment, But we've seen QBs prevail in tougher first starts. Michigan State's Tyler O'Connor, for example, won a night game at Ohio State last season, succeeding by avoiding costly mistakes.
Hornibrook will follow a similar game plan, and if he's successful, this game will be close. Even if the Spartans lead big in the first half, they proved last season and again last week at Notre Dame they know how to finish games.
"It's tough," head coach Mark Dantonio told reporters after nearly blowing a 29-point lead. "That wave starts to roll on you, just like it started to roll on them in the third quarter, and it's tough to stop and to stop them."
The potential for that wave will keep Wisconsin in this game for 60 minutes. So will the history between these two teams, which haven't met since 2012 but have played three straight one-score games.
The winner will be on a path to Big Ten title contention.
No. 12 Georgia at No. 23 Ole Miss | Saturday, Noon ET, ESPN
The future of SEC quarterbacking, Georgia's Jacob Eason, meets the present, Ole Miss' Chad Kelly.
Even in a 1-2 start, Kelly has shown flashes of what makes him a first-round NFL prospect. He can stretch the field, he can run and he just hung 40-plus points on Alabama…again. What's not to like about that?
Eason has been up and down but ended last week on a high note, leading Georgia 80 yards on 10 plays to throw the game-winning touchdown at Missouri. There are worse ways to make your first SEC and road start:
The records you see on paper—Georgia at 3-0, Ole Miss at 1-2—don't reflect how these teams have looked. Ole Miss has taken leads on a pair of preseason Top Five teams, Florida State and Alabama, and there's no shame in losing to either of them. Georgia has needed comebacks to beat North Carolina and Missouri, and between those games, it barely beat Nicholls State.
Keep an eye on how Georgia's secondary, supposedly one of the best in college football, holds up against a deep group of receivers. Despite how strong and experienced it looks on paper, it allowed Missouri's J'Mon Moore to run wild (8 REC, 196 YDS, 2 TDs).
The group made the play that counted, forcing a fumble from Moore to seal the win, but that covered up an underwhelming game.
It's hard to find a more apt metaphor for Georgia's season.
No. 19 Florida at No. 14 Tennessee | Saturday, 3:30 p.m. ET, CBS
Eleven. That's how many consecutive times Tennessee has lost to Florida. Even last year, when it led the Gators 27-14 with five minutes to play, the Vols found a way to snatch defeat from the jaws of victory.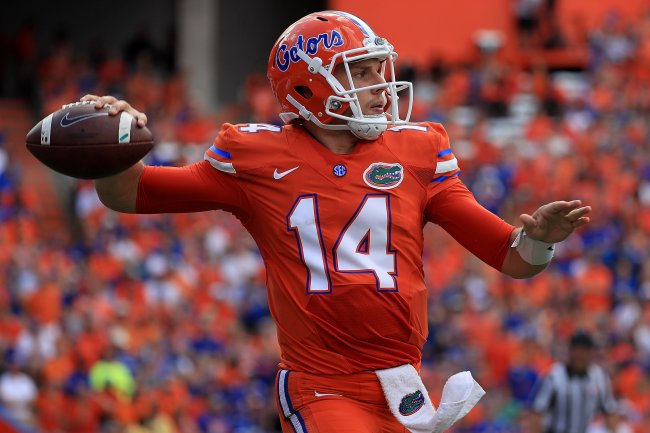 Mike Ehrmann/Getty Images
This year, the Vols are ranked higher, get the Gators in Knoxville and probably have the better roster. They also avoid starting quarterback Luke Del Rio, who injured his knee last week against North Texas, thrusting Purdue transfer Austin Appleby into the starting lineup.
Once again, this feels like it should be Tennessee's year.
But as far as backup quarterbacks go, Appleby is tested. He's a fifth-year senior with 11 career starts, including some before hostile crowds at places such as Nebraska and Iowa.
"I've played in big stadiums before," Appleby said this week, per Edgar Thompson of the Orlando Sentinel. "It's not gonna be anything new for me."
Winning in those stadiums would be. Appleby went 1-5 in six road starts with the Boilermakers, beating only Illinois in 2014.
But Tennessee has injury problems as well, especially on defense and in the secondary. Its offense has struggled against Appalachian State and Ohio, while Florida's defense leads the nation in yards per game (129.7). Last week, it held North Texas to 53 yards on 50 plays, which even against North Texas feels important.
If you think Del Rio's injury makes this a lock, you haven't seen much of this rivalry.
No. 7 Stanford at UCLA | Saturday, 8 p.m. ET, ABC
UCLA isn't ranked, but it should be. The Bruins' only loss came on the road against a Top 10 team (Texas A&M), and they took that game to overtime. They rebounded with a win over UNLV in Week 2, then beat BYU on the road in Week 3.
So ignore the fact that this is technically "ranked vs. unranked." It's actually one of the best games of the weekend. And especially since it takes place in Los Angeles, it's one the Bruins could easily win.
Doing so starts—as beating Stanford always does—with containing Christian McCaffrey. Louisville quarterback Lamar Jackson has hijacked the Heisman Trophy race, but there's nothing McCaffrey could have done about that.
In his own right, the do-it-all tailback has played well against Kansas State and USC, leading the Cardinal to comfortable wins over solid opponents:
McCaffrey is underrated on a per-play basis, but the key to his game is explosiveness. He's always one cut away from leaving the defense in a trail of dust.
UCLA, however, has fared well preventing big plays. According to Bill Connelly of SB Nation, the Bruins rank No. 18 in the country in isolated points per play, and they're one of just 32 defenses that have not allowed a play of 40-plus yards.
If they can limit McCaffrey's explosiveness, they have what they need to pull off the upset. Quarterback Josh Rosen is in the market for a signature victory, and this seems like the perfect time.
No. 17 Arkansas at No. 10 Texas A&M | Saturday, 9 p.m. ET, ESPN
Both of these teams feel backward—but in a positive way.
Arkansas is typically a stretch runner, losing close games in September and October before peaking in November and December. This year, however, it has opened 3-0 with one-score wins over Louisiana Tech and at TCU.
Texas A&M is typically a juggernaut, outscoring teams rather than stopping them. This year, however, the defense has been its best unit, allowing 13.3 points per game against UCLA, Prairie View and Auburn.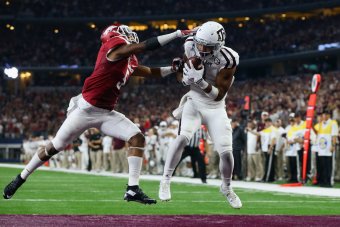 Ronald Martinez/Getty Images
Which trend will keep up in Arlington, Texas? There's a chance it might be both. Arkansas' offense has taken a step back from last year, so A&M should hold it in check. That could set the stage for yet another close finish.
The Aggies have won the past two meetings in overtime, both times coming back late in the fourth quarter. Arkansas revenged the first one—sort of—by beating former A&M starter and current TCU quarterback Kenny Hill in Week 2, but winning the SEC West game would feel even better.
"We've lost it, but they've earned it," head coach Bret Bielema said of the past two meetings, per Trent Shadid of SEC Country. "We haven't earned it yet."
Let's see if this year's Razorbacks are different.
Also Worth Watching
No. 13 Florida State at South Florida | Saturday, Noon ET, ABC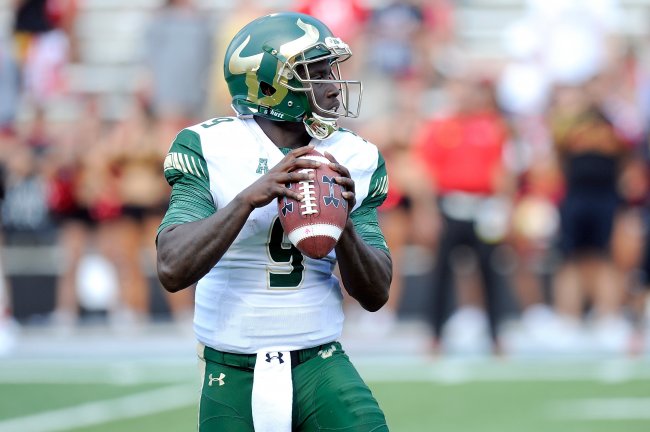 G Fiume/Getty Images
Florida State has no time to lick its wounds.
After giving up the most points in program history against Louisville, the Noles draw a tough bounce-back assignment at South Florida. Willie Taggart's team has clicked since last November, winning seven consecutive regular-season games, including six straight by 20-plus points.
Last week, for example, it won at Syracuse, 45-20. The previous week, Louisville won at Syracuse, 62-28. The transitive property is dangerous, but you can piece together where this is heading.
More than that, this will be South Florida's Super Bowl. Its roster is made up mostly of local talent—prospects who were told, as recruits, they were good but not quite Florida State good.
How's that for personal motivation?
No. 18 LSU at Auburn | Saturday, 6 p.m. ET, ESPN
Welcome to the 2016 Hot-Seat Bowl.
If Auburn loses, it falls to 1-3 for the first time since 2012, evoking memories of a woebegone season. That's a bad look for head coach Gus Malzahn.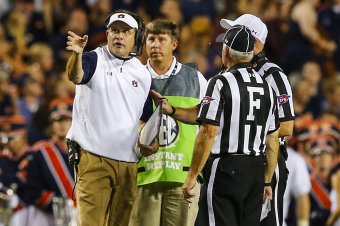 Butch Dill/Getty Images
If LSU loses, it falls to 2-2, which is scary with five ranked teams left on the schedule. That's a bad look for head coach Les Miles.
Both coaches entered the year with job-security questions, which means neither can afford a bad look. And yet, one of these outcomes is assured. No matter what happens Saturday, one of these coaches will likely book their ticket out the door (at least at some point).
For more, check out this piece by Bleacher Report's Barrett Sallee.
Oklahoma State vs. No. 16 Baylor | Saturday, 7:30 p.m. ET, Fox
With Oklahoma starting 1-2, Texas still unable to beat Cal and TCU looking like a shell of the past two seasons, Oklahoma State and Baylor appear like the Big 12's top College Football Playoff contenders.
In Oklahoma State's case, that would require the committee to overlook the Central Michigan game, which officially went down as a loss but shouldn't have. The Hail Mary that beat the Cowboys never should have been allowed, and while there's no way to retroactively change that, on paper, it's something voters are aware of.
Baylor hasn't looked quite right in its first three games sans Art Briles, but it has done enough to stay undefeated. It and West Virginia are the only Big 12 teams that can say that, so if things don't go right Saturday, a lot of the Big 12's hopes would rest on the Mountaineers.
What a weird year for this conference.
Frisky Underdogs
No. 5 Clemson at Georgia Tech | Thursday, 7:30 p.m. ET, ESPN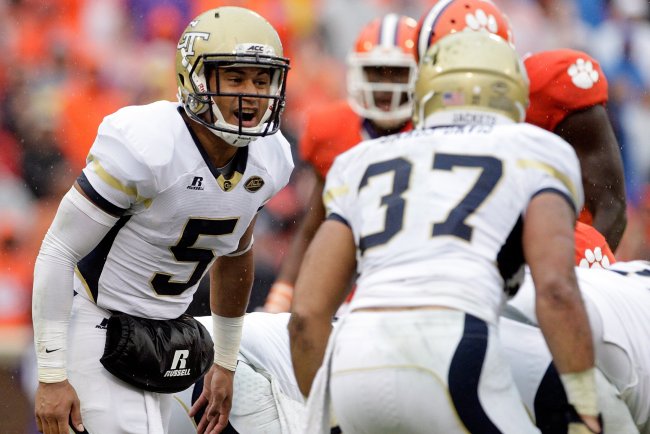 Tyler Smith/Getty Images
Don't sleep on Georgia Tech to give Clemson a run for its money.
The Yellow Jackets are two years removed from winning the Orange Bowl, and even last year, in the throes of a 3-9 season, it managed to beat Florida State.
Quarterback Justin Thomas looks as effective as he did two seasons ago, the offense just averaged 8.11 yards per play against Vanderbilt and weird things tend to happen on Thursday nights. It's a tricky spot for the Tigers, who also might be looking ahead to Louisville in Week 5.
Penn State at No. 4 Michigan | Saturday, 3:30 p.m. ET, ABC
Michigan's defense struggled against Colorado, allowing multiple passing touchdowns for the first time since 2014. If not for Buffaloes quarterback Sefo Liufau's injury, who knows how that game might have ended?
Penn State is far from its former self, but the offense has looked rejuvenated in its first year sans Christian Hackenberg, and the defense has enough talent to make some stops. Look for the Nittany Lions to keep this surprisingly close.
No. 20 Nebraska at Northwestern | Saturday, 7:30 p.m. ET, BTN
How much of a corner has Nebraska turned? We'll find out when the Cornhuskers travel to Northwestern.
The Wildcats bounced back from an embarrassing 0-2 start to beat Duke last week, and last year they beat Nebraska on the road. Head coach Pat Fitzgerald knows how to wake his team up and will play the "nobody believes in us!" card until it's barren.
Combine that with Nebraska coming off an emotional high—a 35-32 win over Oregon—and you have all the makings of a trap game.
Players to Watch
QB: Josh Rosen, UCLA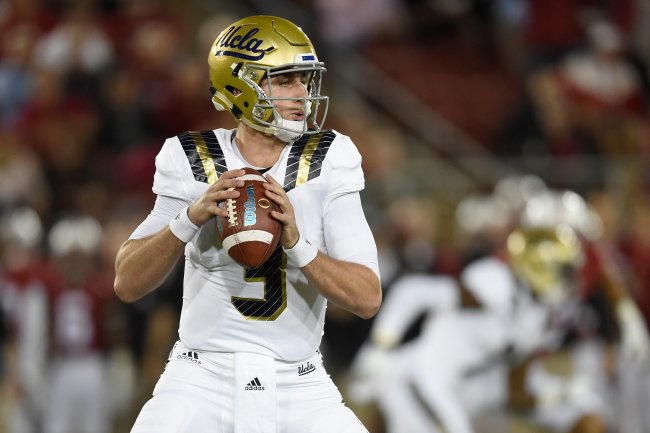 Thearon W. Henderson/Getty Images
Saturday will be a big spot for Rosen—and not just because he's sharing the field with McCaffrey. Stanford's defense ranks in the top 30 in opposing QB rating and passing success rate, per Connelly.
For all the obvious talent, Rosen still makes careless mistakes (four interceptions this season) and lacks a signature win to hang his hat on. Beating the No. 7 team would qualify.
RB: Nick Chubb, Georgia
In a game billed as Kelly vs. Eason, the outcome might come down to a running back. Nick Chubb willed Georgia past North Carolina, but Missouri nearly pulled the upset by holding him to 63 yards on 19 carries.
Alabama rushed for 334 yards on 48 carries against Ole Miss, including 144 on 16 carries by running back Damien Harris. If Chubb can find similar success, Eason's job becomes considerably easier.
WR: James Washington, Oklahoma State
Prior to a lightning delay against Pittsburgh last week, James Washington had 296 receiving yards in 40 minutes. He led the nation with four catches of 70-plus yards last season, and this year he already ranks No. 3 with five catches of 30-plus yards.
That's scary before a date with Baylor's defense, which historically has a knack for allowing big plays. Mason Rudolph, who just broke Brandon Weeden's Oklahoma State single-game passing record, will need to unlock the deep ball and connect with his best receiver in Waco, Texas.
OL: Tennessee Volunteers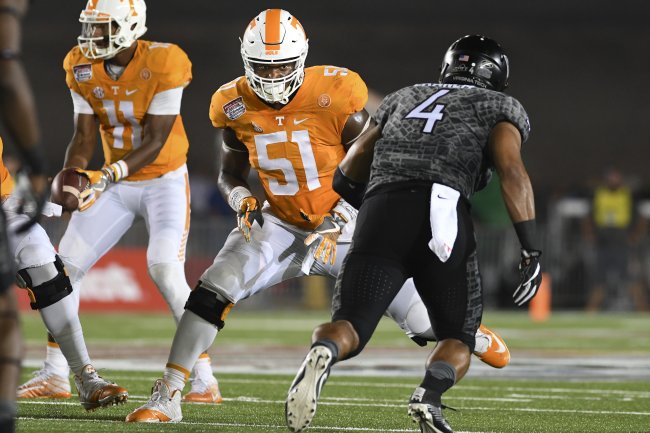 Michael Shroyer/Getty Images
We typically use this section to highlight a player. This week, it's Tennessee's whole offensive line. That's how important the Vols front five will be against Florida, which might have the best defensive front in America.
"No sugar-coating this," Wes Rucker of 247Sports tweeted during the Ohio game. "Tennessee's offensive line is playing really, really bad football." If that continues against a far better defense, the losing streak will extend to 12 games.
DL: Hunter Dimick, Utah
We all saw what Alabama's defense did to USC, especially in the trenches, where it made the Trojans look soft. Utah is the Pac-12's Alabama, and Hunter Dimick is its Jonathan Allen.
He's already matched his 2015 sack total with three in the Utes' first three games, and half of last year's sacks (1.5) came at USC. Good luck in your first start, Sam Darnold!
LB: Jabrill Peppers, Michigan
Peppers is not your average outside linebacker. He leads the nation with 9.5 tackles for loss, but he also iced last week's win with a 54-yard punt-return touchdown.
The Charles Woodson comparisons are officially justified—but this week he'll be asked to do more of the little things. It might not be as sexy as scoring touchdowns, but if Peppers can use his speed to shut down running back Saquon Barkley, it will add an important layer to his mythology.
DB: Godwin Igwebuike, Northwestern
Godwin Igwebuike recorded a beautiful interception against Duke last week, and Northwestern will need more plays like that against Nebraska. Remember, it was Igwebuike who recorded three interceptions against Wisconsin in 2014, leading a team that started 0-2 to a win over a Top 20 opponent.
Last week's pick was his first since that Wisconsin game, which appears to be a positive omen. For as well as Nebraska quarterback Tommy Armstrong has played this year, he's still prone to uneven performances.
Parting Shot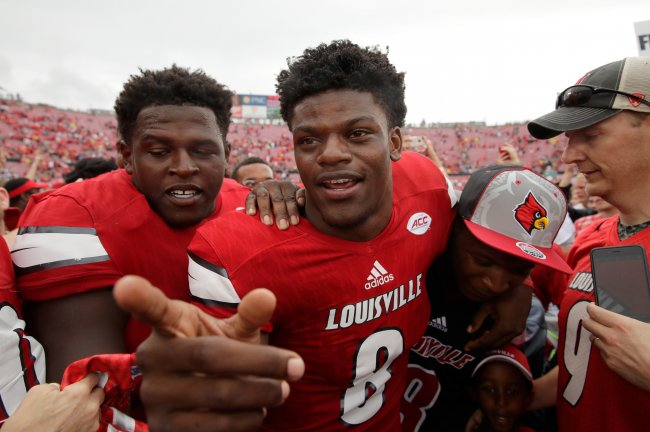 Andy Lyons/Getty Images
The September Heisman
Winning the Heisman Trophy is a marathon, but every year one player decides to sprint the first four miles.
Last year, it was LSU running back Leonard Fournette. In 2014, it was Kenny Hill. Before that, the likes of Geno Smith, Case Keenum and Denard Robinson all raced off the blocks to an early lead.
This year, the "September Heisman" winner is obvious. Louisville quarterback Lamar Jackson has gone from a preseason dark horse (50-1 odds, per Odds Shark) to an overwhelming early-season favorite:
Lamar Jackson is now an OVERWHELMING favorite to win the Heisman trophy; currently listed at 6-5 (via @LVSuperBook)

— Todd Fuhrman (@ToddFuhrman) September 18, 2016
And rightfully so. Through three games, Jackson has been nothing short of ridiculous. He's the second-leading rusher in the nation (464 yards, 10 TDs) and would register as a Heisman candidate at running back. That he also ranks top 10 in quarterback rating, with a sterling 913 yards and eight touchdowns, is hard to comprehend.
But the term "September Heisman" isn't meant to be predictive. It's offered more as media criticism than player praise. We award the September Heisman as a reminder not to overreact, and we look back at previous winners to drive the point home.
This year, Jackson feels different—but that's what we always say. If ever there were a sure thing, it was Fournette in 2015. But even though he never stopped playing well, LSU dropped a few games, the stats tapered off and by the end of the season, Fournette wasn't even a Heisman finalist.
Week 4 is Jackson's first game after his "Heisman performance," a 63-point rampage against Florida State. The opponent is only Marshall, but now is a good chance to prove he's here to stay.
It's hard to get up between Florida State and Clemson and bring your best stuff to Huntington, West Virginia.
But no one said winning the December Heisman was easy.