UPDATE, FRIDAY SEPTEMBER 23: Kevin Garnett announced he's officially retiring after a fitting 21 seasons, That changes portions of this preview and the Minnesota Timberwolves' present, but his illustrious contributions will never be forgotten and the team's future remains the same.
***
The supposedly bright future has been on the horizon for so long, Minnesota Timberwolves fans could be forgiven for wondering when and where it is, or if it even exists.
It's here.
Just listen to the voice of the future himself if you're doubting, as Karl-Anthony Towns told Jace Frederick of TwinCities.com:
We're concocting a plan to be the best Timberwolves team that's come around in a long time. A lot of people tend to think that we're the Timberwolves, and we're at the bottom of the barrel. I just want everyone to know that we're coming. Just remember us, remember who we were for the last 13 years, because things are about to change.
It's best not to doubt the one they call KAT, by the way—a player so dominant during his rookie campaign that Bleacher Report's Adam Fromal ranked him as the NBA's second-best center in this year's NBA 200.
It's admittedly shocking to see Towns listed as the No. 2 center, as the No. 6 big man and among the league's top 20 overall players. But just go watch some tape, because he was legitimately that good. Despite being less than a year removed from playing for John Calipari,

Towns excelled in virtually every area and had no distinct weaknesses. After the All-Star break, he was the only NBA player to average at least 20 points, 10 rebounds and three assists while making more shots than he missed, per Bleacher Report's Andy Bailey.
The scariest part? Towns is just one (huge) cog in a machine that was built over the past three years by the late Flip Saunders. It's ready to be oiled and run through its paces by new team president and head coach Tom Thibodeau.
This is gonna be good.
Biggest Offseason Move
David Sherman/Getty Images
Last year's 29-53 record was not good, but let's give credit where it's due: Sam Mitchell got thrown into an extremely difficult situation, having to suddenly take over as head coach after Saunders' death from cancer.
The season could have been an unmitigated, and wholly understandable, disaster. Yet Mitchell's steady presence and faithfulness helped the team stay focused. They played just outside the top 10 in offensive rating (according to NBA.com) and grew together under his watch.
However, despite the fact he was 2007's Coach of the Year during his days with the Toronto Raptors, Mitchell's rotations rarely made sense, and his defense was rated the league's fourth-worst (according to NBA.com). Towns was around for all 82 games, yet how many times did the ball wind up in Tayshaun-Freaking-Prince's hands during crunch time instead?
There was always the sense the Wolves could and should be growing more.
That's why Thibodeau's arrival is so important.
Sporting a 255-139 record (per Basketball-Reference) and a 2011 Coach of the Year Award from his time with the Chicago Bulls, Thibs is already one of the three most accomplished helmsman in franchise history (Rick Adelman and Flip Saunders being the other two).
He arrives at a pivotal time in the roster's maturation process and has what Bleacher Report's Grant Hughes describes as the perfect muse in Towns.
A guy entering his age-21 season with that statistical profile, who also has the makings of a true defensive force, who will now play for noted defensive mastermind Tom Thibodeau, who is surrounded by a legion of similarly young and promising talents...well, a guy like that is essentially a holy vessel for basketball enthusiasm.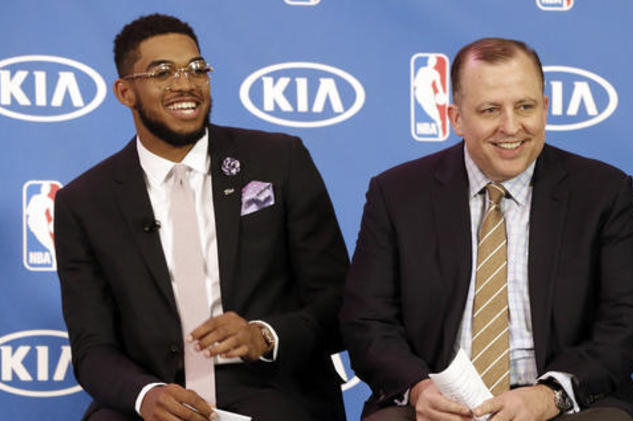 Jim Mone/Associated Press/Associated Press
Last season's defense was noticeably better every time Kevin Garnett was involved (though that was only for 38 games), and it would have been nice if he could have stuck around to mentor the pups for one more season. Whether his retirement decision was more affected by the way Mitchell's ouster left a bad taste in his mouth (per Mitchell on Sirus XM NBA Radio) or his own body breaking down, we'll never know.
Yet, even his short second stint in Minny was extremely valuable for the educations of Andrew Wiggins, Zach LaVine and Towns, especially defensively.
When you have Towns and Ricky Rubio as already elite NBA defenders, plus two potentially All-NBA stoppers in Wiggins and Gorgui Dieng, this could be another all-world Thibodeau defense. If the late-clock and late-game offense runs first through Towns, then Wiggins and Zach LaVine will thrive and close wins can finally happen.
Of course, it probably won't all happen this season.
There will be flashes, overshadowed by plenty of teaching moments, headaches and heartaches. So the biggest question is: Will the gravel-voiced sideline stalker be patient enough to let the kids grow with him, rather than prematurely pulling the plug for "safe" veterans who do his bidding but wreck the team's limitless ceiling in the process?
With an untested amount of unchecked power at his fingertips, hopefully Coach Thibs doesn't influence President Thibs into making any kind of unforgivably short-sighted, franchise-altering moves.
Rotation Breakdown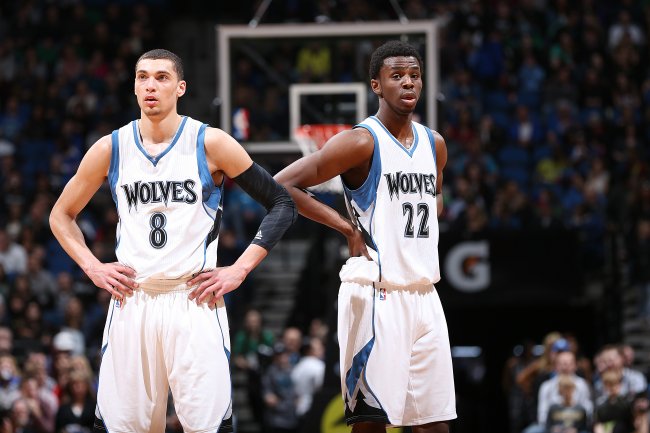 David Sherman/Getty Images
On paper, the Timberwolves seem to have just about everything they need. Almost.
| | | | | |
| --- | --- | --- | --- | --- |
| PG | SG | SF | PF | C |
| Ricky Rubio | Zach Lavine | Andrew Wiggins | Gorgui Dieng | Karl-Anthony Towns |
| Kris Dunn | | Shabazz Muhammad | Nemanja Bjelica | Cole Adrich |
| Tyus Jones | | Brandon Rush | Adreian Payne | Jordan Hill |
| | | | | Nikola Pekovic* |
Rubio is a pass-first savant and a strong defender, but "he can't shoot" is the only accurate thing about his offense. LaVine is athleticism incarnate and, as B/R's Fromal cited when naming him his 26th-best guard entering 2016:
The first half of Zach LaVine's sophomore season held him back, but he was one of the league's more dangerous scoring guards after the All-Star break [and his second-straight Slam Dunk Contest win]. After Feb. 19, he averaged 16.4 points while shooting 48 percent from the field and 43.7 percent from beyond the arc.

Everything clicked when he was no longer tasked with creating so much of his own offense. If his mid-range jumper follows the same developmental path his three-point stroke did in 2015-16, he'll be yet another alpha dog on a Minnesota Timberwolves roster brimming over with them.
But that's the thing: There's no consistent track record of him hitting threes (yet).
Wiggins has Jimmy Butler 2.0 written all over his frame and game, but he'll need Thibs to install a Butler 2.0 motor for it to work right. Oh, and a consistent jump shot.
Dieng is quietly good at just about everything, and getting better—but he's not a stretch 4.
That Towns guy we keep talking about may already be the best shooter on the starting unit. Of course, his coach basically wouldn't let him shoot long balls last season, so we only have 30 made threes (on 88 attempts for a .341 clip) on which to base that.
And unlike years past, there's reasonable depth at every position this year.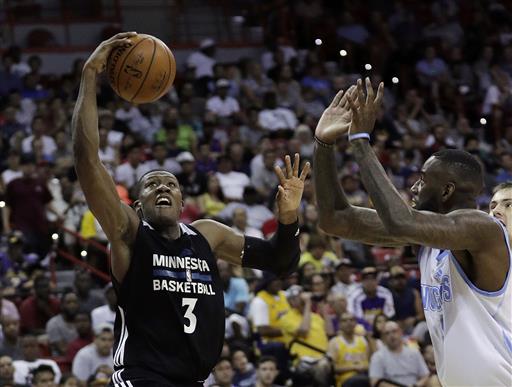 John Locher/Associated Press
Kris Dunn was voted "most likely to be named Rookie of the Year" by his peers, according to John Schuhmann of NBA.com. It seems to be a matter of when, not if, he pushes Rubio for the starting point guard job. At least he hit 37 percent of his threes last season, but that was on only 113 attempts, according to Sports-Reference.
If there's one thing Shabazz Muhammad can do, it's put up points. Fast. And...come to think of it, that's pretty much the one thing he does. He's also only a career 31 percent three-point shooter who made 44 of 152 attempts (.289) last year.
Jordan Hill and Cole Aldrich have both logged meaningful NBA minutes up front while Garnett has a career full of them. Not a one stretches beyond 18 feet. Tyus Jones and Adreian Payne have shown flashes of "gamesmanship" and "something-or-other-I-think?" to keep around for another season, but you guessed it: can't shoot.
That means the big-heavy roster is counting on two second-unit "specialists"—one a 28-year-old sophomore who often looked too overwhelmed by NBA speed to use his five tools last season, and a 31-year-old world champion whose body has restricted him to less than 15 minutes per game the past four years.
Yup, Nemanja Bjelica (career .384 from 3) and Brandon Rush (.403) are going to be more important than you realize.
Reasons for Confidence
Seriously, who doesn't have the Wolves on their "most likely to improve," "teams to watch" and "next wave" lists? (If someone doesn't, stop trusting his or her judgment. Immediately.) There are so many good reasons for that, but it begins and ends with Towns.
When your starting center handles the ball like this, you can push in transition and put the game in his hands anywhere in the half court:
When he locks down like this, your all-world defensive coach can build a future all-universe defense around the kid.
When that near-7-footer did all of the things as a rookie, eerily mirroring the early years of your franchise's greatest-ever 20 years ago, you realize the future is indeed here. And it's blindingly, maddeningly bright.
When your team's star is smart, coachable and seemingly mature beyond his years, your biggest variable is already a certainty. All you need are the right supporting pieces.
Growing up is going to be fun.
Reasons for Concern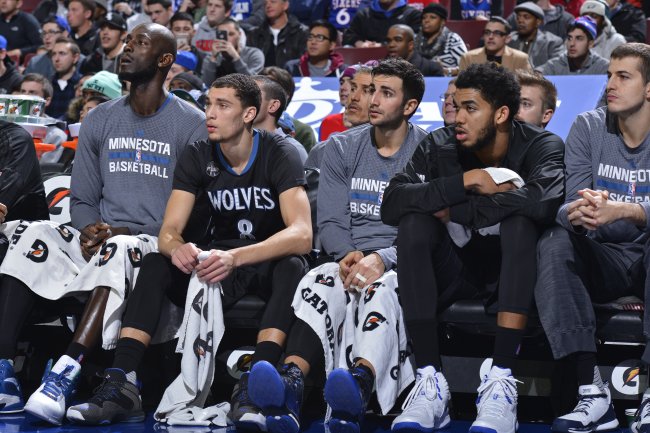 David Dow/Getty Images
The long-time starting point guard may want out if progress isn't made. Or he might be losing his job soon if Dunn is ready quickly.
No one has really acknowledged this is Towns' team yet. Are we sure Wiggins and LaVine are going to be cool with that as the seasons go by, contract years approach, shots diminish and roles are set? The specter of Stephon Marbury already looms here.
This was a promising-but-bad basketball team last season that didn't play defense and couldn't (wouldn't?) shoot threes because of coaching schemes. Their new headmaster's old Bulls teams played defense but generally ground their own possessions to a halt, didn't stretch the floor and relied too much on the top of the rotation.
That's all concerning in an era of free-flowing offenses, long-distance snipers and minute monitoring.
Finally, this is a division that features last year's surprise playoff darlings (Portland Trail Blazers), this year's most likely replacement (Utah Jazz), another deep, young team on the rise (Denver Nuggets) and a former title contender that's still talented and helmed by motivated madman superstar point guard Russell Westbrook (Oklahoma City Thunder).
That's just the division. Oh, and the Western Conference is still the Western Conference, by the way.
Growing up isn't going to be easy.
Predictions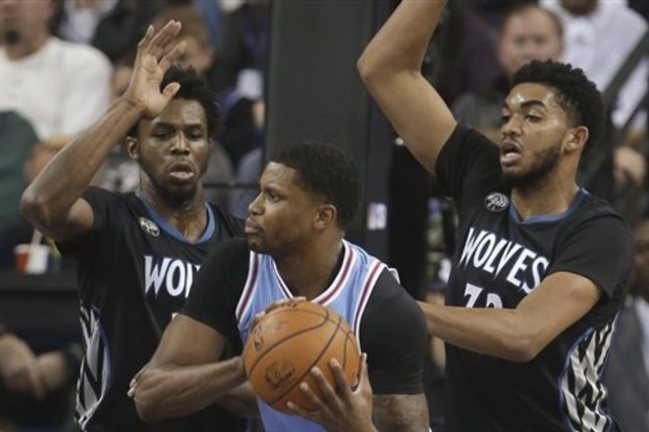 Rich Pedroncelli/Associated Press/Associated Press/Associated Press
A funny thing can happen when pressure is turned up on a team that's yet to taste real success, much less figure out how to overcome years of disappointment.
Some players may remain oblivious and just "happy to be here," surprising themselves and a lot of people until the playoff push tightens and so do they. Or they can start straining under the spotlight, so caught up with every little nit magnified in front of them that they stop moving forward at all.
The Minnesota Timberwolves now have playoff whispers attached and a coach/president with big expectations both on him and from him. All the tools are available, but each needs to be sharpened—many to a large extent and likely for more than one year. This could be a great leap forward, or simply a season filled with acclimation and troubleshooting.
Speaking of shooting, someone needs to find more of that, too. Thinning out the frontcourt logjam for another competent sniper would sure be nice. Ray Allen-Garnett-Thibodeau reunion, anyone?
Yes, the crazy thing with bright futures is, once expectations start, the clock begins ticking on player development, looming large-contract decisions, "final pieces" and fulfillment.
It's all here.
Final Record: 45-37
Division Standing: 3rd in Northwest
Playoff Berth: No
B/R League-wide Power Rankings Prediction: 17th
*It's been two years and Nikola Pekovic still isn't fully healed from his Achilles and foot issues. It's sounding like he'll be bought out soon. Now we know why Cole Aldrich and Jordan Hill were added to an already logjammed front court.
Joel C. Cordes is Bleacher Report's Associate NBA Editor. In addition to the occasional written piece, you can catch him on sports talk stations across the country and follow him on Twitter @bballJoel.