Michael Phelps vs. Usain Bolt. It's a matchup we'll never see in the pool or on the track, but it makes for an Olympian battle in the court of public opinion.
One has the wingspan of a 747, the other a stride that's positively equine.
The barracuda against the cheetah. The Baltimore Bullet vs. a man who wins by such crazy margins that maybe his first name should be Insane.
Both have spent their Olympic careers racing more against the clock and themselves than the competition.
If a CPA was picking who is the best, there would be no problem. Do the math, and Phelps' 23 career golds and 28 total medals dwarf the nine golds Bolt has after leading Jamaica to victory in the 4x100-meter relay Friday night in Rio.

That gives Bolt a triple-triple that's unprecedented in track, with victories in the 100, 200 and 4x100 at three consecutive Summer Olympic Games.
But Phelps has easily beat that triple at each of the last four Olympics. He won six golds in 2004, a record eight in 2008, four in 2012 and five at Rio.
For many Americans, that probably ends the argument right there.
But let's push the debate beyond the medal count and remember that the title of "World's Fastest Man" has forever resonated in sports. It's on a par with being Super Bowl MVP or heavyweight champion of the world.
"World's Fastest Swimmer" has never had quite the same ring, especially since many Olympic nations invest little or no energy in competitive swimming.
That's what much of the Phelps vs. Bolt debate boils down to—a swimming vs. track squabble.
Water may cover 71 percent of planet Earth, but when it comes to sports, the emphasis has always been on what athletes can do on dry land. The imbalance in competitiveness between swimming and track shows up in the medal count at Rio.
With swimming's schedule completed in Rio, 18 nations had medalists and 13 different nations had won golds.
Going into Friday's track events, 34 different nations had won medals and 17 had pocketed gold, and two days of action remained.

Who's the greater Olympian?
While we're way beyond the era when swimming could be referenced as a "country club" sport, it is rather amazing that swimming is still taking baby steps for diversity. Simone Manuel's victory in the 100 freestyle was celebrated as a barrier-breaking moment for swimming, the first Olympic gold for a female African-American.
Manuel's victory was indeed nice to see. But if the action paused at the track every time a woman of one descent or another won, they'd never finish the meet.
So there's no question Bolt has been king of a sport where the demographics are far more diverse and global.
But give Phelps an edge for greater versatility.
Phelps won his golds in five different individual events and three different relays. He performed all four of his sport's strokes in the individual medleys, where he won six golds.
At the same time, his legacy benefits heavily from the nature of swimming, which has always had more opportunities to win multiple medals.
Shifting from freestyle to butterfly or backstroke is a far easier task than adding an event in track. Tons of swimmers have won in more than one stroke category.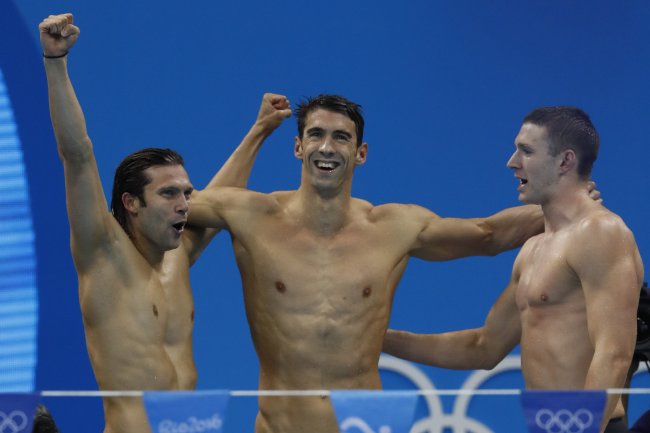 ODD ANDERSEN/Getty Images
Bolt has strictly been a sprinter, and there's no shame in that. But while being in fewer events doesn't derail his case for greatest Olympian, it does hurt—particularly with the medal count between him and Phelps so lopsided.
Is it unfair to wish we'd seen Bolt in an additional event?
Not really, especially when we're trying to determine the best of the best.
When Carl Lewis won in the 100, 200 and 4x100 relay in 1984, he also wedged a victory in the long jump into his Olympic schedule. So did Jesse Owens in 1936.
Bolt isn't a jumper, and he's not a hurdler either. In theory, he could have expanded his repertoire by adding the 400, where he has a relatively sluggish lifetime best of 45.28 and has competed sparingly. But the 100 and 400 finals were run a half-hour apart in Rio, and no man has successfully put together that double at the Games.
So enough of the quibbling. Bolt simply can't match Phelps' numbers.
But there is one category where he leaves Phelps in the dust, and that's charisma.
Phelps was more engaging in Rio than in previous Games, but it feels like it took five Olympics to finally get a real look at him. He did come up with an impressive "Death Stare," but that will never compare to Bolt's trademark lightning-bolt pose.
In that regard, Bolt broke new ground in track. At three Olympics, he brought showmanship to the oval in a way we'd never seen before. He also brought shock and amazement with the way he won, often slipping into neutral and cruising the final yards, with his opposition nowhere in sight.
In a sport that often gets bogged down in statistical minutiae, Bolt made track feel like a day at the circus.
"I've proven to the world I'm the greatest," Bolt told reporters after winning the 200 on Thursday. "This is what I came here for. That's what I'm doing. This is why I said this is my last Olympics—I can't prove anything else."
He also dared to put himself in the same sentence with two of the most famous names in sports history.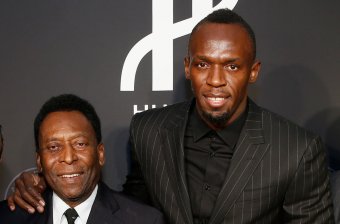 Brian Ach/Getty Images
"What else can I do to prove to the world I am the greatest?" Bolt added. "I am trying to be one of the greatest. Be among Ali and Pele. I hope to be in that bracket after these Games."
After this Olympics, Bolt is there.
But so is Phelps. And while Phelps can't match Bolt's bravado, he has made swimming a must-see sport at the Olympics. Track will always matter more to the rest of the world, but swimming now matters more to the USA and to NBC. Phelps doesn't get all the credit for elevating his sport, but he has been the driving force.
Combined with his overwhelming numbers, Phelps is the winner, at least in my mind. But I'd love to see a rematch.
Tom Weir covered 15 Olympics, including seven Summer Games, as a columnist for USA Today.