Watching the Olympics with its global mix of athletes competing in events many of us see only once every four years inevitably stirs up a number of what-ifs among those who love sports.
It's fun to debate how your favorite linebacker would fare in the hammer throw, or what would result if there was a game in which Michael Phelps and Usain Bolt could compete.
No Olympic competition attracts more of these fantasy debates than track's decathlon, the 10-event marathon that tests every athletic skill. And because the winner traditionally gets the title of "World's Greatest Athlete," the decathlon is simply an argument waiting to happen.
So how would a half-dozen of the most accomplished athletes in team sports do in the decathlon? That's the question we're asking.
We make no claim that the following six athletes would be the best to take on the decathlon, but they're definitely six of the most interesting. If you beg to differ and have your own nominees, please have at it in the comments section.
Now then, on with our imaginary decathletes. (And a reminder: The decathlon takes place over two days. The first day is the 100 meters, long jump, shot put, high jump and 400 meters. The second is the 110-meter hurdles, discus throw, pole vault, javelin throw and 1,500 meters.)
Cam Newton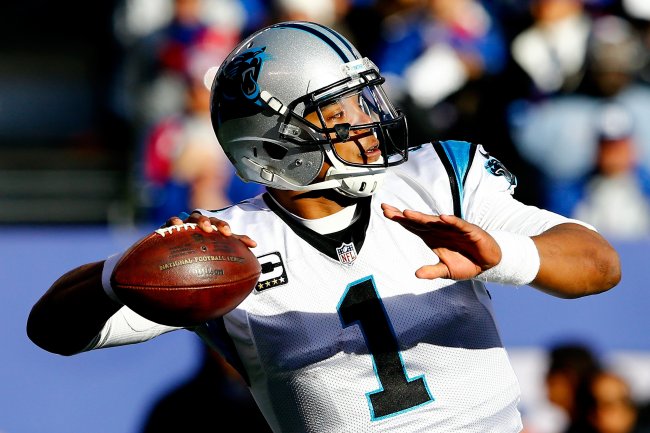 Michael Reaves/Getty Images
With Newton's love for crashing into defenders at the goal line, it might take a while to convince him to run over the hurdles, rather than through them.
At 6'5" and 245 pounds, with a 4.59-second 40, the Carolina Panthers quarterback has a physique that more than meets the decathlon's demands for speed and strength. His Hail Mary passing form could easily be converted into high scores in the javelin.
But here's a nugget that might win some bar bets: In the vertical jump, Newton's result at the NFL Scouting Combine was bested by Andrew Luck a year later—36 inches to 35. And Luck isn't exactly considered a great leaper.
That indicates Newton would have a tough time getting all his muscle over the high-jump bar. He'd also figure to have trouble going the distance in the 1,500.
Russell Westbrook
In 2015, ESPN's Sport Science crew (h/t ESPN.com's Eddie Matz) found some interesting measurables after Westbrook went coast-to-coast for a dramatic slam.
The time it took for Westbrook to go from one baseline to the other: 3.36 seconds.
The height of the ball when he reached maximum verticality: 11.5 feet—or more than five feet above the 6'3" Westbrook.
The horizontal distance he sailed after taking flight toward the rim: nine feet.
How far Westbrook would have flown if he'd just kept going, instead of putting the ball in the bucket: 18.1 feet.
So Westbrook would contend like crazy in the 100, hurdles and long jump. And with the way he hovers above the rim, oh yes, the high jump. Given how his speed holds up for entire games, he'd also survive the 400 and 1,500.
But I just don't see him being able to compete in the weight events. The shot put is a 16-pound steel ball, not a 22-ounce rubber sphere like the NBA basketball. And the difference between mightily unleashing it 50 feet or struggling to toss it 40 feet is nearly 200 points on the decathlon tables.
Cristiano Ronaldo
Bleacher Report photo-illustration
At 6'1" and 183 pounds, the soccer superstar's upper-body strength isn't going to blow anyone away. But Ronaldo regularly displays some of the best footwork the world has ever seen, which would help him master the spin moves in the power-oriented shot put and discus.
His stamina, compared to most decathletes, might be off the charts.
John Naughton of Men's Health magazine says "Ronaldo sprints an average of 33 times at a top speed of 20.9 mph" in a typical 90-minute soccer game, which covers a total of 10 miles.
So he is definitely better prepared to excel in the decathlon's two biggest endurance tests—the 400 and 1,500—than anyone else on this list. And his ability to maintain ball control while navigating through flailing and falling bodies suggests he'd be up to the challenge of the hurdles.
But here's the thing. The speed of all those diagonal dashes in soccer don't necessarily translate to the speed an Olympic sprinter needs when heading straight down the lane.
SpeedEndurance.com's Jimson Lee arranged a match race of sorts between Ronaldo and a so-so sprinter—Angel David Rodriguez. The distance was only 30 meters, but Ronaldo was 0.3 seconds slower, which is a ton in a short race.
But keep the faith, soccer fans. When the site ran a zig-zag course, Ronaldo crushed his opposition.
J.J. Watt
NFL quarterbacks no doubt would love to see the Houston Texans defensive lineman take up the decathlon and quit giving them nightmares. At 6'5" and 289 pounds, Watt would be a terror in the weight events. If he can swat away offensive linemen, he can certainly send the disc and shot put airborne.
Yet what's most intriguing about Watt as a decathlete is his jumping ability. It just doesn't make sense that someone with that much mass can get off the ground. But Watt can levitate, as shown in the video of him leaping atop a 61-inch high box from a standing position.
At the NFL combine in 2011, Watt also impressed with a 37-inch vertical leap. So for a big man, he would probably perform shockingly well in the long jump and high jump.

But at the combine, he also clocked 4.84 seconds in the 40—a time that would have ranked him 13th-fastest among defensive lineman this year. In a foot race against trained sprinters, that's not going to cut it.
And good luck finding a pole that's sturdy enough for him in the vault.
Clayton

Kershaw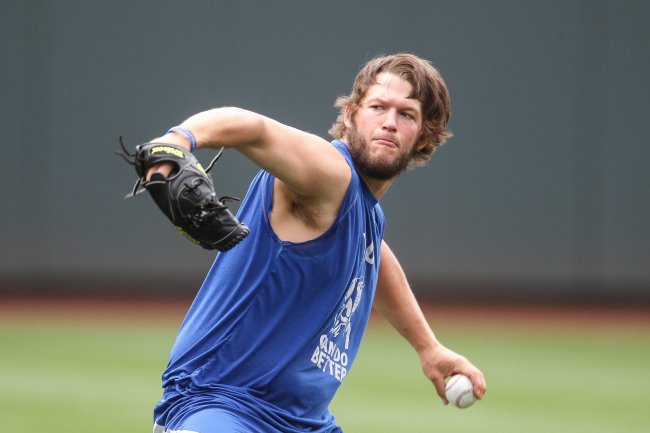 John Capella/Sports Imagery/Getty Images
With three Cy Young Awards already in the bag, there's no questioning Clayton Kershaw's arm. So, yes, he'd be very formidable in the javelin throw.
But Kershaw also possesses the mental makeup a decathlete needs—that unwavering attention to detail while trying to simultaneously prepare for 10 events. Kershaw's work ethic and training regimen are fast becoming legend. It's not just the routine that begins five hours before a game, but also the core strengthening and exercise cycles he pursues religiously in between starts.
The start-and-stop nature of pitching also plays into the patience a decathlete needs while grinding through 10 competitions over two days and dealing with the downtime.
And an MLB pitcher's summer working conditions are very similar to those of decathletes.
But in the end, there just isn't enough running and jumping on Kershaw's resume. He also doesn't seem to have the explosive speed needed in the 100 and hurdles.
LeBron James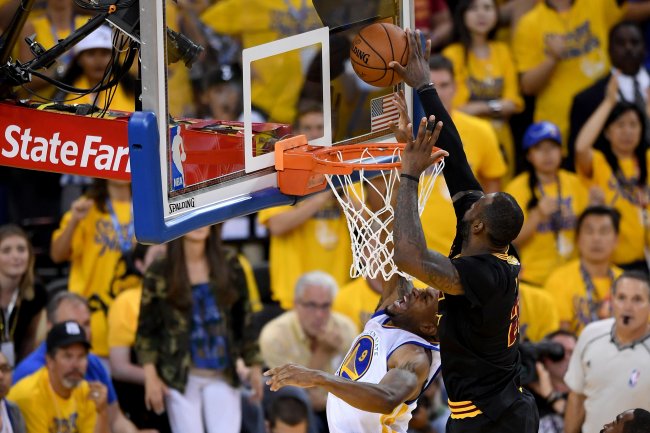 Thearon W. Henderson/Getty Images
In my book, James is the best of all these beasts—especially if we were to wind the clock back a few years and catch him at his absolute physical peak.
At 6'8" and 250 pounds, James has a body that can be plugged in nearly anywhere in team sports. The diet he went on two years ago is just one of many examples of his discipline and dedication to fighting Father Time.
Who would fare best in the decathlon?
According to Sport Science, LeBron needs only nine strides to cover the length of the court, as opposed to the NBA average of 13. Those big strides wouldn't necessarily conquer the 400 and 1,500 with ease, but he'd be in the same league as the mostly big guys who make up a decathlon field.
His make-or-break moment would come in the event that's famous for washing out would-be decathletes—the pole vault.
That's also true for everyone else on this list, because of the vault's unnerving demand for going upside down while trying to maneuver over a bar that's way higher in the air than the top of an NBA backboard.
USA Today once ran a series on the hardest things to do in sports, courtesy of Gary Mihoces, and the pole vault ranked No. 3. Olympic gold medalist Stacy Dragila told the newspaper, "There's always that fear the pole is going to snap," adding, "The most common mistake by beginning vaulters results from a last-second panic attack as they prepare to plant the pole."
That is a reminder: Conquering fear is the 11th event of the decathlon. How much fun would it be to see these six fantasy decathletes take it on?
Tom Weir covered 15 Olympics, including seven Summer Games, as a columnist for USA Today.