Have you enjoyed seeing so many Americans stand atop the podium at the medals ceremonies during the 2016 Rio Summer Olympics?
Yes? Then give a big thanks to the American women.
Their winning ways continued Tuesday afternoon, as gymnasts Simone Biles and Aly Raisman finished with the gold and silver medals in the floor exercise, respectively, just as they did in the all-around competition.
Plenty more medals are coming, but when Biles won Tuesday, it ran the USA's gold-medal count to an Olympics-leading 28. Seventeen of them had come from the women.
If that trend continues through the end of the Games, it will mark the second consecutive time the women have led the way in the gold-medal count. At the London Games in 2012, the USA women amassed 29 golds to 17 for the men.
USA's gold medals at recent Summer Olympics

| | | |
| --- | --- | --- |
| Year | Men's golds | Women's golds |
| 2016* | 10 | 17 |
| 2012 | 17 | 29 |
| 2008 | 20 | 15 |
| 2004 | 23 | 12 |
*Through Tuesday afternoon. The U.S. has an additional gold in mixed doubles tennis.
That was the only time American women produced more golds than the men at an Olympics. But only in recent years has a comparison been fair, as medal opportunities have evened out with the addition of many more women's events.
London was the first time the USA sent more women than men to an Olympics (269-261), and that has continued in Rio (292-263). No other nation has ever sent more women to a Games.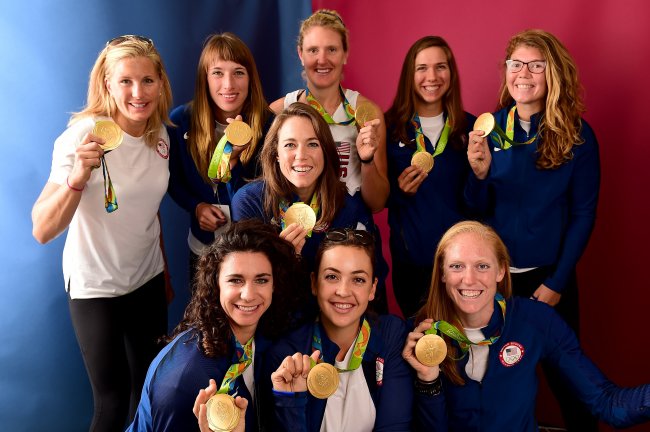 Harry How/Getty Images
How have the women managed to shift the math in their favor?
Title IX, the 1972 legislation that barred sex discrimination in federally funded educational programs, is an obvious factor. Title IX has helped raise the number of women competing athletically at the collegiate level from 32,000 to more than 150,000, according to AthleticScholarships.net.
One major benefactor from Title IX has been rowing, where college scholarships have boomed. At Rio, the USA women posted a third consecutive win in rowing's most esteemed event, the eights. Before this streak, their only other win came at the heavily boycotted 1984 games.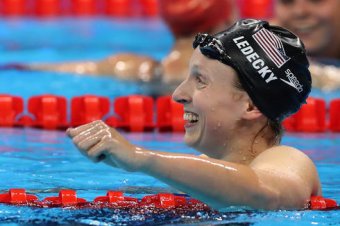 Lee Jin-man/Associated Press
And while Michael Phelps was the biggest headliner in the pool at these Games, the USA's female swimmers can take pride in perfectly matching the eight golds the male swimmers won. Coming on the heels of seven golds in 2012, that puts the U.S. women solidly atop of the sport worldwide. In 2008, they accounted for only two golds.
Swimming is another sport with a lot of collegiate support. Katie Ledecky—who had four golds and a silver in Rio—will attend Stanford, which also produced Rio gold medalists Maya DiRado and Simone Manuel. Another winning U.S. swimmer, Lilly King, is headed into her sophomore year at Indiana.
Shooter Ginny Thrasher, who delivered the USA's first medal at Rio, was an NCAA champ at West Virginia this year. Shot put gold medalist Michelle Carter graduated from Texas in 2007. All members of the women's basketball team that is unbeaten at the Olympics since 1996 came up through the collegiate ranks, too.
But it's testament to the growth of women's sports that the female gymnasts had the luxury of turning down college scholarships and going pro instead. Biles, Raisman, Gabby Douglas and 16-year-old Laurie Hernandez all gave up NCAA eligibility when they turned professional.
The fifth member of the gold-winning gymnastics team, Madison Kocian, is headed to UCLA for her freshman year.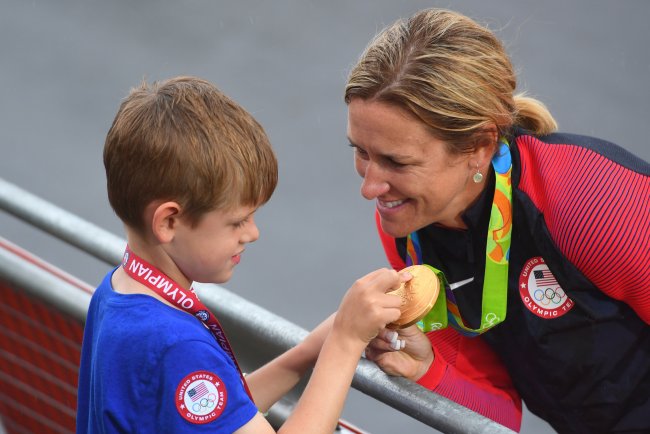 Jack Gruber-USA TODAY Sports
The women's gymnastics team is responsible for a seismic shift in medals at the last two Olympics. After winning three golds and five total medals in London, they notched four golds and nine total medals this time around.
Biles tied an Olympic record for female gymnasts with four golds in a single Games, becoming the first to accomplish that feat since 1984.
Also among this year's winning women are two moms. Swimmer Dana Vollmer was the celebrated "momma on a mission" who won gold as a member of the 4x100-meter medley relay, but Kristin Armstrong's story is even more compelling.
Armstrong won the cycling time trial for a third consecutive time, at an Olympics where she turned 43. She has a five-year-old son whom she hugged at the finish line. Given her age, Armstrong faced heavy criticism when USA Cycling's selection committee named her to the team, but she silenced the naysayers in the end.
USA women have also managed some significant breakthroughs in Rio.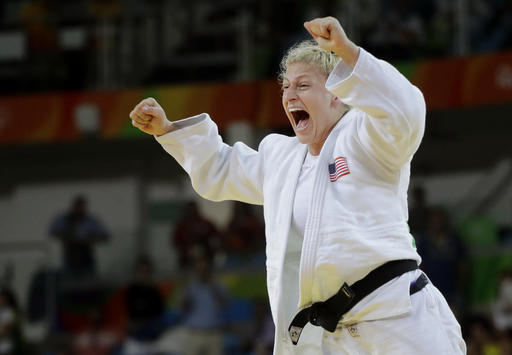 Jae C. Hong/Associated Press
Sarah Robles qualifies after mustering the strength to win a bronze and end a 16-year medal drought in women's weightlifting Sunday. So does Kayla Harrison, who became the first American to win back-to-back medals in judo. A former training partner of Ronda Rousey, you may see Harrison next in the UFC, according to Time's Sean Gregory.
The only question now is whether the USA women can keep the momentum rolling and break their record of 29 golds won at London.
The basketball team looks like a lock, and the tandem of Kerri Walsh Jennings and April Ross is looking to win the USA's fourth straight gold in beach volleyball.
Track will be the key. Prospects are strong in both relays, and the outlook is good in the 100-meter hurdles with Brianna Rollins and Kristi Castlin and in the long jump with Brittney Reese and Tianna Bartoletta.
One possible setback is that Jenn Suhr, defending champion in the pole vault, has been dealing with a virus that's left her ill, according to Todd Clausen of the Democrat and Chronicle. But as we've already seen several times in these Olympics, it's a mistake to underestimate any of the women on Team USA.
Tom Weir covered 15 Olympics, including seven Summer, as a columnist for USA Today.