No, the USA's female gymnasts won't sweep every gold medal in their sport at the 2016 Rio Summer Olympics. But it speaks volumes about how far gymnastics has come in the United States that a silver can sometimes be viewed as a disappointment.
Madison Kocian came painfully close to continuing the U.S. women's winning streak that began with the team competition and continued with Simone Biles' golds in the all-around and, on Sunday, the vault.
Where Kocian lost gold in the uneven bars Sunday was likely indiscernible to anyone who doesn't put these young women under the microscope 24/7. Kocian was every bit as high-flying, twisting and torqueing as defending gold medalist Aliya Mustafina, but the Russian prevailed by a slim margin, 15.900 to 15.833.
The two performed back-to-back, and Mustafina appeared beatable after ending with a slight bobble on her landing.
Kocian was next and failed to execute a couple of handstands perfectly, but her landing was rock-solid. A bag of cement couldn't have hit the mats with less quiver. But somewhere in all of those flying leaps between the bars, the judges saw a twitch or unpointed toe from Kocian they didn't like.
Shawn Johnson, the 2008 gold medalist in the balance beam, weighed in quickly with a dissenting "Are you kidding me?" tweet:
Are you kidding me judges?!!!!!!!!! Mustafina 15.900.... Madison 15.833 HOW! Both absolutely beautiful but @MadisonKocian definitely better!

— Shawn Johnson East (@ShawnJohnson) August 14, 2016
New York Times columnist Juliet Macur tweeted that she caught an equally negative reaction from USA gymnasts in the stands:
Madison Kocian is in 2nd behind Aliya Mustafina on bars. What did her U.S. teammates think of her score. From the stands: "No way!"

— Juliet Macur (@JulietMacur) August 14, 2016
So, yes, there were gasps and also some boos as Kocian's chance for gold somehow slipped away.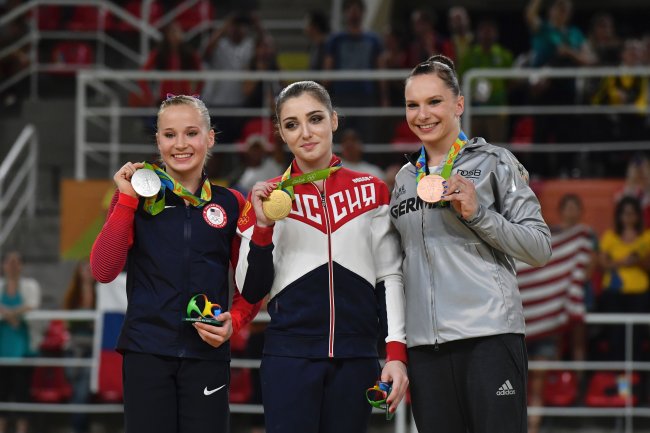 BEN STANSALL/Getty Images
But keep in mind, there was a time when the U.S. gymnastics world would have wildly celebrated achieving even a sixth-place finish in this event. The Americans never cracked the top six the first eight times the uneven bars were held at the Olympics, until Julianne McNamara and Mary Lou Retton broke through with a gold-bronze finish in 1984—a Games boycotted by Soviet bloc nations.
The bars also were the only event where the U.S. women failed to medal at the 2012 Olympics—a factor that played into why head coach Martha Karolyi put Kocian on the team for Rio.
Kocian was the designated hitter on the five-woman squad, performing only on the uneven bars during the team competition. It made for a light but pressure-filled workload, as the 19-year-old from Dallas was called upon to plug the USA's one weakness.
That might seem like a big burden to place on teenage shoulders, but Kocian delivered the top score in team qualifying. That was no surprise, considering how she had already proved herself as a sturdy spark plug who can weather tough times.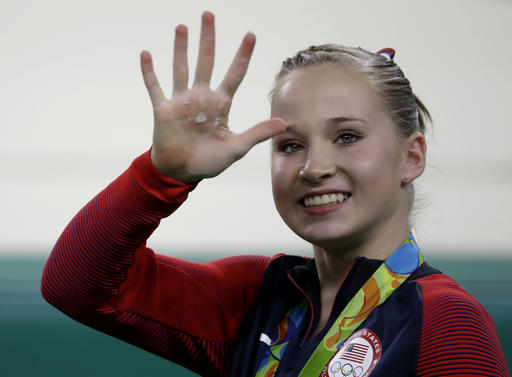 Rebecca Blackwell/Associated Press
In 2012, she fractured the growth plate of the radius bone in her forearm, forcing her to forgo any gymnastics activities that involved her hands for three months. For someone whose specialty is the uneven bars, that's like telling a boxer he can't punch for 90 days.
The injury healed, but 18 months later, the pain returned, and surgery was the only answer.
"This was in the beginning of 2014, and I had a big decision to make," Kocian told NBC's Julia Fincher. "The surgery would put me out for about five months, which would most likely cause me to miss the season. I had a goal in my mind to make the 2014 World Championships team and win the team gold for USA, so I decided with my parents and coaches to delay the surgery."
Kocian learned to live with the pain and helped the USA win at Worlds—a come-through performance that proved she could handle whatever a trip to the Olympics threw at her.
But she first had to take a five-month break following surgery to insert a plate and seven screws.
From fighting through the injury to enduring the surgery and recovery to facing the pressure of being a single-event specialist, it's all asking a lot from someone who hasn't begun her freshman year at UCLA yet. Her results have been the kind we're becoming accustomed to seeing from USA gymnasts, though.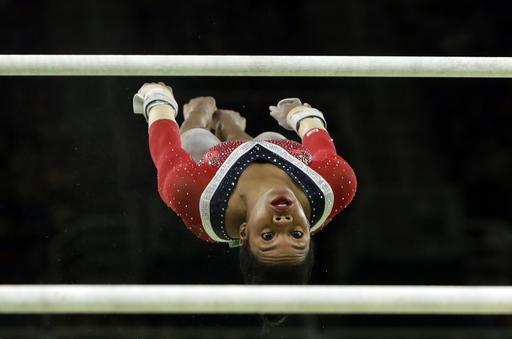 Dmitri Lovetsky/Associated Press
Alex Naddour had a similarly gutsy show for the USA on Sunday in the men's pommel horse, twisting and turning his way to a bronze medal. It was the first medal in Rio for the USA's men's gymnasts and also their first in the pommel horse since Peter Vidmar and Tim Daggett combined for gold and bronze, respectively, in 1984.
Back to the uneven bars: This time around, Gabby Douglas couldn't muster one of those inspiring finishes. She got off to a poor start on the bars and never fully recovered, scoring 15.066 and finishing seventh. It was a somewhat sad conclusion to a great Olympic career that included being a double gold medalist in 2012 and a member of the championship team in Rio.
But not all that long ago, Douglas' seventh-place finish would have been considered a moral victory, so let's not get too spoiled. This USA team has made medals seem automatic at times, but it's never as easy as it looks.
Tom Weir covered 15 Olympics (eight Winter, seven Summer) as a columnist for USA Today.