Dear Michael Phelps,
Uh, about this retirement thing.
I get it. It's been a long career, most of it spent stroking up and back, over and over again, chasing that long black line on the bottom of the pool. Your workouts make rush-hour traffic look fun, and you've probably swum the equivalent of three or four laps around the equator.
And now you have a fiancee and a son—a true Baby Boomer. Time to stay at home and settle into the life of a normal 31-year-old, whatever that is.
Should Michael Phelps retire from swimming?
I was with you on this, Michael. I really was. After all, how can anyone ask more from you? You've elevated swimming the way LeBron James elevated Cleveland. You've won more golds than Tiger Woods has majors. You've made them play "The Star-Spangled Banner" so often that now everyone around the world, from Andorra to Zambia, can hum along and not miss a note.
And it's not as if there's any barrier you left unbroken, not like A-Rod and his 696 home runs. What's left for you to do? Swim the English Channel? Butterfly over Niagara Falls?
So, yes, I was totally on board with you swimming off into the sunset. Especially since an Olympic encore would mean hanging on until 2020 for the Tokyo Games, when you'll be 35. As we all know, 35 is so old, right?
Then I watched NBC on Friday night.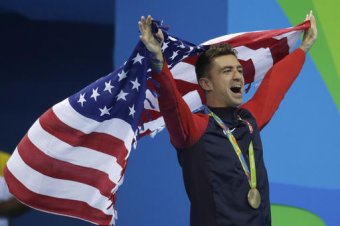 Julio Cortez/Associated Press
Michael, did you see Anthony Ervin? The guy popped the performance of a lifetime, winning the 50-meter freestyle. And guess what? Ervin is 35. And you know what else? He took eight years off from swimming, and he still won in Rio.
Truth is, 35 isn't all that old. Not for future Hall of Famers, not for those deserving of the GOAT title—your real peers.
Randy Johnson, a guy with a wingspan similar to yours, won a Cy Young Award in his age-35 season, then won three more over the next three years. When he was 35, Hank Aaron hit 44 home runs. Two years later, he hit 47. In his age-35 season, Cal Ripken Jr. didn't play his usual 162 games but rather 163.
Not convinced yet, Michael?
Well, Tom Brady, who knows almost as much as you do about winning multiple championships, won the most recent of his Super Bowl rings at 37. John Elway also won a Super Bowl at 37—and another one at 38. And Peyton Manning just cranked out his second Super Bowl victory at 39.
You can do this, Michael. Nobody needs 20/20 vision to look into the future and see what you can be in Tokyo in 2020.
Now then, about the parenting issue. First off, if it means keeping you in the pool, NBC will gladly send a herd of babysitters, nannies and au pairs to your house.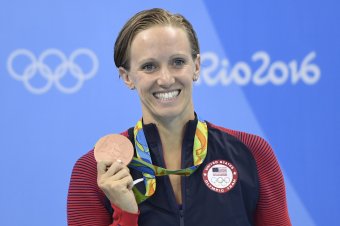 CHRISTOPHE SIMON/Getty Images
If you need advice on this issue, just check with one of your USA Swimming teammates, Dana Vollmer. She was the heralded "momma on a mission" at these Olympics, just 17 months removed from the delivery room, and she still scored multiple medals in Rio.
But you have your life planned out now, right? You're going to live in the desert and coach alongside your mentor, Bob Bowman, at Arizona State.
Seriously, Michael?
How can an obsessive winner like you possibly take a job that keeps you around competitive swimmers every day and not get the itch to make another comeback? That's like putting Winnie the Pooh in charge of the honey store.
But go ahead and keep putting up that firm front. We all heard you loud and clear Friday, when you said: "No more. This is it. I said it a bunch before. But I'm not doing it.
"I swore in London I wasn't coming back, and this is final. Were the papers here, I'd sign them tomorrow."
Good job, Michael. That adamancy should keep the news media off your back for a few years. (Wink, wink.)
But the people who know you best are saying otherwise.
Your fiancee hinted at it in a tweet on the night of the opening ceremonies, saying you "never know."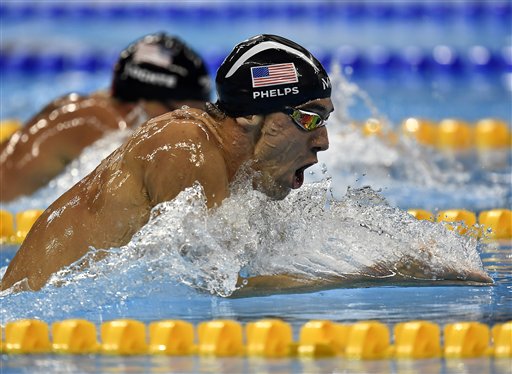 Martin Meissner/Associated Press
And your Olympic roommate, Ryan Lochte, a guy who's been swimming side by side with you for more than a decade, promised your return. He knows how much you love standing atop that podium. Who wouldn't? It's the Everest of sports, and you know better than anyone what it takes to climb up there.
Lochte made the talk-show rounds Friday, sounding like Joe Namath before Super Bowl III, flat-out issuing a guarantee on Today (via CBSSports.com) that you'll be back in 2020.
What makes your roomie so sure, Michael? Have you been talking about Tokyo in your sleep?
There's only one thing you're not good at, and that's quitting. You tried it before and still came back for more.
If you need some time away, so be it. Have the rest you've earned. Get out the stopwatch and set some personal bests for the time it takes to change a diaper.
But don't be afraid to come back one more time. Nothing can tarnish your legacy, and your vault is so loaded with gold that it won't matter one bit if you have to settle for some bronze in Tokyo. And it's not as if delaying retirement puts you at risk of sinking an entire franchise, like Kobe did.
Put your faith in Yogi Berra, the guy who put it so simply: It ain't over till it's over.
And for you, Michael, there's no reason for Rio to be the end of the road.
Tom Weir covered 15 Olympics, including seven Summer Games, as a columnist for USA Today.