Though the Olympics are a great sports spectacle, enduring individual rivalries tend to be missing. With each event only happening once every four years, those one-on-one showdowns for global supremacy are tough to perpetuate.
Except for the one between Michael Phelps and Ryan Lochte.
Those two will battle each other for gold in Thursday's 200-meter individual medley final in what's likely the last chapter of the greatest rivalry in the history of swimming and perhaps in all of Olympic sports.
Lochte has swum the two fastest 200 IMs in history and was second fastest in Wednesday's semifinal with a time of 1:56.28, while Phelps is the event's three-time reigning gold medalist and edged out his compatriot in the semis with a time of 1:55.78.
Now, the stage will be set for the fourth edition of Phelps vs. Lochte in the event.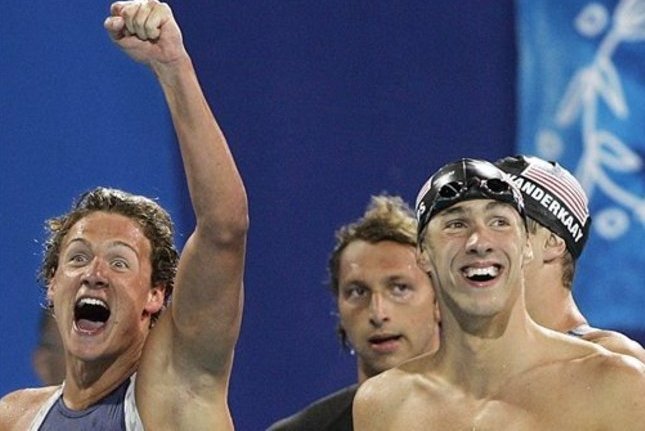 MARK BAKER/Associated Press/Associated Press
Phelps, the most decorated swimmer in Olympic history with 21 golds and 25 medals overall, is the favorite. But don't let the glare of all of Phelps' Olympic hardware make you forget that Lochte, with six golds and 12 medals overall, ranks second all time for most swimming medals by a man.
The two have anticipated this race since the U.S. Olympic trials last month, where Phelps edged Lochte.
"When we race each other, we bring each other to a different level," Phelps told reporters at the trials. "We take each other to that next step."
And as Lochte reminded everyone while addressing the crowd at the trials, "We've had a long history, a long journey. But it's not over."
Phelps, Lochte in Olympics 200 IM

| | | |
| --- | --- | --- |
| Year | Phelps | Lochte |
| 2004 | Gold | Silver |
| 2008 | Gold | Bronze |
| 2012 | Gold | Silver |
| 2016 | ??? | ??? |
B/R research
History suggests the likelihood of a 1-2 finish, with Phelps holding off his good friend one last time.
That's how they finished in 2012, when Lochte's closing drive began too late to prevent Phelps from becoming the first male swimmer to three-peat in an individual Olympic event.
Their 2008 race was the one that got away from Lochte, who had to settle for bronze after picking up an intestinal virus from brushing his teeth with tap water in Beijing. Even so, there was only one-hundreth of a second difference between Lochte and silver medalist Laszlo Cseh of Hungary. But even at his healthiest, Lochte would have had a tough time winning that day, as Phelps set a world record with a blazing time of 1:54.23.
It all began in 2004, when they went 1-2 in Athens. Going into those games, no American had won the men's Olympic 200 IM since 1968, and it would have been hard to forecast such a long reign of dominance for Phelps, then 19, and Lochte, who had just turned 20.
But they both went on to demonstrate staying power that hadn't been seen before in swimming, which was key to escalating their individual popularity and that of their sport.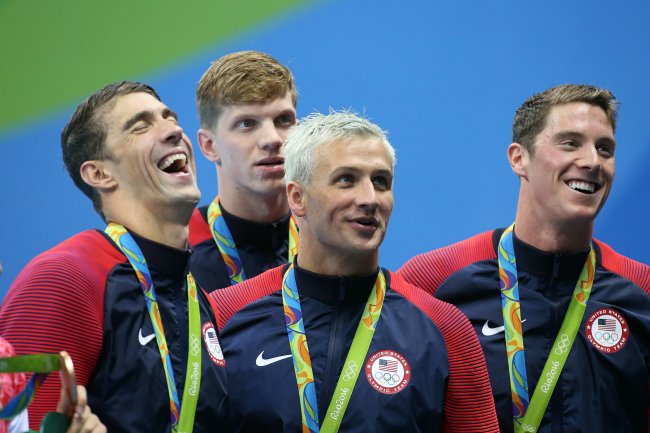 Jean Catuffe/Getty Images
Lochte, now 32, even arrived in Rio looking the part of elder statesman, with a head of gray hair that was lightly tinted blue. The chlorine is messing with the silver sheen, but the bigger question is whether Lochte can end this rivalry with a parting gold.
According to USA Swimming, Phelps holds a 13-4 record all time against Lochte in major competitions.
Phelps won all of their races from 2004-08, but when he left swimming briefly in 2009, Lochte set a world record in the 200 IM. Lochte got his first big win against Phelps at the 2011 World Championships, where he set a world record of 1:54.00 that still stands.
Phelps retired again after 2012, and Lochte won another world championship in 2013. Lochte repeated as the 200 IM world champ in 2015, but three days later, Phelps swam a much faster time at another competition.
.@RyanLochte is now a 12-time Olympic medalist, winning gold in tonight's 4x200m free relay #TeamUSA @TeamUSA pic.twitter.com/hVNAtSjm0M

— Ralph Lauren (@RalphLauren) August 10, 2016
A groin injury meant Lochte had to scale back his effort at these Games. He failed to qualify in the 400 IM, where he was the defending Olympic gold medalist, and he pulled out of the 200 backstroke. That left the 4x200-meter freestyle relay as his only other event at Rio, and he made it a memorable one on Tuesday, winning gold on the foursome that included Phelps.
"It's a lot harder because I'm older. I can't put my body through certain practices or sets that I used to be able to do," Lochte told reporters recently. But he added that he might be getting a little smarter about training with age, noting: "Now that I've gotten more mature, I'm listening to my body more."
Once known for his partying, Lochte told Joe Rodgers of Omnisport that he was planning on having an alcohol-free Olympics. But he hasn't lost the goofiness that helped made him a crowd favorite, as a visit to his Snapchat stories at any time during these Olympics has shown.
Thursday, though, it will be all business. Lochte has left the door open on trying to compete at the 2020 Tokyo Olympics, but Phelps has said these are definitely his final Games.
"I think the biggest things is that we know how to push each other and ourselves," Lochte told Rodgers. "Every day that we go to the pool or to a workout we know how to push our bodies to the limits that other people are afraid to go to. When we start feeling pain, we push ourselves even harder."
And with their rivalry down to its final moments, the push on Thursday figures to be greater than ever.


Tom Weir covered 15 Olympics (seven Summer, eight Winter) as a columnist for USA Today.