Given that they haven't won a medal yet, doesn't it seem a little premature to declare the five young women on the USA's gymnastics team as the best in American history?
Tough. That's exactly the lofty perch the USA women seem destined for after a dominating Sunday qualifying round that demonstrated the rest of the world's female gymnasts are strictly competing for silver at the 2016 Rio Olympic Games.
Simone Biles, Aly Raisman, Gabby Douglas, Laurie Hernandez and Madison Kocian waltzed through what amounted to a dress rehearsal for the gold medal they'll win in the team competition on Tuesday.
How lopsided was the scoring? Think original Dream Team being in cruise control by halftime and winning by 60.
Tom Pennington/Getty Images
That's how big it was to post a team score of 185.238 and leave top contenders China (175.279) and Russia (174.620) hopelessly behind. One group was due to compete later Sunday, but Canada, France and Japan had zero hope of topping the USA score.
Scores will reset to zero when medals are at stake on Tuesday, but the U.S. women showed it will require several miracles to beat them.
Biles, whose elevation on leaps in the floor exercise was nothing short of astounding, led the way as expected. Aside from the best score in the floor exercise (15.733), she also led in the balance beam (15.633) and vault (16.050).
Kocian ranked as the top qualifier in the fourth discipline, the uneven bars, with Douglas close behind. The USA also had a second-place finish from Raisman in floor exercise, and another second from Hernandez on the beam.
The Americans were nearly faultless on every apparatus, with no falls and only a couple of minuscule wobbles on the beam, and no missed connections on the bars. Nor were there any signs of nerves from the 16-year-old Hernandez, the youngest member of the team.
All of which is why Russia's top gymnast, Aliya Mustafina, essentially conceded gold even prior to the U.S. women's performance Sunday.
"It's going to be really difficult to compete against the American team," Mustafina told reporters. "They are unbeatable at the moment."
That's quite a concession to make for someone like Mustafina, who left the 2012 London Olympics with a gold, a silver and two bronzes. But that's the kind of aura the U.S. women will bring to the arena Tuesday.
Still, as always seems to be the case in women's gymnastics, there was some drama even though the ultimate outcome was never in doubt. Most of it involved Douglas, whose selection to the team over Ashton Locklear stirred some criticism.
Douglas fell off the beam on both nights at the U.S. Olympic trials, but she atoned for those missteps and perhaps silenced her doubters with a solid routine Sunday. She also was in position to claim one of the USA's two qualifying spots in the individual all-around event, but she fell just short. Biles easily claimed the top spot (62.366), and Raisman (60.607) edged Douglas (60.131) for the second one.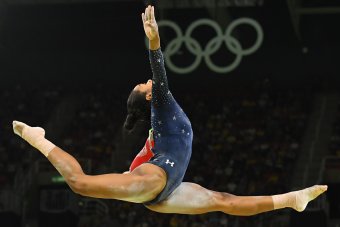 Robert Deutsch-USA TODAY Sports
Douglas was third in the all-around, which speaks to Team USA's incredible depth. But it also means she won't get to defend the all-around gold she won in London. Still, Douglas resurfaced as a competitor who rises tallest when the stakes are highest, validating coach Martha Karolyi's faith in her.
"She's told me, 'You can do this. Just go for this 100 percent. Don't be tentative and don't shy away,'" Douglas told USA Today's Nancy Armour on Thursday. "That means a lot to me, knowing she believes in me so much."
Douglas also had a fine routine on the uneven bars that indicated she'll be in the hunt for an individual medal there.
As for Raisman, qualifying in the all-around seems like a fitting reward for the team's other veteran from 2012. In London's all-around, Raisman finished in a tie for third with Mustafina with a score of 59.566, but she lost the bronze medal on a tie-breaker.
That figures to be the only time anyone from this resolute group will let a medal slip away.
Tom Weir covered 15 Olympics (seven Summer, eight Winter) as a columnist for USA Today.