The USA's Maya DiRado swam her heart out Saturday night, going faster than ever before in the grueling 400-meter individual medley. But even though DiRado swam the race of her life, she was nowhere near the winner, Hungary's Katinka Hosszu, who absolutely obliterated the world record.
All of which was perfectly fine with DiRado, who proved it's possible to wear a gold-medal smile even when the color of one's medal is silver.
DiRado beamed when interviewed poolside on NBC afterward. It was the look of someone who's happily winding up her Olympic career shortly after it starts and leaving the sport on her own terms.
"It's unbelievable," DiRado said. "I had so much fun in that race."
It's hard to think of anyone having fun in the 400 IM, the four-stroke test that's known as "the decathlon of swimming."
But for those who have tracked DiRado's rapid rise the last two years, it's easy to imagine the swell of pride she felt when she slid into second place for keeps during the second leg, the backstroke, and kept on motoring to the finish.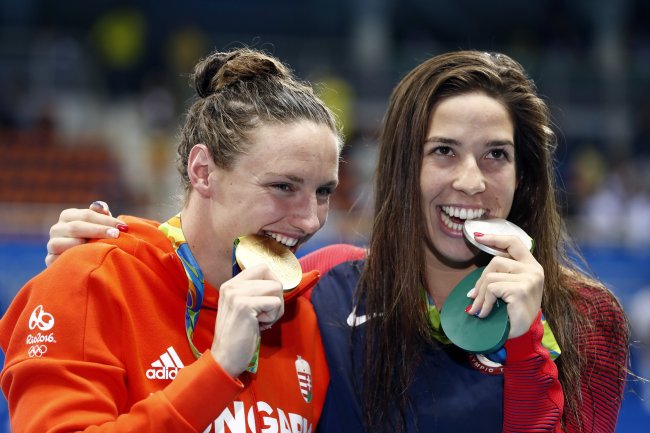 ODD ANDERSEN/Getty Images
That was validation for the game plan DiRado has followed since finishing second in the 400 IM at the 2015 World Championships. She went all in on training for the 2016 Olympics and vowed to accept the outcome as her swim finale no matter what, with no looking back.
DiRado, raised in the Sonoma County wine country of northern California, had no interest in becoming a vintage Olympian.
Making her first Olympic team at the age of 23 defines her as a late bloomer, at least in swimming. But she also is willing to make an early exit, and she believes her all-or-nothing commitment to Rio made her a faster swimmer, as she told Barry Svrluga of the Washington Post before the Olympics:
Part of the reason why I am swimming so well is knowing that I have a hard stop date, and so it's so much easier to be excited about all of this and give it everything I have when I know that this is my last go-through. I don't think that's a sign that I need to keep swimming. I think it's a sign that my preparation this year has been really good—and that I'm ready to move on to something new.
That something new is a job as a business analyst in Atlanta for McKinsey & Company, a management consulting firm. And if it seems like DiRado is rushing off just when she's hitting a peak, well, that's pretty much her style.
She skipped second grade and was 13 when she started high school. At 15, she registered a perfect score in math on the SAT. At 17, she was enrolled at Stanford. There, she met husband and three-time NCAA swimming champion Rob Andrews, whom she married last year.
What a race by @MayaDiRado! 🏊 pic.twitter.com/sZ96wQmlNo

— U.S. Olympic Team (@TeamUSA) August 7, 2016
By making her next fast-track move, is she passing up a chance for Olympic gold as a future seasoned veteran?
Maybe. She still has two events remaining in Rio, the 200 IM and the 200 backstroke. But even if she doesn't win in either of those, there would be no guarantee she'd win gold at Tokyo's 2020 Summer Olympics after four more long years of training.
Hosszu was unbeatable Saturday, winning in 4:26.36, taking more than two seconds off the previous world record, and beating runner-up DiRado by nearly five seconds.
"That's a crazy record," DiRado told NBC, who finished in 4:31.15. "We never thought it would fall, and she crushed it. So hats off to her."
But four years ago in London, when Hosszu was an equally heavy favorite, she bombed out and didn't win a single medal.
Similarly, the USA's Elizabeth Beisel became a strong contender for the 2016 Games after she took the 400 IM silver as a 19-year-old in London. She came to Rio with two Olympics' worth of experience. But that sterling pedigree wasn't enough to put the reigning silver medalist back on the podium Saturday night. She finished sixth.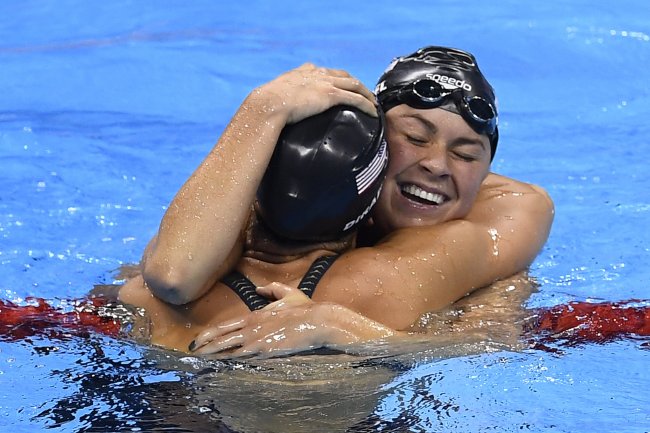 GABRIEL BOUYS/Getty Images
DiRado, who said it felt like her brain was starting to "atrophy" during the nonstop training for Rio, wasn't willing to commit to four more years for a proposition that iffy. There are no guarantees for any athlete who tries to put together a four-year plan for world dominance, one more reason for her decision to put down an all-or-nothing bet on Rio.
So no, DiRado doesn't get to join the short but impressive list of American women who made their mark as gold medalists in the 400 IM: Donna de Varona, who won when the event made its Olympic debut in 1964 and later went on to a career in sports broadcasting. Claudia Kolb, who won by 20 meters in 1968, in what The Complete Book of the Olympics says was the most decisive victory in women's swimming in 40 years. Tracy Caulkins, whose chances for multiple medals at the 1980 Moscow Games were wiped out by the U.S. boycott, finally got her first Olympic gold in 1984's 400 IM. And Janet Evans, who made the event the first of her four gold-medal performances in 1988.
But DiRado will go down as the one who had no problem hanging up her Speedo and goggles and moving on to life outside the pool.
Tom Weir covered 15 Olympics (seven Summer, eight Winter) as a columnist for USA Today.