Jordan Spieth might be the one golfer whose stride says more about how he's playing than his swing.
The 23-year-old Texan was back in form on Friday, brimming with confidence with each step at the PGA Championship as he took aim at claiming the year's final major.
Spieth's three-under score of 67 in the second round vaulted him up the leaderboard while also providing an unerring response to anyone who thinks he's a lesser player now than in 2015, when he captured the Masters and U.S. Open.
That 2015 run, the hottest spurt golf has seen since Tiger Woods was in his prime, naturally maximized expectations to a level that's impossible to maintain in a sport where so much young talent is flourishing.
Coming into the PGA, it was clear that Spieth was tired of the noise and had a good idea of how to silence it.
Spieth admitted to letting minor frustrations get to him and to his game. A big part of his solution, Spieth said at a Tuesday media conference, was to resume walking the walk he was known for while winning his two majors.
"But recently, I've quickened my step," Spieth told reporters. "I've gotten back to kind of the gunslinger, the way that I grew up playing, which is just step up and hit it. I went from over-dissecting shots to really feeling like less is more."
Continuing on that theme, Spieth added: "Golf is a game where you smack it, go up to the next one and smack it again and you count it up at the end. Simplifying things has really been the trend recently. It's really helped me."
Spieth hardly looked like a golfer who needed help as he worked his way around Baltusrol.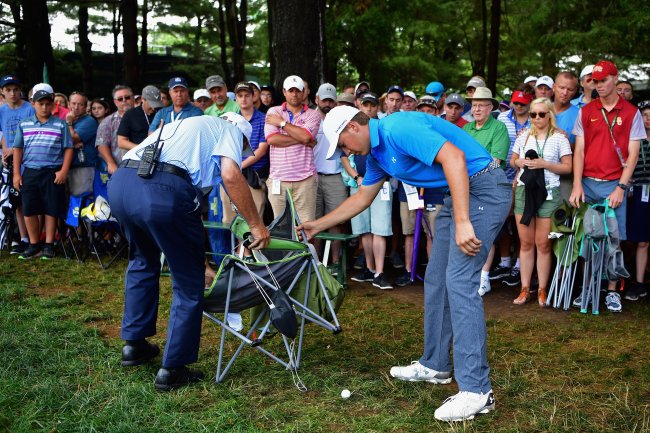 Stuart Franklin/Getty Images
The start of his second-day assault was delayed 50 minutes as officials dealt with a waterlogged course. But the wait had no visible effect on Spieth. The confident stride we saw from the Texan while he was winning last year's Masters and U.S. Open was back—and so was the heat in his putter.
Opening on the back nine, Spieth raced up the leaderboard while carding a four-under score of 32 on the easier half of Baltusrol. He birdied three of the first four holes and didn't allow a sloppy bogey on No. 12 throw him off course.
Spieth's irons also were precise on approach shots, giving him a chance to remind the field just how dead-eyed he can be when he putts from inside of 10 feet. Spieth commented on this trend at his media conference afterward:
I'm hitting the ball fantastic. I just can't get a putt to go in outside ten feet. And from ten to 20 feet, the amount of opportunities I've had that aren't that difficult, up to my putting standards I would be five, six, seven strokes better right now. ... Inside of ten , I made quite a few good birdie putts today to get me in contention.
But the best part of his surge was back-to-back birdies on Baltusrol's only two par fives, the 17th and the 18th. That's the best scoring territory at Baltusrol, and Spieth has now birdied No. 18 both times he has attacked it. (Although he did hit a fan on 18, but he atoned with an autographed ball.) That can't help but give him some positive experiences to channel if he's playing for the championship when he gets to the final hole on Sunday.
Are these people insane??#Spieth#PGAChampionship @MikeWeir pic.twitter.com/HUo30p8VSE

— Kyle LaSalle (@Pitaman75) July 29, 2016
The only blemish on his final nine holes was a bogey on No. 7, the same place he took a double bogey in the first round. Spieth landed in a puddle on a cart path but managed to work out of it while dropping only one shot this time around. He kept his cool and received a big laugh from the crowd when he announced, "That's the best drop I've ever taken."
Sorting out the situation with a PGA official took about 10 minutes, but it didn't rattle Spieth.
"I literally asked every question I could ask, and I got every answer I could be to be content," Spieth said at his media conference. "That's first and foremost what you are trying to do is obviously abide by the rules."
Spieth can't be blamed if he thinks the critiques of his game have been petty.
It's not as if he's disappeared from contention or been struggling to make cuts. He has two tournament victories in 2016, and his six top-10 finishes have fueled a fourth-place ranking in the FedEx Cup points. He also has banked $4.6 million in prize money.
Spieth's image of seeming invincibility took a sizable hit when two consecutive shots into the water knocked him out of the lead at the Masters. Even so, he still finished tied for second at Augusta, something his doubters overlook.

But Spieth did appear to be in a definite funk at the two ensuing majors.
In the U.S. Open at Oakmont, he tied for 37th and looked weary while carding a final-round 75. He wasn't much better at the British Open, where weak putting and a second-round 75 left him way back, but he did close with a 68.
Now he's thoroughly back in the hunt, not only with a chip on his shoulder, but also with a swagger in his stride. And as he proved in 2015, that's when he's most dangerous.
Tom Weir covered several golf majors as a columnist for USA Today.