If Jason Day is to claim his first U.S. Open championship, he needs to make friends quickly with the course that tortured him Friday.
Day has almost never been worse in a major than he was while carding a 76 during his rain-delayed first round, a six-over score that left him in danger of missing the cut at a major for the first time since 2012.
The world's No. 1-ranked golfer was better when he returned on short notice to play the second round and whittled his aggregate score to five over through 15 holes before competition was suspended by darkness. But the Australian is still nine shots off the lead and needs a comeback of epic proportions if he is to claim his second major.
How epic? Well, the last time anyone shot an opening-round 76 or worse at the U.S. Open and went on to win was way back in 1955, when Jack Fleck managed the feat.
For Day, this was one of the few strokes that turned out well, and he'll need many more like it to get in the hunt:
.@JDayGolf: 137 yards ➡️ 2 feet. 🎯 #USOpen https://t.co/8jDD0sQCMM

— U.S. Open (USGA) (@usopengolf) June 17, 2016
So, yes, Day's odds are long and stacked heavily against the pre-tournament favorite. Making the cut is still not guaranteed, and it looks like golf is in for another reality check as it continues to hope to christen the next Tiger Woods.
The sport thought it had found that person when Rory McIlroy closed out the 2014 majors with back-to-back victories at the British Open and PGA Championship. But the Northern Irishman hasn't finished better than fourth at the five majors since, and he's in even worse shape than Day after an opening-round 77.
Golf also was ready to anoint Jordan Spieth after his Masters-U.S. Open double last year. But Spieth proved he is human, too, by putting two consecutive shots into the water at this year's Masters—which cost him a second green jacket.
Now Day has ascended into that No. 1 role on the strength of last year's PGA Championship and three victories this season. He also has seven titles in his last 18 starts, a sizzling streak that led fellow Aussie Adam Scott to unleash a Woods comparison.
"It's Tiger-esque, that kind of run," Scott told Dave Sheinin of the Washington Post after Day won The Players Championship by a four-stroke bulge in May. "There's that calmness inside him, a calm confidence. He's got that kind of unbeatable look about him."
Maybe we should have seen this sudden plummet coming, especially once the premature Woods comparisons started flying. Entering the tournament, Day was extraordinarily open about the tension he's felt since elevating to the top of the golf world.
As Day acknowledged at a press conference, he's on edge:
I've never been more stressed in my life than right now. It's just because being No. 1 in the world—having a lot of expectations on you, having to practice so hard to keep that No. 1 spot, trying to win as many tournaments as I can—puts a lot of stress and pressure on your shoulders. Sometimes your immune system gets a little heated, and you're more susceptible to getting some illnesses that way. It doesn't help that my father-in-law was sick during the Memorial, so that kind of passed it along to me.
Still, it was almost impossible not to pick Day to win this week, given that the U.S. Open has been his steadiest major.
Day finished in the top 10 at four of the last five U.S. Opens and was a runner-up in 2011 and 2013. But Friday's 76 equaled his worst round at a U.S. Open, from 2012. The only times the 28-year-old has been worse in a major was while shooting a 77 at the the 2013 British Open and an 80 at the 2012 PGA Championship.
Day's nemesis throughout the round of 76 was the Oakmont Country Club course, which has humbled nearly every player who's ever attempted to tame its lightning-fast greens. Its difficulty made 12-foot putts look like mini-miracles, and Day was hardly alone among those wincing and biting lips in frustration after missed putts.
Day's first shot of the tournament missed the fairway and led to an opening bogey, and his day stayed downhill from there.
The worst of it came on the par-four seventh hole, where he was lucky to escape with just a double bogey. Day's approach shot landed in a bunker, and then he hit over the green and into a second bunker. His fourth shot didn't make it over an embankment and rolled back into the sand.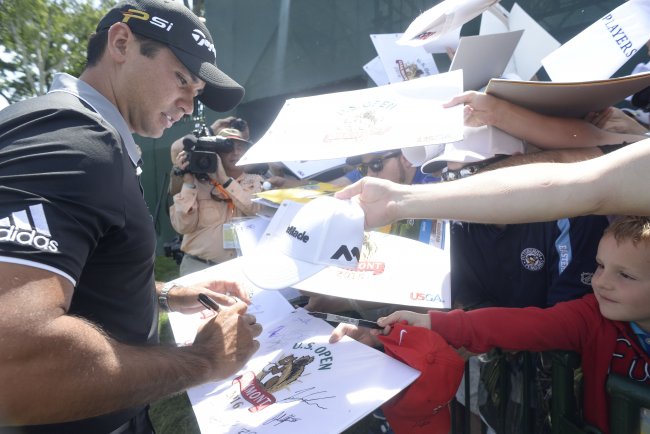 Michael Madrid-USA TODAY Sports
But for Day, perhaps more relevant than the speed of Oakmont's greens is that it's a course that climbs and dives, not unlike the rolling landscape of Chambers Bay, which put Day flat on his back with vertigo at one point during last year's U.S. Open.
Day held on to finish tied for ninth during that sometimes-traumatic test, so it's too early to count him out. But he has a steep mountain to climb, one even Woods would have been hard-pressed to scale in his prime.
Accomplish that, and then maybe it will be time for the Woods comparisons.
Tom Weir covered several golf majors as a columnist for USA Today.