Much of the prelude to Saturday's Preakness Stakes was spent dwelling on all the ways mega-favorite Nyquist was similar to American Pharoah, the superhorse who last year ended the 37-year drought of Triple Crown winners.
But on race day, it was Exaggerator who served indisputable notice that some of those comparisons should have been reserved for him, given that he claimed the middle jewel of the Triple Crown in the same style that Pharoah did at Pimlico, galloping through a virtual swamp to a decisive victory.
Unlike the fictional slugger, Casey, there was nothing but joy in Mudville for Exaggerator. And also for the two brothers who oversaw his trek and who have their own muddy history.
The up-and-down relationship of trainer Keith Desormeaux, 49, and Hall of Fame jockey Kent Desormeaux, 46, has been well-documented, as have Kent's battles with alcohol. But for this Triple Crown season, they have been a solidly united Team Desormeaux that never quit believing in the finishing power that carried Exaggerator to redemption.
Two weeks ago, they placed second at the Kentucky Derby, but they stayed on course, even after Nyquist dealt them a fourth consecutive defeat. Trainer Keith kept his ego in check and didn't get caught up in trying to fine-tune Exaggerator's speed for the Preakness. Instead, he focused on keeping his horse as relaxed and rested as possible during the short turnaround between races.
"My philosophy was to take it as easy as possible," he told NBC about a half-hour before the race.
Matt Slocum/Associated Press
And why not? Nyquist thoroughly deserved all the praise his win at the Derby earned, but one thing that was grossly overlooked in Kentucky was the brilliant ride Kent gave his steed. He ran in 15th place for much of the race before beginning his charge from way off the pace, and he ultimately finished second by just 1 ¼ lengths.
In retrospect, it's fair to say Exaggerator didn't lose in Louisville so much as he just ran out of track. Down the homestretch, he ate into Nyquist's lead with every stride.
At Pimlico, Kent Desormeaux was even better. On a day when hooves sank deep into nothing but mud and every competitor was blanketed in brown slime, he knew that navigating the shortest course to the finish line was more vital than ever.
At the start, he held back Exaggerator and guided him close to the rail, saving ground while Nyquist ran wide at a rugged early place that proved fatal. The final margin was 3 ½ lengths, and Kent's maneuvering had spared his horse at least that much real estate.
Who will win the Belmont Stakes?
Invoking race track parlance about keeping close to the rail, Kent told NBC after the race that, "You want to paint the fence. We did. They didn't."
And with a defiant tone, the jockey added, "Knowledge is power."
That knowledge of how to ride at Pimlico stems from Kent's early career, when he led the nation in winning rides for three consecutive years while based in Maryland. But the memories of his dominant era, which included a record 598 wins in 1989, gradually blurred because of his problems with the bottle.
Maybe now that's in the past. Just as Keith is being recognized as a trainer whose accolades are overdue, perhaps Kent will be looked at now as a jockey who has rediscovered his greatness.
Kent's unerring judgment Saturday demonstrated how steadily his hands hold the reins these days and, just as importantly, set up a date when he can win further redemption at the track where he suffered his greatest disappointment.
At the 1998 Belmont, Kent had a Triple Crown within reach as he took overwhelming favorite Real Quiet into that 1 ½-mile challenge, horse racing's greatest annual test of endurance. He was beaten by a nose, a four-inch margin that was called Belmont's closest finish. Afterward, Kent accepted blame for pressing his mount too early and eventually giving up a six-length lead, per the Associated Press (h/t the Gainesville Sun).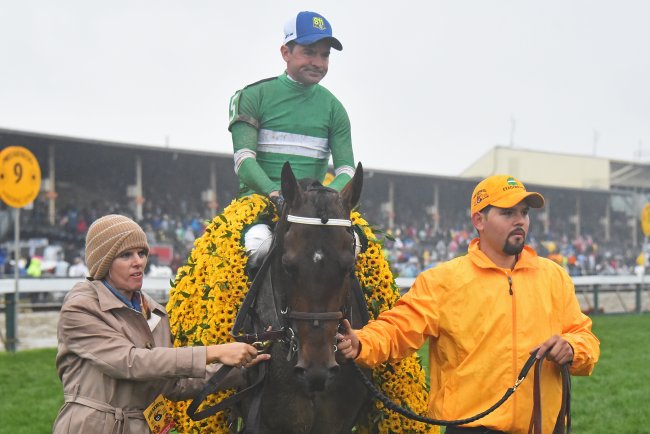 Horsephotos/Getty Images
With the chance for a repeat Triple Crown lost, many fair-weather racing fans—especially all those who made Nyquist a 3-5 betting favorite, according to Preakness.com—no doubt will lose all interest in the Belmont Stakes.
But the wiser move is to celebrate the surprise rise of Exaggerator and Team Desormeaux, and the potential showdown that awaits at the Belmont.
Assuming both Exaggerator and Nyquist emerge healthy from the Preakness and race again in three weeks, it sets up a rubber match that quite likely will decide who takes the title of Horse of the Year.
Nyquist's backers can claim Exaggerator's victory in the Preakness was a muddy gift from Mother Nature that spared him from a fifth straight defeat to his nemesis. And Exaggerator's fans can contend their horse is on the verge of dominating this year's Triple Crown races.
Either way, it should make for a duel to remember.
Tom Weir covered 20 Triple Crown races as a columnist for USA Today.