For all those horse racing fans who only a year ago thought they might never see another Triple Crown winner, Nyquist suddenly has made it feel like 1978 all over again.
That was the year Affirmed followed Seattle Slew's run to the Triple Crown with one of his own, the only time in thoroughbred history we've seen horse racing's greatest feat accomplished in back-to-back years.
Now Nyquist, fresh off Saturday's convincing victory in the Kentucky Derby, appears in perfect position to duplicate the Triple Crown romp American Pharoah made last year.
For the undefeated colt, now 8-of-8 in the win column, the question isn't so much whether he can do it, but rather why won't he do it?
On the track, Nyquist will face the same set of steep challenges that Pharoah overcame.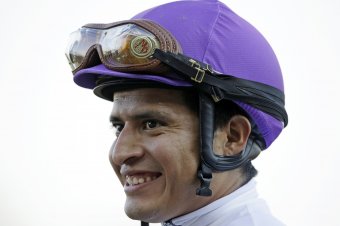 Darron Cummings/Associated Press
He'll have just a two-week break before he'll have to race again at the Preakness Stakes, where the field will include fresh competitors who didn't race at the Derby.
And if Nyquist wins there, he'll have only three weeks to recover and run the longest race of his career, the 1 ½-mile test at the Belmont Stakes.
I jumped on Pharoah's bandwagon in a hurry last year, and I'll take that seat again with Nyquist. He's similar to American Pharoah, whose only loss before the Derby was in his first race.
Both could be described as push-button horses who did whatever they were asked to do, and Nyquist especially deserves that label. He has won going wide, coming from behind and, as he did Saturday, from just off the early lead.
But versatility is hardly Nyquist's only quality. There are plenty more reasons to think he's on course to deliver a Triple Crown, such as...
The Triple Crown jinx is gone
Pharoah didn't know the weight of the racing world was on his shoulders as he sought to end a 37-year drought for Triple Crown winners, but his team certainly did. Trainer Bob Baffert had seen two of his other horses win the first two legs of the Triple Crown and then fall short at Belmont. Jockey Victor Espinoza also had been in the position twice, and the pressure to finally get it done must have seemed suffocating.
Nyquist's crew will have plenty of questions to answer, but at least that elephant has left the room.
Nyquist's team has been there before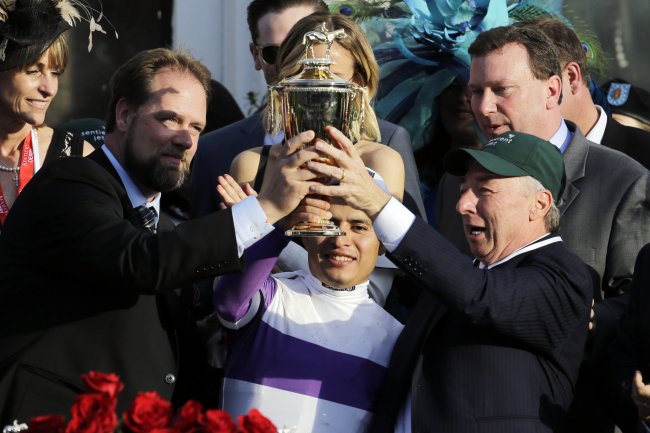 Julio Cortez/Associated Press
Nyquist's overseers—owner Paul Reddam, trainer Doug O'Neill and jockey Mario Gutierrez—are painfully familiar with all the steps on the road to the Triple Crown. In 2012, the same threesome won the Derby and the Preakness with I'll Have Another, but it never reached the starting gate at the Belmont. The day before the Belmont, I'll Have Another was scratched with a career-ending tendon injury.
That no doubt left them with a permanent case of heartbreak, but it also prepared them for whatever awaits on this Triple Crown journey.
"This is such a special horse," O'Neill told reporters, per ESPN.com. "You can see it in his eye on a daily basis, and he's such a professional. Any human sport, he'd be the top-notch athlete. He's just first-class.''
Nyquist outperformed his pedigree
To win the Derby, a hopeful must contend not only with the stampede out of the gate by a 20-horse field, but also the 1 ¼-mile distance. Nyquist's doubters cited that as his biggest obstacle, given that he was bred more as a miler and had no meaningful distance-runners in his bloodline, per Joe Drape of the New York Times.
Will Nyquist go on to win the Triple Crown?
But on Saturday Nyquist ran with authority, and his winning time of 2:01.31 was the Derby's fastest since Funny Cide clocked 2:01.19 in 2003. Nyquist's time also was substantially quicker than American Pharoah's 2:03.02.
If Nyquist reaches the Belmont undefeated, there will be plenty of questions about handling the 1 ½-mile burden, but after his Derby performance any questions about endurance and stamina seem answered.
But sweeping all three races is such a rigorous test that doubts will remain right up until the horse who wore a lucky No. 13 on Saturday becomes the 13th Triple Crown winner of all time.
Among them...
Can Nyquist get two more clean trips?
Nyquist's trip around the Churchill Downs track couldn't have been any smoother. Gutierrez guided him to the rail quickly, tucked behind early leader Danzing Candy, and he never had to worry about getting caught in traffic.
But there was nothing lucky about that move. It was a textbook start, and Nyquist showed he loves to respond to orders.
Can Nyquist continue to hold off Exaggerator?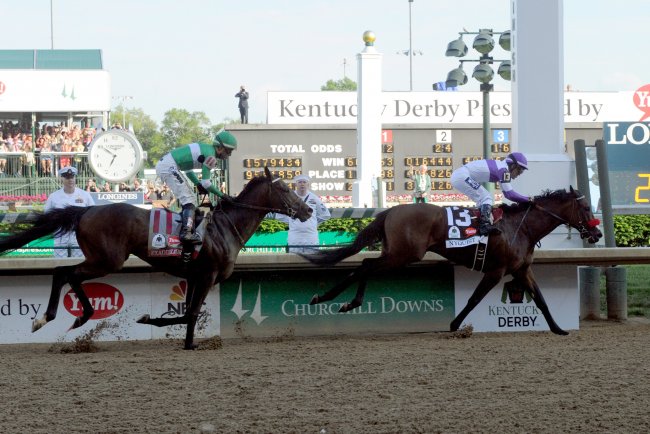 Diane Bondareff/Associated Press
Kent Desormeaux's excellent ride aboard runner-up Exaggerator was an inspiring display of work by a jockey who's had very public and recurrent problems with alcohol. And Exaggerator made a fabulous stretch run that chomped up big chunks of Nyquist's lead in the homestretch.
But that's one more reason to think this might be 1978 all over again, because that was the year Affirmed had to hold off rival Alydar in all three Triple Crown races.
Can Nyquist cope with the short rest between his next two races?
With the Preakness just two weeks away and the Belmont three weeks after that, this looks like Nyquist's biggest potential problem.
Nyquist came into the Derby extremely well rested, having had five weeks since his previous outing at the Florida Derby. And before that, he had nearly a seven-week gap between races.
In his career, the shortest period Nyquist has ever had between races is 19 days, between his third and fourth races, in the fall of 2015.
So no, it won't be easy, but so far Nyquist has ended every race day with a trip to the winner's circle. And until some other horse proves otherwise, there's no reason to think he doesn't have what it takes to get there two more times.
Tom Weir covered 12 Kentucky Derbys as a columnist for USA Today.