Horse racing savored a dream year in 2015, as American Pharoah brought throngs of fans to the track and elevated the sport by thundering home as the first Triple Crown winner in 37 years.
American Pharoah's domination gave thoroughbred racing the superhorse it had been craving for nearly four decades, ending an agonizing series of disappointments by pretenders who couldn't quite close the deal on the ultimate equine achievement.
But the downside of that historic triumph is that after his three-year-old season, American Pharoah was ushered to the breeding barn, where payoffs in stud fees dwarf the amounts paid in the winner's circle. Pharoah remains the face of horse racing, but his starring role was something of a cameo appearance.
So now, quite naturally, horse racing would love to see a sequel, because the so-called "American Pharoah effect," as the Lexington Herald Leader called it, rippled throughout the sport financially and emotionally.
Can it happen? For those who like a hunch bet, the quirky history of Triple Crown winners offers some hope. So does the talent level of the field for Saturday's Kentucky Derby, where this year's Triple Crown candidate will emerge.
The only back-to-back Triple Crown winners came in 1977-78, when Seattle Slew and Affirmed turned the trick. But the 12 superhorses that completed the feat have tended to come in bunches: three in the 1930s, four more in the 1940s and three in the 1970s.
If indeed American Pharoah has begun another cluster of Triple Crown winners, the following horses are most likely to keep the parade going this year.
Nyquist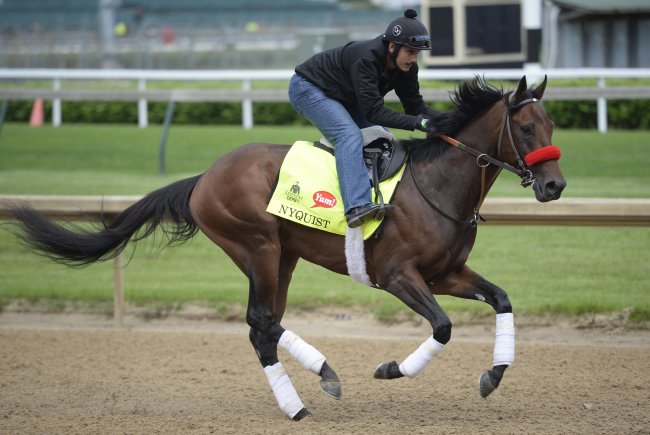 Jamie Rhodes-USA TODAY Sports
Until he's beaten, the namesake of Detroit Red Wings star Gustav Nyquist looms as the most likely successor to American Pharoah. For inspiration, Nyquist will even have the Stanley Cup in his barn, per John Cherwa of the Los Angeles Times.
Nyquist is a perfect 7-0 for his career and is expected to be a heavy betting favorite on Saturday. Agreeing with that sentiment is Bob Baffert, the four-time Kentucky Derby-winning trainer who guided Pharoah to the Triple Crown.
"He hasn't done anything wrong at all," Baffert told Beth Harris of the Associated Press. "You have Nyquist and you have a lot of horses underneath."
Nyquist begins the rugged Triple Crown quest—three races at three distances longer than he's ever run before—well-rested. He's had a five-week layoff since winning the Florida Derby, and his $3.289 million in purses makes him the top money-winner in this year's field, according to the Kentucky Derby's official site.
More importantly, Nyquist has shown tremendous versatility, winning wire-to-wire, coming from behind and going wide to take the lead. The Derby, crammed with 20 starters at Churchill Downs, always tests a horse's ability to cope with the unexpected.
It also helps that the team behind Nyquist has endured the Triple Crown's rigors before. In 2012, owner Paul Reddam, trainer Doug O'Neill and jockey Mario Gutierrez had I'll Have Another in position for a Triple Crown with victories at the Derby and Preakness Stakes. The horse was a late scratch at the Belmont Stakes, however, because of a leg injury that ultimately ended his career.
A victory Saturday would make Nyquist the eighth unbeaten horse to win the Derby. He has been in the lead going into the homestretch in all of his races but must now prove he can weather lengthier races, the one big question that remains for him.
The 1 1/4-mile Derby will be his longest test, and if he gets to the Belmont still unbeaten, he'll face a 1 1/2-mile challenge. Nyquist was bred as more of a sprinter, and his pedigree is bereft of distance runners. His sire, Uncle Mo, never won a race longer than 1 1/16 miles.
Exaggerator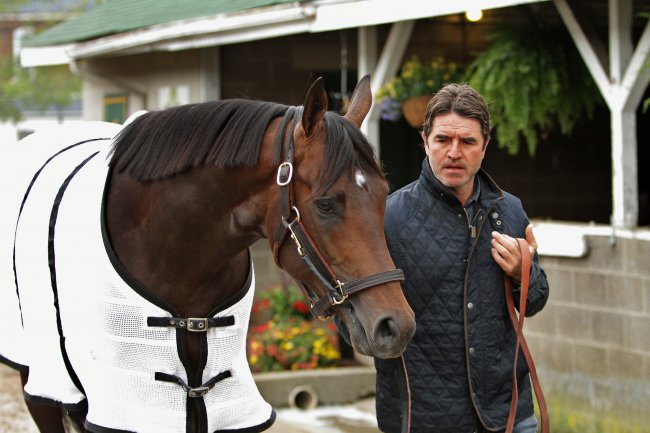 Garry Jones/Associated Press
No horse had a more impressive final Derby prep than Exaggerator, who won the 1 1/8-mile Santa Anita Derby by 6 1/4 lengths. But that was on a sloppy track, and excellent weather is expected Saturday. More telling: Though Exaggerator has four career wins in nine starts, Nyquist has beaten him three times.
If Exaggerator turns the tables on his nemesis, it likely will be because he's built for the longer distances. His bloodline includes Seattle Slew, and he was sired by Curlin, who finished in the money in all three Triple Crown races of 2007.
Another factor working in Exaggerator's favor: Kent Desormeaux, a three-time Derby winner who knows how to thread his way through a big pack, will be riding him.
Gun Runner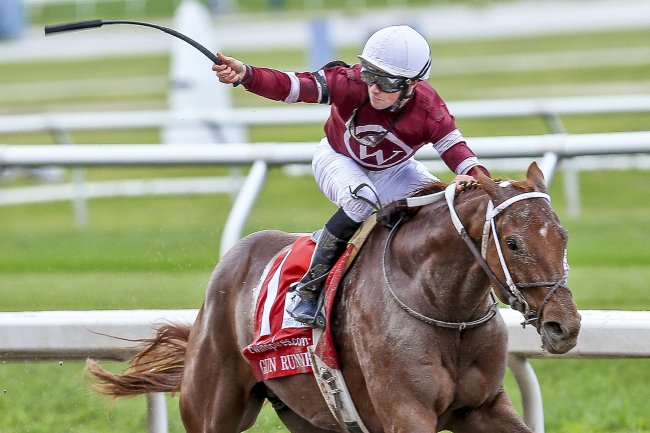 Eclipse Sportswire/Getty Images
Maybe it's a bad omen that Gun Runner's lone defeat in five starts came at Churchill Downs last November, when he faded to fourth after leading at the top of the homestretch.
But he won his other four outings, including the 1 1/8-mile Louisiana Derby in late March, where he breezed home with a comfortable 4 1/2-length margin. He also has created quite the buzz in Louisville by ranking No. 1 in the Kentucky Derby points standings, which determine who qualifies for the world's most prestigious horse race.
A Gun Runner victory would be marvelously well-timed for trainer Steve Asmussen, who recently was elected to his sport's Hall of Fame but still hasn't won the Derby. It also would elevate the status of jockey Florent Geroux, a popular Frenchman whose star has been ascending rapidly lately and who's making his Derby debut.
Mohaymen
Eclipse Sportswire/Getty Images
If you believe that everyone is entitled to an off day, including four-legged beasts, then Mohaymen might be the horse for you.
According to Odds Shark, Mohaymen attracted a lot of the early Derby wagering and might have ranked as a co-favorite if not for the Florida Derby. Mohaymen went off as the 4-5 betting favorite in that race but created serious doubts by finishing fourth, 8 1/4 lengths behind Nyquist.
That's Mohaymen's only defeat, and trainer Kiaran McLaughlin has dismissed it.
"It was the only two bad minutes he's had since he came into the barn," McLaughlin told reporters. "June 23 he came in, and he worked two weeks later. Since then, he's never missed a day. He's never had a bad moment, except that day for two minutes."
Mohaymen's bloodline includes Secretariat, whose history provides a reason not to get overly pessimistic about that one bad race. In Secretariat's final Derby prep in 1973, he had a flat performance while finishing third at the Wood Memorial, but then proceeded to dominate the Triple Crown season.
Mohaymen, by the way, means "dominant" in Arabic.
Mor Spirit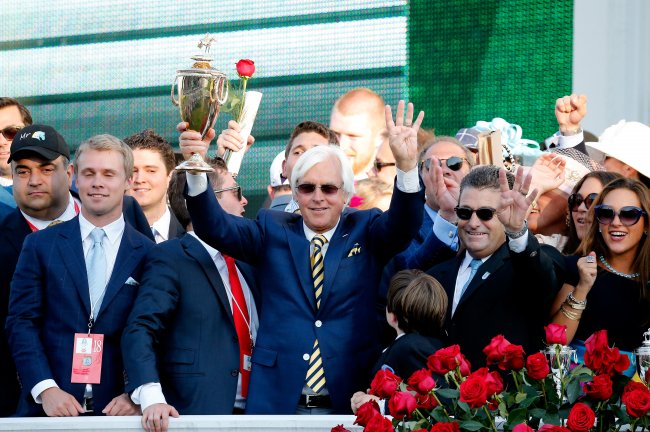 Rob Carr/Getty Images
Baffert's horses have been such consistent performers in Triple Crown races that no handicapping of the Derby is complete until his entries are considered. The legendary trainer's lone entry in this year's race is Mor Spirit.

His great-grand-sire was Seattle Slew, and in seven races, Mor Spirit has won three and never finished worse than second.
For this race, Baffert has teamed with a fellow Hall of Famer, jockey Gary Stevens, whose three Derby victories include winning aboard the Baffert-trained Silver Charm in 1997. If they can recapture that magic, they could be worthy successors to American Pharoah.
The bottom line
So will there be a repeat Triple Crown winner? Probably not. The odds are always against it.
But the way we view the possibility of a Triple Crown has no doubt been skewed somewhat by that 37-year drought. There were several horses during that span who won two jewels of the crown but missed out on the third because of fluke injuries or bad racing luck. Big Brown, Smarty Jones and Funny Cide easily could have already given us three other Triple Crown winners this century.
Nyquist ranks as strong a candidate to win the Derby as any of them did, stronger than once-beaten American Pharoah was last year. Nyquist also already defeated the horse that was perceived to be his greatest rival, Mohaymen, keeping his record blemish-free to date.
The Derby also has been more predictable in recent years, with three consecutive favorites delivering: Orb, California Chrome and American Pharoah.
Nyquist must first handle the 1 1/4-mile distance and leave Kentucky in sound health. Perhaps we'll then see a lucky 13th Triple Crown winner.
Tom Weir covered 12 Kentucky Derbys as a columnist for USA Today.