Paul George is a superstar again. He's been back for a while, but the Toronto Raptors are noticing it more than ever in the playoffs.
"He is playing unbelievable," Kyle Lowry told Bleacher Report. "His swag is unbelievable right now, his basketball playmaking abilities are unbelievable. He's getting to his sweet spots."
Nearly all of his regular-season numbers were on par with or better than his previous peaks, and the six-year pro has been even better in the postseason.
Despite that, George's Indiana Pacers are down 2-1 in the first round, and after Thursday night's 101-85 Game 3 implosion at home, it's safe to wonder whether his stardom will be enough to keep the Pacers' season alive. It's always enough to provide a puncher's chance, sure, but the following lessons could re-open the door for a franchise that followed George to consecutive Eastern Conference Finals just two and three years ago.
Lesson 1: Superstar > Star
Credit Raptors swingman DeMar DeRozan for finally rising to the challenge with his first strong start of the series, scoring seven of his team's first 12 points and netting 12 on 4-of-8 shooting in the opening period of Game 3. He cooled off to finish with 21 points on an aggressive-but-still-volume-reliant 19 attempts.
But George was right there with him, shot for early shot. It was 9-8 Pacers through the first three minutes, as both teams started uncharacteristically hot. George had six of those nine—all by getting to his mid-range spots at will. His showing felt certain, while DeRozan's seemed surprising.
So often, anything DeRozan can do, George does better. Here's a lasting visual reminder from Game 1:
How demoralizing is this? DeRozan finally got to the basket and made a good play, but he needed a lot of help.
And then what? George responded on the next possession, almost effortlessly teasing the Raptors, as if to say, "Look at how hard you have to work. I just got that when I wanted it."
DeRozan was due for a big night, what with three years of playoff duds weighing him down. One good turn felt like an outlier when compared to the body of evidence, per Bleacher Report's Adam Fromal's Total Points Added system:
On the other hand, postseason Paul George has always ranged from steady to spectacular.
Though he made only four more field goals and finished 6-of-19 on Thursday, George got to the line 12 times, making them all. His final line of 25 points, 10 rebounds, six assists, a block and a steal is terrifying because this was a bad night for a player whose impact has been two-sided, per Bleacher Report Insights:
DeRozan has shot 37.2 percent (94-of-253) from the field in the playoffs (14 games played), a decrease of seven percent from his career regular-season average. He is shooting 19 percent (4-of-21) when guarded by Paul George through the first three games. Conversely, George is shooting 75 percent (6-of-8) when guarded by DeRozan.
Lesson 2: Game Plan + Reinforcements > Superstar
With DeRozan so ineffective defensively in the first two games, the Raptors had few answers. Point guards Kyle Lowry and Cory Joseph are able stoppers, but they're too small for the 6'9" George. Norman Powell is a rookie and was on the bench for all but three minutes of Game 3. Like DeRozan, Terrence Ross isn't much good on the defensive end, and he's still recovering from a concussion suffered in Game 1, averaging only 11 minutes per contest so far.
Then DeMarre Carroll played at full tilt after missing all but 26 regular-season games.
He shook off the rust during the campaign's final weeks, and he suddenly jumped from 19.7 minutes, four points, two rebounds and one assist in each of the first two matchups to 35 minutes, 17 points, five rebounds, a block plus a steal in Game 3.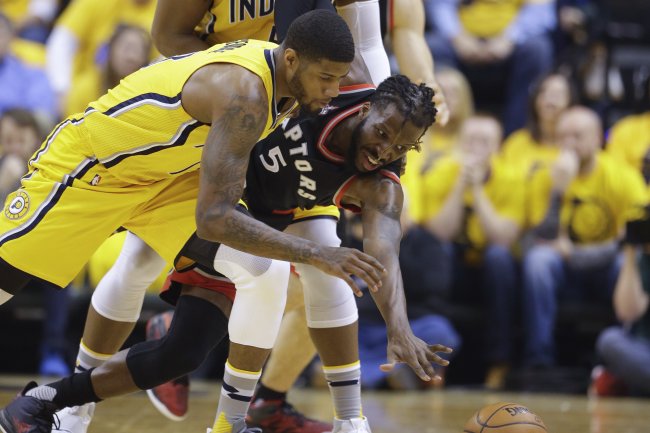 Michael Conroy/Associated Press
"I spent a lot of energy chasing him around," Carroll said after the game. "We tried not to let him get the feel for his shot. If he does get a feel for his shot, he's a beast. I think we just need to keep being physical with him.
"We gotta get him fatigued. Last game, I felt he was tired, had his hands on his knees a lot at the end. If we can keep wearing him out during the series, those shots he's hitting now he might not be hitting in Game 5 or 6."
Remember how badly George torched DeRozan early in the series? Per Bleacher Report Insights, George shot 18.2 percent (2-of-11) against Carroll in Game 3.
The former Atlanta Hawk allows the Raptors to help rather than collapse defensively. It's the difference between chipping bodies around screens and on drives and needing to send bodies, which thereby opens things up for other Pacers.
Carroll's defense and flexibility seemed to put Indiana in retreat since no one could lose a preoccupied defender or find what had been uncontested looks.
"We just have to keep getting bodies into [George], making it tough on him," Lowry said. "He's going to make them—he's shooting at such a high clip right now—but that's what an All-Star, a superstar, can do to you. We gotta make every shot he takes contested."
Yes they do. Don't forget George's Game 3 stat line, even after all that good work by Carroll. Or that time PG-13 scored on four-fifths of Toronto's lineup in transition.
Lesson 3: Superstar + Help = ?
"We didn't do our job," George told reporters after Game 3. "The best offense is just us being in attack mode. ... Hopefully we respond angrily."
But you can only attack, with anger or otherwise, if you have multiple methods of doing so. In Game 3, Indy committed 17 turnovers—12 of them in the first half and nearly all of them ugly—because guys were pressing in the face of pressure. There were no release valves.
The Pacers are a shell of the former, albeit much slower, roster that averaged 46 wins over four seasons with George was a full-time starter. They have a hodgepodge with multifaceted defenders Solomon Hill and Ian Mahinmi, steady point guard George Hill and streak scorers like Monta Ellis, Rodney Stuckey and C.J. Miles. The guards averaging career lows or close to them, and that's without even mentioning Ty Lawson.
Indiana tries to run simple actions with anyone, but outside of "Paul George star plays," it's hard to know what its style, system or identity is. According to Bleacher Report Insights:
He has the fourth-highest usage rate among players who have totaled at least 30 minutes in the playoffs. George alone accounted for 22.4 percent of the Pacers' points this season, 31.7 percent of the team's made three-pointers and 31.6 percent of its made free throws. He ran 43.4 percent of the Pacers' isolations. [On a team that includes Ellis.]
Make no mistake, rookie big man Myles Turner is working to change that imbalance. He's averaging 3.3 blocks per playoff game and just had his best game of the series, putting up 17 points, eight boards and three rejections.
He's easily been the best Pacer at denying Raptors center Jonas Valanciunas position on post-ups and boxouts—watch for him to deftly hold the seven-footer's jersey and/or push him in the back, veteran-style, every time—and is seemingly the only one who can get him in all-important foul trouble. (George's drives won't likely do it because the Lithuanian doesn't challenge to block shots often.)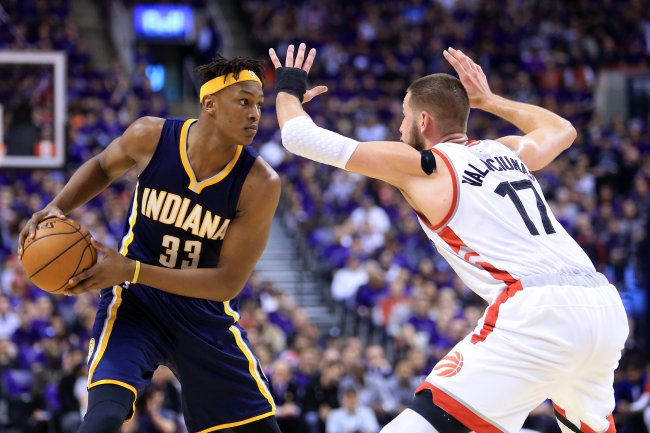 Vaughn Ridley/Getty Images
Still, Turner's not ready to be fully deployed, as he's averaged only 24.3 minutes during these playoffs after playing 22.8 during his injury-truncated regular season. His range and production are streaky, his defensive rotations intermittent and, despite Turner's best efforts, Valanciunas is averaging 14.7 points and 16 rebounds in just 26.7 minutes per night while manning the block and threatening from the roll.
But if there's one Pacer besides George who can change a game athletically, it's Turner. The 20-year-old is Indy's only in-house hope of providing meaningful, long-term support to George, who is somehow still just 25 himself. These two will pair nicely.
You can make the case that Pacers president of basketball operations Larry Bird purposely threw this team together as a wait-and-see stopgap until he knew how George would recover from the broken leg that knocked him out for almost all of 2014-15. Other (non-Turner) pieces may prove important, but they're not main cogs.
Now that it's 100 percent clear George is back, it's time to rebuild a proper, cohesive roster around him. After all, not every NBA team gets a superstar like this in his prime.
Joel C. Cordes covers the NBA as Bleacher Report's associate NBA editor. Follow him on Twitter @bballJoel. All quotes obtained firsthand unless otherwise noted. All stats accurate as of April 22 and courtesy of Basketball-Reference.com unless otherwise noted.