INDIANAPOLIS — The Toronto Raptors badly needed this 101-85 Game 3 win Thursday over the Indiana Pacers. Kyle Lowry and DeMar DeRozan needed it even more.
"Kyle, your three-ball really hasn't been going yet," a Toronto reporter said, framing a pregame question, only to be interrupted by a laugh-sighing Lowry.
"You don't have to tell me that," Lowry replied. "I'm 1-of-12. I know that."
Moments later, Lowry was lamenting, even as he said so confidently, "We just want DeMar to get going in general…on the road or at home. We just want him to get going. I'm sure he will."
He certainly did, going off for 21 points on 7-of-19 shooting. It wasn't efficient (another 0-of-2 from three), but it was an aggressive, attacking performance.
After winning their last two games to take a 2-1 series lead, the Raptors may have averted an identity crisis not seen since before Lowry arrived in 2012 to join DeRozan, drafted in 2009.
What They Are
DeRozan has been the team's leading scorer for the past four seasons, while Lowry has been its top setup man, steals generator and heartbeat (Rudy Gay technically had more points per game in 2012-13 and more steals in 2013-14 but played only 33 and 18 games for Toronto, respectively).
The Raptors won the Atlantic Division the past three years and made the playoffs, both franchise records.
Lowry's bulldog defense has been equally matched by his fearlessness on the drive and willingness to take big shots. He just notched career regular-season highs in three-point shooting (38.8) and effective field-goal percentages, plus a career high in steals, tying Chris Paul for third league-wide. His 4.7 rebounds per game also matched a career high, while his 6.4 assists per game were similar to those since he became a full-time starter in 2010-11.
DeRozan unleashed another season's worth of Raptors highlights not seen since Vince Carter, carrying the scoring load for a squad that's overreliant on ensemble efforts otherwise. He served up career highs in points, three-point shooting percentage (albeit still a paltry 33.8) and PER. His field-goal and true shooting percentages trended up, and his rebounding and assisting remained steady.
All that was supposed to carry over to help Lowry capitalize on his second All-Star-caliber campaign and well-publicized summer slimming. And after a contract/career-year regular season spent quietly muffling the "DeRozan's inefficient and one-dimensional" whispers, the national audience was also supposed to nod in appreciation.
What They Weren't (Until Game 3)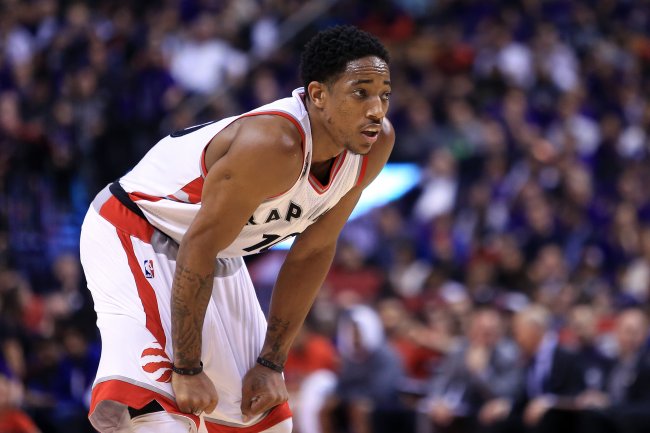 Vaughn Ridley/Getty Images
Instead, a 100-90 Game 1 loss at home, their eighth straight such stumble, awoke every possible demon: last year's sweeping disaster to the Washington Wizards; the Game 7 heartbreak from the Brooklyn Nets in 2014; two stars saddled with insurmountable evidence that they were largely to blame.
"There was that feeling like once playoffs start again, a lot of us that were there are going to remember that feeling and damn sure don't want to feel that feeling again," DeRozan previously wished with Mike Ganter of the National Post.
Yet, it was happening again, as noted by Bleacher Report's Insights:
Through the first two games, Lowry and DeRozan were combining to average 26.5 points per game, an 18.2-point decrease from their 44.7 points per game in the regular season. During the regular season, Lowry (18) and DeRozan (28) had 46 games in which one of them scored at least 27 points. So, those two often individually outscored their combined average.
The stars were flailing against a team that laudably returned to the postseason with 45 wins and a No. 7 seed courtesy of the third-best regular-season defense based on efficiency, per ESPN's Hollinger Stats (the Raptors were 11th). But never once was Indiana seen as a credible threat despite a healthy Paul George.
It was the third time Toronto seemingly couldn't capitalize on being the upper seed.
As Bleacher Report's Adam Fromal helpfully shared via his Total Points Added system, things had been ugly prior to Game 3:
Ditto for Lowry.
They Needed This
"They just came out with a 'we have to win Game 3 attitude,'" Pacers forward Solomon Hill said, who was often tasked with chasing DeRozan. "They got about 20 more shots than us. That's all effort and heart."
After building a 44-26 lead late in the second quarter, the Raptors seemed in control. DeRozan had started out uncharacteristically hot with 12 points on 4-of-8 shooting in the first period, and Lowry had six assists by halftime. He also hit four three-pointers on 10 attempts overall, often outstretching his post-make hands in relief.
It also helped that the Pacers were sloppy, committing 12 turnovers in the first half and aiding Toronto to a 53-36 lead at the interim.
Leads have been made and lost too many times by these Raptors over the last couple of years, yet every time the Pacers got within 11-13 points, Toronto struck back with a timely bucket, usually matched with an even better play on the other end—often from one of its two stars.
"We have to understand," DeRozan told Bleacher Report, "that we have to stay consistent on the defensive end and buckle down when they make a run."
Rather than aimlessly half-attacking and putting up desperation shots late in the clock, DeRozan and Lowry continued penetrating to unlock kick-outs against the standstill swing passes that sunk Toronto in Game 1. This reawakening opened up too many options for Indy to track.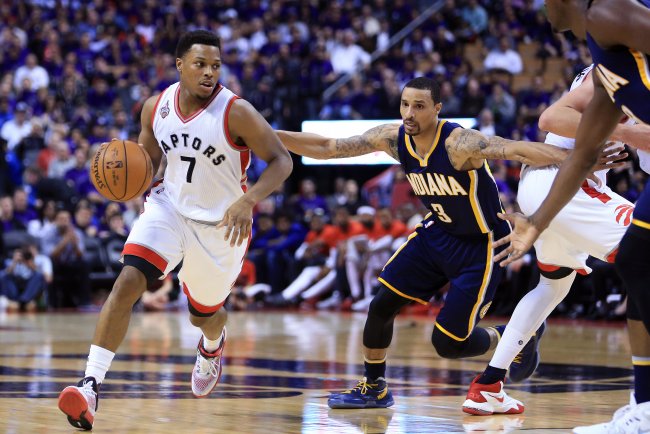 Vaughn Ridley/Getty Images
DeMarre Carroll's timely backdoor cuts and clawing defense had previously been limited to 20 minutes per night due to injury recovery, but he played 35 minutes, scored 17 points and helped hold Paul George to 6-of-19 shooting and 1-of-8 from three, (though PG13 did flirt with a triple-double on a 25-10-6 line). Cory Joseph and Patrick Patterson combined for another 17 points.
And though Jonas Valanciunas (nine points and 14 rebounds) was outplayed by Myles Turner (17 points, eight rebounds, three blocks), he kept the Pacers rookie busy, even frustrating him into a key third-quarter technical that all but sunk Indiana's momentum (three different Pacers were T'd up over arguing calls, as the game was chippy from the start).
"We feed off each other's energy," Lowry said. "After Game 1, we kept saying, 'Be positive, keep going,' and I know guys really bank on me being the leader and being positive. I have to be the same player, even if I'm not scoring the ball well. I still have to distribute and be defensive-minded so that I can lead this team."
Lowry is still just 15-of-47 for the playoffs, but to his credit, he has successfully diversified. His activity level has noticeably risen as a man and help defender; he's scrapping for everything in reach, picking up eight assists and a steal in Game 3.
DeRozan also finally did more than shoot, making the right play early:
Not known for a demonstrative style like Lowry's, DeRozan must continue to lead by example and contribute on the margins.
Though he has gotten better the past couple of years, at 26, it's been fair to wonder how much more he has left to gain. The playoff-fueled suspicion had to be creeping in that, despite efficiency improvements, DeRozan was the younger version of a Rudy Gay-like supporting piece who needs specific help on both ends.
One good night doesn't change that, but it staves things off for another game at least and keeps alive max-level contract dreams, as DeRozan purportedly wants, according to ESPN's Zach Lowe.
Everyday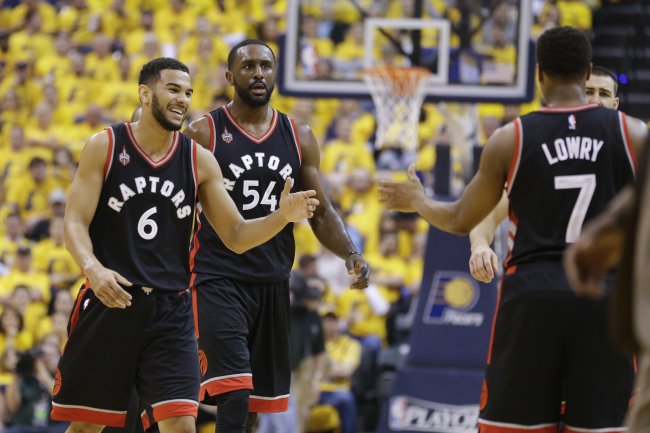 Michael Conroy/Associated Press
Maybe there's less pressure on the road without the fear of letting down an oft-disappointed home crowd again? Maybe these Raptors play better after building a lead or even coming back from one rather than on the pins and needles of close playoff games? (Toronto has played well on the road during regular seasons too, going 68-55 over the past three years.)
As a jump-shooting team led by two guys who can shoot—but have never been shooters and who too often have regressed to their basest mean under playoff pressure—the roster is doomed to taking what the defense gives it and being completely reliant on each other.
Unless DeRozan and Lowry make things easier for everyone else.
Up to this point, they'd needed too much carrying in return. If the Raptors are to nab their first playoff series win since 2000-01 (the franchise's only) and do anything of consequence in the next round, their Game 3 stars must play at that level.
Every. Single. Time.
Joel C. Cordes covers the NBA as Bleacher Report's Assoc. NBA Editor. Follow him on Twitter @bballJoel. All quotes are firsthand unless otherwise noted. All stats are were accurate as of pre-Game 3 and courtesy of Basketball-Reference.com unless otherwise noted.