All week long at Augusta National Golf Club, any mention of Jordan Spieth begged for comparisons to the historic accomplishments of Jack Nicklaus and Tiger Woods, and the chance to wear the green jacket two years in a row.
Then, suddenly and without warning, Spieth's storyline took a U-turn as he joined Greg Norman and Rory McIlroy as the superstars who have suffered the most epic and inexplicable meltdowns at the Masters.
That's not really fair, but then no one has ever contended that fairness plays any kind of role in golf.
The collapses of Norman in 1996 and McIlroy in 2011 were all-day migraines that began with bad tee shots and bogeys that provided unmistakable omens on the first hole.
It may be hard to remember, but Spieth—looking as robotic as ever—did play some sensational golf before his quadruple-bogey seven on No. 12 bulldozed a path for Danny Willett to win the 2016 Masters.
Spieth made four consecutive birdies to close out the front nine in 32 strokes and take a five-shot lead. The defending Masters champ looked as bulletproof as Tiger in his prime. And if he plays that way again in the near future, it will go a long way to erase the doubts he created on Sunday.
Until then, we'll be talking about how his collapse was so surreal and wondering how long it will keep the 22-year-old's stomach churning.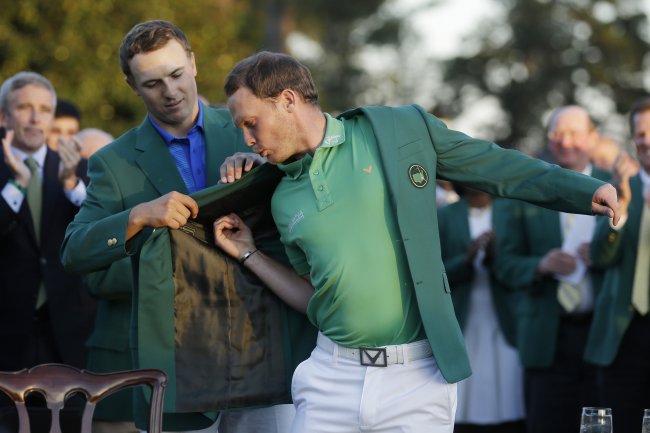 Chris Carlson/Associated Press
In his post-round interview on CBS, Spieth blamed himself for tightening up after bogeys on Nos. 10 and 11 "instead of realizing that I'm still leading the Masters by two shots."
After the front nine, he had calculated that he could tour the backside in only even par and still win by a stroke. And maybe that's where the problem started. Spieth quit being the Spieth, the guy who roared to two major championships in 2015.
After finishing Saturday's third round with a bogey and a double bogey, Spieth set a goal of shooting Sunday's best score. Instead, his mindset changed to trying to win a second green jacket with so-so play.
"Sometimes, that makes it hard," Spieth said on CBS. "You go away from the game plan that I was using on the front nine, and you just play a little conservative. And I just put a little bit of weak swings on it three holes in a row."
It was the kind of outcome no one in golf roots for. And also one that perhaps is best understood by Nicklaus, who, by the way, had 19 runner-up finishes of his own in majors.
Writing on Twitter, Nicklaus expressed what millions of golf fans were feeling:
I think the whole golfing world feels for Jordan Spieth. He had a chance to do something truly special and something very few have done before—and be the youngest to accomplish that—and he just didn't pull through. My heart goes out to him for what happened, but I know that Jordan is a young man who will certainly learn from this experience and there will be some good that comes out of this for him. He's a wonderful talent and a wonderful young man.

If there's a villain in this tale, it's the storied 12th hole—the one that parks its green behind Rae's Creek, right in the middle of Amen Corner. It's a picturesque par three, just 155 yards yet so dangerous that the creek might as well be stocked with piranha.
The 12th is named Golden Bell, and that's where Spieth had his bell rung on Sunday.
Spieth splashed down not once but twice. First his tee shot, and then again on his second effort. And when he did finally clear the creek, he found a bunker.
Norman and McIlroy know the feeling. Both also went into the water at No. 12 during their Masters disasters, and both took a double bogey. For what it's worth, Spieth still managed a round of 73, compared to the respective rounds of 78 and 80 shot by Norman and McIlroy on their darkest days.
Spieth's quadruple instantly dropped him from first to fourth, but unlike Norman and McIlroy, the kid did battle back. He cleared his head with stunning quickness and birdied the next hole, and also the 15th, to at least give himself a chance before finishing tied for second.
Before anyone predicts a lingering fall for Spieth, remember that.
We never saw him fall to his knees the way Norman did after missing a key putt. His golfing compass never went totally haywire like McIlroy's did either.
Spieth's putter had saved him all week long, as he remained deadly accurate from 15 feet in, but there's no club in the bag that can rescue a golfer from a watery landing—especially if two consecutive shots get soaked.
Nick Faldo put it best on the CBS broadcast, saying, "There's no way of getting out of jail if you hit it in the water."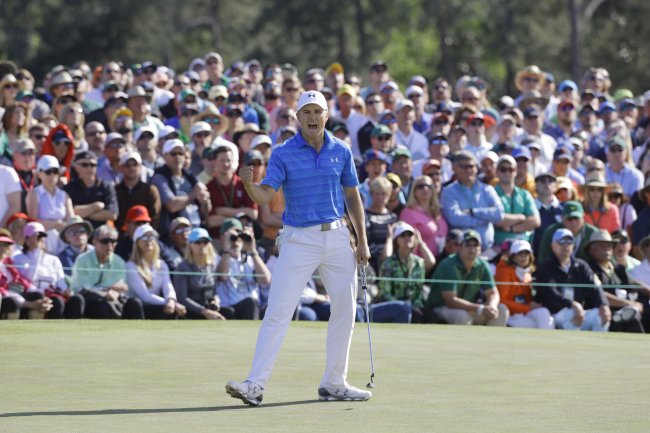 Jae C. Hong/Associated Press
So where does Spieth go from here? Straight to the office of a sports psychologist? Coffee with Bill Buckner?
Certainly, Spieth's tumble heats up the debate about which of today's Big Three has the brightest future among Spieth, McIlroy and Jason Day. And he will be watched closely for signs that this Masters has left scars on what seemed like an unassailable mentality.
McIlroy demonstrated the perfect way to extinguish such demons in 2011, when he went out and won the next major, the U.S. Open.
Spieth will have that same opportunity in June, when the U.S. Open is at Oakmont Country Club. And even as ugly as this Masters turned out for Spieth, I wouldn't bet against him there.
Tom Weir covered several majors as a columnist for USA Today.