When the golfing world awaits the final round of the Masters, there's always one question that needs answering: How did the leader sleep last night?
A year ago, based on the outcome, there's little question eventual champion Jordan Spieth slipped straight into dreamland. With a four-stroke lead after three rounds, there was no reason for the young Texan to be wide awake and counting sheep.
But this year Spieth may be up in the wee hours and counting bogeys—the ones he made on Saturday's final two holes, particularly the double bogey on No. 18, where his tee shot veered so far right, it nearly ended up on the 10th fairway.
If Spieth had merely closed with two pars, it would seem like 2015 all over again, with him again four strokes ahead and likely headed for more of a coronation than a competition.
Instead, he will head to the first tee with just a one-stroke lead.
So will those three lost strokes gnaw at Spieth, or will the 22-year-old simply shake off his wobbly finish and focus on becoming only the fourth player to claim the green jacket in back-to-back years?
Spieth said all of the right things in his post-round interview with CBS, and he vowed to dispose of the memory of Saturday's late tailspin, saying:
I've just absolutely got to throw this away. I've got to throw away the finish to this round. Just pretend tomorrow's a new round and everyone's tied, and you got to shoot the best score to win. Understand that this is the position I wanted to be in after 54 holes and not think about the finish to today's round.
Can he do it? Can he flush those thoughts?
For Spieth's burgeoning legion of fans, the answer to that question is a no-brainer. Hey, the kid has set a record by leading at the Masters for seven consecutive rounds. How can anyone who won two majors last year and finished no worse than fourth in the other two be doubted?
Remember, too, he had a late double bogey on No. 17 in last year's third round, and he didn't let it rattle him the next day.
But Spieth has shown himself to be a relentless perfectionist, which was made obvious in Friday's wind-blown second round when the gusts continually had him complaining to himself and his caddie. He's a tough read—one who steps away from shots as much as anyone in the game today. That usually translates to a case of nerves or a lack of commitment to the shot, yet those moments of indecision have worked wonderfully for him so far.
But Spieth has also been over par in the last two rounds, proving he's human and potentially vulnerable.
How will Jordan Spieth do in the Masters' final round?
Ah, but who's going to catch him?
Surely not Smylie Kaufman, the 24-year-old from Alabama who's in second place and whom hardly anyone had heard of until Saturday. This is only Kaufman's second major, and his other one saw him miss the cut at the 2014 U.S. Open.
Baby Boomers no doubt are thrilled to see Bernhard Langer just two strokes off the lead, but it's hard to imagine the 58-year-old German being sharper than Spieth on Sunday.
How far is Langer past his prime? Well, the two-time Masters champ won his second green jacket three months before Spieth was born, in 1993.
But there are two players within hailing distance of Spieth who will be plenty dangerous on Sunday.
Hideki Matsuyama of Japan is only 24, but because of his youthful success as an amateur, this is his sixth appearance at Augusta National, and the impact of that experience definitely shows. Matsuyama is tied with Langer for third at one under, and last year he vaulted to a fifth-place finish with a final-round 66 that was tied for best score of the day.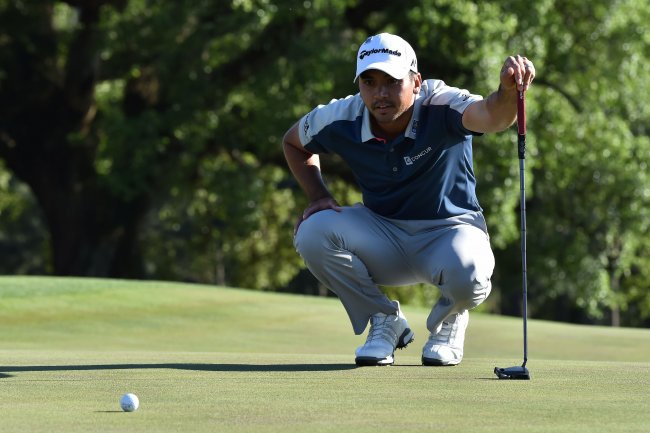 NICHOLAS KAMM/Getty Images
And let's not forget Jason Day, the world No. 1, lurks just three strokes back and is anxious for one more chance to catch Spieth. If not for Day's disastrous triple bogey in the first round—his first triple in 322 holes at Augusta National—he'd be deadlocked with Spieth right now and awaiting a shootout between young guns.
That brings us back to Spieth and the mentality he'll bring to the first tee on Sunday. If there's a hangover from Saturday's weak finish, it could pry open a window of opportunity for the field. We've seen those wild and unexpected scrambles occur plenty of times before at the Masters, as a seemingly certain winner loses his grip on golf's greatest prize. Rory McIlroy's epic collapse in 2011 is the latest example, and Greg Norman's disintegration in 1996 remains the classic.
Sunday's weather forecast is temperatures in the 60s and, most importantly, winds that will subside from the 20 mph-plus readings of the last three days to a mere 6 mph.
That should make it feel like last year, when ideal weather was a key factor in Spieth tying Tiger Woods for the lowest total score in Masters history—an 18-under 270.
So it won't be a surprise if on Sunday he makes Augusta National look like his personal playground. But if he can't shake those Saturday memories and falters, the great birdie and eagle opportunities will fall to others, and the scramble will be on.
Tom Weir covered several majors as a columnist for USA Today.