For Rory McIlroy to end this Masters wearing a green jacket, he likely will need to find an uncharacteristic way to win a major, battling from behind, rather than coasting home to victory.
And the good news for McIlroy is that in Friday's second round, he showed exactly the kind of fighting spirit he'll need to slug it out with Jordan Spieth over the weekend.
On the 18th, McIlroy swatted out from a lie in the pine straw and masterfully saved par and ultimately moved to within a single stroke of Spieth. So for once in a major, he'll be breathing down the leader's neck instead of leading the pack.
In three of McIlroy's four victories in majors, he has held the 36-hole lead, and in the fourth, he was tied for fifth at the halfway point. Friday, he walked off Augusta National sitting second behind Spieth, and he made a point of saying on the ESPN broadcast that he felt totally comfortable in the catbird seat.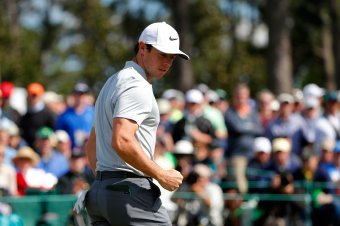 Kevin C. Cox/Getty Images
He's also only too happy to have the spotlight glued to defending-champion Spieth, unlike 2015, when golf's burning question was whether McIlroy could complete the career grand slam with a third consecutive major victory.
"I definitely feel like I'm coming in here this year without as much hype or anticipation as the way I approached the tournament last year," McIlroy told ESPN in his post-round interview.
The difference, McIlroy went on to say, is that this year, "I felt like I was just part of the narrative, instead of being the narrative. I like that position."
He also has to love the position he ended up in at day's end, alone in second on the leaderboard at three under after a one-under round of 71 in dangerously windy conditions.
That standing must feel especially fortunate after he nearly fell way behind Spieth.
At one point, he trailed Spieth by seven strokes. A double bogey plus two more bogeys had dropped McIlroy to even par after 11 holes, and that's not where one wants to be at the Masters. Since 1987, only two eventual champions have been at even par at the halfway mark: Mark O'Meara in 1998 and Zach Johnson in 2007.
Also, no eventual champ has been over par after 36 holes since Jack Nicklaus' amazing comeback in 1986, and with the winds kicking up on the back nine, McIlroy seemed in serious danger of finishing with a two-day score over par.
But McIlroy, perhaps channeling the Northern Irish roots that have experience so much brutal golfing weather, knuckled down with birdies on Nos. 13, 15 and 16. The first two provided much-needed momentum boosts, and the one on 16 was an instant classic, a 39-footer that took a sweeping left-to-right curve into the hole.
Watch @McIlroyRory make a 39-foot birdie putt on No. 16 to move into solo second. #themasters https://t.co/BBE7JvtXLy

— Masters Tournament (@TheMasters) April 8, 2016
That's the kind of putt that championships in majors are made of, and getting one under his belt early should pay dividends over the weekend.
That birdie also put the swagger back in McIlroy's step, and it whetted the appetite of all those golf fans who'd love to see McIlroy and Spieth marching side-by-side in Sunday's final round.
Despite the 26-year-old's history of having his greatest successes when he jumps in front early, being the pursuer might be the best thing for McIlroy this time.
If he were in the lead, there would be an avalanche of questions about not only the career slam, but also whether there's still any hangover from his 2011 Masters collapse. And he definitely doesn't need to revisit that nosedive, when he started the final round leading by four strokes, only to implode with an 80.
Coming into this Masters, the first hurdle McIlroy needed to clear was avoiding last year's sluggish start, when low scores amid perfect conditions flooded the leaderboard. And McIlroy has done that.
Who will win the 2016 Masters?
"I feel great," a beaming McIlroy told ESPN. "I feel so much better about myself than I did [Thursday]."
That's important, because we forget that the young man has had some considerable bumps in the road.
Setbacks in his personal life and his injuries didn't reach the magnitude of Tiger Woods, but McIlroy did break off his engagement to tennis star Caroline Wozniacki in 2014, and last year he ruptured ankle ligaments playing soccer, which prevented him from defending his British Open title. For a Brit, that had to carry extra sting.
But if McIlroy is to hang with Spieth, he'll need to clean up his play on two holes in particular.
On No. 4, a 240-yard par three that tends to have winds even on the best of days, McIlroy has a bogey and a double bogey so far.
On No. 11, the 505-yard par four that begins the harrowing trip through Amen Corner, McIlroy has bogeyed both days.
If he overcomes those two issues, McIlroy just might be able to overcome Spieth as well.
Tom Weir covered several majors as a columnist for USA Today.