The first day of the Masters easily could have ended with a dream scenario, with Jordan Spieth, Jason Day and Rory McIlroy bunched tightly at the top of the leaderboard. How great would that have been? The game's three sensational young guns, setting the stage for a four-day shootout.
That fantasy didn't come true for golf fans, however, as robust winds made Augusta National even more temperamental than normal, and they ultimately blew Day and McIlroy well behind Spieth's opening-round 66.
And there will be plenty more where that came from. According to AccuWeather.com, winds will gust at more than 20 mph through Saturday's third round.
That's the biggest takeaway from Day 1 at Augusta—that the course won't be anywhere near as friendly as it was a year ago, when the victorious Spieth tied Tiger Woods' all-time best total score of 270 and 11 players finished at eight-under or better.
No, this time around Augusta National clearly intends to show its demonic side, and Mother Nature is offering her help.
Day learned that lesson after playing the front nine in a sizzling five-under, leaving him just one stroke behind Spieth. Surely Day, the world No. 1 and a winner of his previous two tournaments, would finish the job of reeling in Spieth.
Uh-uh. Three bad shots with irons ruined his round and all of that work. He dropped five shots on three holes, and the worst of it came when he went into the water on 16 en route to his first triple-bogey in 322 holes played at Augusta National.
That shoved Day back among the mortals, headed for an even-par finish and a lot of work to do just to get back into contention.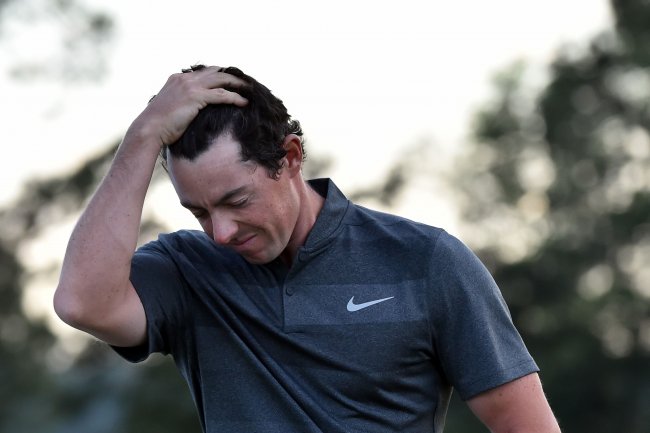 NICHOLAS KAMM/Getty Images
McIlroy's day didn't get hijacked quite as miserably, but he too had Spieth in sight until Augusta National ambushed him. McIlroy was at four-under after an eagle on No. 13 and a birdie on No. 15. Suddenly, there was renewed confidence in the Northern Irishman's stride. Time to rev up the conversation about McIlroy becoming the sixth player to complete the career Grand Slam, right?
Wrong. His drive on the 16th sailed way long, setting up a bogey on the par three. He saved par on No. 17 but then on 18 his approach shot plunked deep into a bunker and he had to settle for another bogey and a round of 70, four shots in arrears of Spieth.
But while Day lost control of his round, give him credit for maintaining a firm grip on optimism.
"We're going to have a couple of days of the same weather," Day said hopefully on ESPN in his post-round interview. "We're going to have a tough day tomorrow and a tough day Saturday with wind conditions. I've just got to keep pushing forward."
On a day when the pin flags often flew so straight they looked starched, it was easy to understand why Spieth said the best thing about his first round was that his scorecard was bogey-free, per ESPN. Day and McIlroy were nowhere near as fortunate. Day had three bogeys plus the triple, and McIlroy endured four.
Interviewed on ESPN after his round, McIlroy conceded he knew chasing Spieth's 66 would be all uphill.
"I knew I would have had to play one of the best rounds of my life to shoot a 66 in these conditions," said McIlroy.
McIlroy, regretting his last-hole bogey, also offered a reminder the rest of the field should heed the next two days, saying, "The 18th is one of the most exposed greens on the course."
That should make for some interesting finishes as struggling golfers try to make the cut Friday or position themselves for final-round pairings Saturday on a green that has no protection from trees.
As bad as the breakdowns were for Day and McIlroy, there were far worse nightmares happening all over the course. Four-time major champion Ernie Els, in perhaps the most extreme case of putting yips in Masters history, absorbed a nine on the first hole. Angel Cabrera, whose two victories in majors include the 2009 Masters, also fell victim to a nine, on No. 15.
The wind frustrated Bubba Watson Thursday at the #Masters – and he shot 75: https://t.co/iFATltGKIs pic.twitter.com/JfqxDR902V

— Golfweek Magazine (@GolfweekMag) April 7, 2016
Clearly, the wind played mind games with almost everyone in the field. Two-time Masters champ Bubba Watson never recovered from seeing a short par putt take a wicked left turn in the wind for a bogey on No. 14. That left him sputtering and talking to himself, a conversation that continued when he went on to drop five strokes in four holes.
And Rickie Fowler won't be expanding the Big Three of Spieth, Day and McIlroy to a foursome anytime soon. The game's other under-30 headliner saw his chance for a first major championship blown away by an opening-round 80 that leaves him scrambling just to make the cut.
So who besides Spieth is best equipped to handle the weather that will huff and puff through Augusta the next two days?
Maybe Phil Mickelson, who won his lone British Open in 2013 at Muirfield when he shot a final-round 66 and was four under on the last six holes amid horrific winds. But Mickelson was good for only a 72 in similar conditions Thursday.
Another candidate is Zach Johnson, who claimed the 2007 Masters in harsh conditions that included 30-plus-mph gusts. His one-over total score was only the third time in Masters history that the winner didn't break par. But, like Mickelson, Johnson was good for only an even-par round and left a couple of greens while shaking his head.
Plan on seeing plenty more of that at a Masters that will be more about surviving than scoring.

Tom Weir covered several majors as a columnist for USA Today.