How marvelous is the state of golf as it prepares for the year's first major on the hallowed grounds of Augusta National? Consider this: There are so many intriguing storylines involving a multitude of stars that it's barely worth mentioning Tiger Woods won't be playing at the 80th Masters Tournament.
This is the moment anyone with a financial interest in the sport has forever feared—40-year-old Tiger sitting out the event that has defined the greatest golfer of the last 20 years, with little optimism about seeing him back in top form any time soon after a third back surgery.
And yet Tiger's absence is essentially irrelevant with so many other potential thrills brewing at the 2016 Masters. Tiger's no-show isn't much more newsworthy than Arnold Palmer not making the ceremonial tee shot this year or former champ Fred Couples sitting out for the first time since 1994.
Accordingly, it's time to quit the will-he/won't-he conversation about Tiger. Regardless of whether he wins another major—or even plays in one—Tiger's golfing legacy is monumental and secure. But his only involvement with this year's tournament will be attending the Champions Dinner, and dwelling on his cloudy future just distracts from a new golden age of golf that's unfolding right in front of us, with a key chapter coming this week.
Ignoring Tiger would have been unthinkable in the past, but take a look. Has golf ever been in better shape?
Those who are old enough to have witnessed the glory years of Jack Nicklaus and Palmer might be inclined to say yes, but the wave of young talent that will assault Amen Corner this week casts a mighty dissenting vote.
We still will hear mentions of Tiger this week, but in a new context. On CBS, expect Jim Nantz and Sir Nick Faldo to whisper about which of Tiger's accomplishments are most likely to get matched.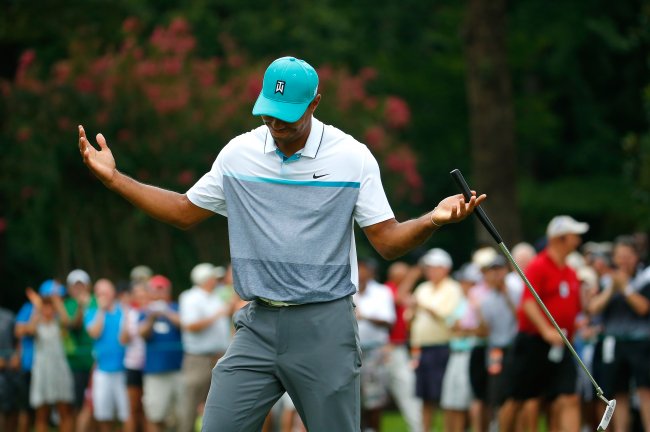 Kevin C. Cox/Getty Images
Does 22-year-old Jordan Spieth become the first player to win back-to-back green jackets since Tiger in 2001-02? Spieth's victory last year matched Tiger's record 270 total score from the 1997 Masters, so why not?
Does Rory McIlroy join Tiger and four others as the only players to complete the career Grand Slam? The 26-year-old Irishman nailed a hole-in-one at Augusta on Monday and appears to be playing close attention to Masters superstitions. He'll skip Wednesday's Par 3 Contest, an event whose winner has never gone on to win that year's Masters.
And does Jason Day take a place alongside Tiger for overcoming physical adversity while winning a major? Tiger's win on one leg at his last victory at a major, way back in 2008 at the U.S. Open, is the modern-day gold standard. But Day could be equally inspiring if the World No. 1 wins a second major while battling everything from the flu and vertigo to spine-wrenching back problems.
Day discounted his back issues at a Tuesday press conference and went on to summarize the feeling many have going into this tournament. Even if he isn't in contention, Day said, "I would enjoy a Spieth‑McIlroy‑Fowler‑Scott‑Watson‑Mickelson Sunday. That would be a lot of fun."
The Australian enters as the player who sizzled the hottest in March, with victories at the Arnold Palmer Invitational and the WGC Match Play.
David Cannon/Getty Images
But there's far more potentially in store for this Masters, because so many of the world's best players are really on their game. As the Golf Channel noted, major champions have won eight of 14 PGA Tour events played this season, and four of those wins went to former Masters winners. The only player ranked in the world's top five who hasn't won in 2016 is McIlroy, but no one would be surprised to see him snap that shutout this week.
Many golf historians rank Jack Nicklaus' sixth victory at Augusta, at the age of 46 in 1986, as the best Masters ever. Well then, would a fourth Phil Mickelson triumph at the age of 45 rank second all time?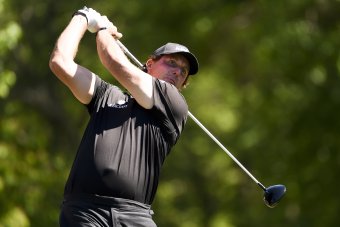 Eric Christian Smith/Associated Press
Lefty is picking up momentum, with three top-five finishes and the PGA Tour's best scoring average so far in 2016. And though all of last year's thunder belonged to Spieth, let's not forget that Mickelson's 14-under score of 274 would have won 15 of the last 20 Masters and would have tied for first in another.
So yes, Mickelson is still in the hunt, and of course so is the game's other big-hitting left-hander, Bubba Watson. The former University of Georgia Bulldog is a natural favorite at Augusta and has already won a pair of green jackets in 2012 and 2014.
Watson also is in fine form for a third after finishing second at Doral and winning the Northern Trust Open in February. If the ever-emotional Bubba overcomes his self-admitted "mental issues" and continues his every-other-year habit of winning at Augusta, he could stay on pace to match the way Palmer won his four titles, in 1958, 1960, 1962 and 1964.
In addition to Day and McIlroy, there will be no shortage of foreign talent giving fans around the world reason to watch. The best of that talent at the moment just might belong to someone whose game seemed doomed to falter this year. But Adam Scott has seamlessly made the switch back to a short putter after a rules change outlawed the long model he used to win the 2013 Masters.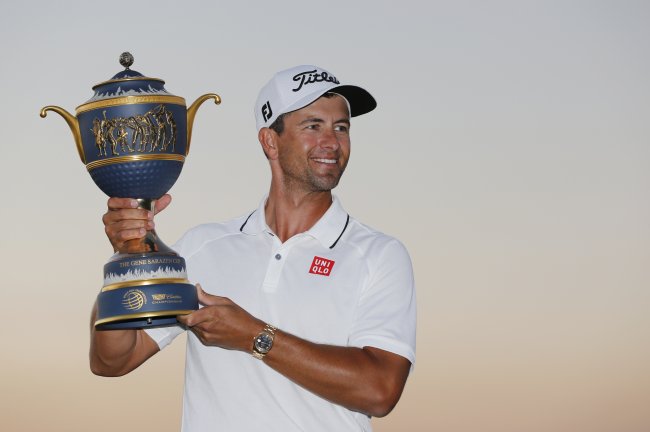 Wilfredo Lee/Associated Press
Scott has been just as hot as fellow Australian Day while winning the "automaker double," claiming The Honda Classic and then backing it up with another win the next week at the Cadillac Championship. With those two victories, he motored to the top of this year's money list.
Keep in mind that Augusta National loves to play favorites, and the course tends to welcome back its former champions. That's good news for Charl Schwartzel, the 2011 champ from South Africa who won at Valspar last month.
Who will win the 2016 Masters?
No European has claimed the green jacket since Spain's Jose Maria Olazabal in 1999, but England's ever-consistent Justin Rose has been in the top 10 three times and was the co-runner-up last year. Sweden's Henrik Stenson hasn't cracked the top 10 in 10 tries at Augusta, but his irons are as dangerous as anyone's, and he's been in the top three in his last two tournaments.
Don't count out the possibility of Japan's Hideki Matsuyama giving Asia its first Masters champion, too. Matsuyama is only 24, but this will be his fifth trip to the Masters, and he appeared to figure out Augusta National last year while finishing fifth.
Yes, there are so many legitimate contenders that Sunday's final round seems destined to have a leaderboard crammed with household names.
The marquee is so crowded this year that it's easy to forget someone like Zach Johnson, the 2007 Masters champion who also claimed last year's British Open. It's also easy to overlook Dustin Johnson, Rickie Fowler, Patrick Reed and the rest of the cast that desperately wants out of the competition for "Best player to never win a major."
And if all of that isn't enough to make you quit missing Tiger, well, that's your problem, not golf's.
Tom Weir covered several majors as a columnist for USA Today.