Predictability will maim the entertainment value of WWE Royal Rumble 2016 if Roman Reigns is the last man standing.
Reigns overcoming seemingly insurmountable odds would be the most obvious way to end the 30-man Battle Royal. It would be the action hero fighting off the small army to save the day, the cookie-cutter approach to this story.
The surprise change to the Rumble should instead be used to keep fans guessing and shine the spotlight on another Superstar in addition to Reigns.
Vince McMahon announced on Monday's Raw that this year's Royal Rumble match would decide the next world champion. This came after Reigns survived a title match with Sheamus even though McMahon's officiating was blatantly biased. The Big Dog survived that, and so McMahon chose to toss Reigns into the most daunting of gauntlets.
As announced by @VinceMcMahon, @WWERomanReigns will defend his title in the #RoyalRumble Match! #RAW https://t.co/hYw4diFurt

— WWE (@WWE) January 5, 2016
It was the chairman's way of worsening his enemy's odds, steepening Reigns' climb.
And now WWE has a tremendous opportunity to fire a curveball at the audience. Suddenly, the door is open for Reigns to lose because of Triple H, setting up a WrestleMania match between them. Brock Lesnar could win and force Reigns to go on the chase. Or a dark horse could take home WWE's ultimate trophy and rearrange the expected WrestleMania card.
This change in format is momentous, adding an electricity to the event that has been lacking in recent years. It will mark the first time since 1992 that the Battle Royal will decide the world champion. There's history to be made here, and a variety of options are at WWE's command.
A Reigns win would undercut that.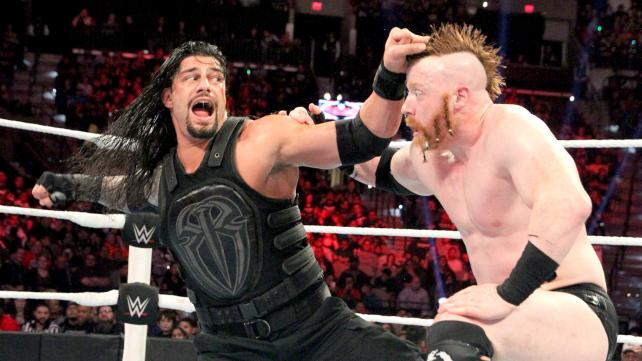 Credit: WWE.com
Jason Powell of ProWrestling.net believes "no one wants to see" that scenario. He's right in the sense that it's a story that threatens to undo all the work WWE has put in to win fans over.
It threatens to have the crowd tire of his John Cena-like invulnerability. Reigns punching out The League of Nations and The Authority en route to the top has been a thrill ride. Having him win his second Rumble in a row, this time with so many forces conspiring against him, could lead to Reigns fatigue, though.
Who do you most want to see win the Royal Rumble?
Daily DDT's Eugene Schacht summed it up perfectly, "The change to the Royal Rumble match is a nice twist, but it's a risky one. Even though Reigns has been getting over as of late, it's unlikely that he'll get a warm reaction if he wins the Rumble two years in a row."
The only men to win consecutive Rumbles are Hulk Hogan, Shawn Michaels and Steve Austin. Is WWE confident enough in Reigns' popularity to give him the same treatment it did for those three?
Besides, the WWE fanbase is a more fickle creature now. Fans weren't bemoaning how overexposed The Hulkster was at the time. Social media outbursts didn't skewer WWE's booking the way they do now.
Having repeat winners in big spots in today's environment is a recipe for backlash.
And having Reigns retain by outlasting 29 other combatants forces too much of the focus on him. Rather than be the story of Lesnar's return to dominance, Triple H outsmarting The Big Dog or a surprise victor achieving the biggest moment of his career, it will be a Reigns-heavy narrative.
That leaves an opportunity on the table to generate momentum for someone else in addition to Reigns, who is already on a hell of a roll.
The bigger risk, though, comes from the potential pushback from fans. More and more, they want to see a circus filled with a variety of acts all sharing the stage, not a single ring leader notching all the big moments.
Let someone else claim victory on Jan. 24. Shake things up. Don't make it so easy to foresee how the Royal Rumble ends.
Otherwise, this promises to be the third straight Rumble ending where boos mark the babyface's triumph.