Nonito Donaire bravely held off his younger opponent Friday night, surviving by calling on every ounce of experience he gained as a former champion. But he no doubt heard the steps of Father Time bearing down in the final rounds, warning the 33-year-old Donaire that the end of his storied career is lurking right around the corner and could arrive any second, perhaps with devastating consequences.
Donaire's unanimous decision over a game Cesar Juarez was one of those rare brawls where the winner left the ring looking like the loser. A very pummeled loser, as anyone watching the truTV broadcast of the Metro PCS Friday Night Knockout card from San Juan, Puerto Rico, witnessed.
To be fair, Donaire (36-3) also left wearing a championship belt at 122 pounds for the first time since 2013, having claimed the vacant WBO junior featherweight title. But there was a gash above his left eye, and his right eye was heavily swollen from the battering he took while continuously being forced up against the ropes for target practice over the final five rounds.
Donaire also was totally gassed and gasping.
The 24-year-old Mexican Juarez didn't have enough time to inflict enough damage to overcome the big points lead Donaire built while winning the first seven rounds in lopsided fashion. But make no mistake—Donaire will be feeling the effects of that late-arriving assault for days to come.
The crowd—which was Puerto Rican and had no nationalistic bias—booed the decision loudly. That was a sign of respect for the show that Juarez put on after being hammered early.
And if an opponent who appeared one punch away from being knocked out can come back and trash Donaire's face, what does that say about Donaire's future? Despite the official outcome, this was probably the worst beating of Donaire's career in terms of punches absorbed.
And with the way he wobbled back to his corner after the final bell, one can't help but wonder if he can withstand another 12 rounds like this. If Donaire presses on, it's only a matter of time before we see him taken out, and viciously so.
There were wicked stretches of barrages on the ropes where Donaire took three solid punches for every one that he blocked. And Juarez rightfully should have been credited with a knockdown in the 10th round, when he landed a solid punch that knocked Donaire off stride.
It was ruled a slip, possibly because the referee focused on Donaire twisting an ankle on his way down to the mat. But replays left no doubt Donaire had been knocked down, for only the second time in his career.
Donaire praised Juarez in comments to Dan Rafael of ESPN.com afterward: "The guy was amazing. The guy was strong. I give it to him. I think that was the toughest fight I've ever been in in my life. It was an amazing fight."
When Donaire nurses his wounds in the coming days, the man who has won championships in four weight divisions no doubt will reflect most on the fourth round. He monopolized those three minutes, throwing his trademark left hook like he was in his prime and rattling Juarez's chin with vicious uppercuts.
Back in the day, like when Donaire was Ring Magazine's Fighter of the Year in 2012, he would have ended this fight right then and there. It was classic Donaire, firing sniper shots against a stationary opponent who threw predictable punches.
Donaire, still fresh, knew exactly where his adversary would be. Juarez was a virtual dream target for a counterpuncher like Donaire. The Mexican was almost begging to take the shots that twice put him on the mat in the fourth.
Juarez (17-4) also was living up to the unwelcomed billing that truTV commentator and current WBO welterweight champ Timothy Bradley Jr. gave him as "a tailor-made opponent" for Donaire.
But even though Donaire clocked Juarez with a vintage left hook reminiscent of the ones that took The Filipino Flash to the top of the boxing world, he couldn't put him away. Donaire fired every shot in his arsenal and scored heavily with most of them, but still it wasn't enough to end the fight.
That's when it became clear this bout could go the distance and test whether Donaire still possessed the stamina of a champion.
Donaire passed that test but barely. There was so much carnage in the all-out slugfest that ensued through the final rounds that truTV's other commentator, Hall of Famer Ray "Boom Boom" Mancini, said it was worthy of consideration as the fight of the year.
I agree, but it wasn't Donaire who escalated it into that lofty territory with his comeback. It was Juarez, who remained relentless even when his nose gushed blood in the late rounds.
Donaire decisions Juarez, wins back WBO 122-pound title. -- https://t.co/QZDnTOD93D pic.twitter.com/wjhHhgdvdE

— ABS-CBN Sports (@abscbnsports) December 12, 2015
In media interviews last week Donaire assured reporters he was a new man with a retooled attitude. He said he was "rebuilt mentally" since losing the WBA featherweight title by knockout to Jamaica's Nicholas Walters in October 2014.
Donaire also confidently promised, "I will surpass who I was back then."
Those words would have resonated if Donaire had KO'd Juarez in the fourth. Instead, they seem hollow now. The hope was that this fight would put Donaire back in contention for major title opportunities. Instead, it leaves him looking like one more outing against a young gun could mark his farewell from the sport.
Donaire had readily admitted he needed to win big against Juarez to remain a main-event fighter.
"It's a must-win," Donaire said last week. "I think from this moment on, every fight is a must-win fight."
But it now looks like pitting him against a top opponent would put Donaire in a can't-win situation.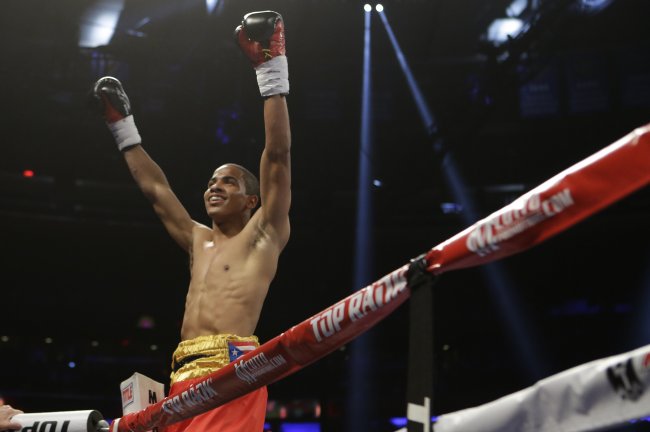 Frank Franklin II/Associated Press
Verdejo delivers quick KO for Puerto Rican fans
In an obvious mismatch, Puerto Rico's Felix Verdejo delighted his homeland's fans with a second-round TKO of Josenilson Dos Santos at Roberto Clemente Coliseum in San Juan.
Verdejo improved to 19-0 by scoring with a straight right hand to the chin. Verdejo got full extension with the punch that sealed his 14th career KO. Dos Santos got off the mat quickly, but referee Roberto Ramirez Jr. ruled the Brazilian was too hurt to continue.
The 22-year-old Verdejo retains his 135-pound WBO Latino title but needs to see a tougher opponent next time out. Dos Santos hadn't fought in the previous 14 months, and the rust showed.
But more important for Verdejo's future than the victory was that his left hand showed no ill effects from the bone spur problem that forced this fight to be postponed in October. Verdejo had surgery on the hand after a victory in June against previously unbeaten Ivan Najera.
Tom Weir covered numerous championship fights as a columnist for USA Today.