Nonito Donaire has always moved well in the ring, but he makes no attempt to dance around the question that looms over his boxing career.
Yes, the man who has held world titles in four weight divisions freely admits Friday night's fight is a make-or-break moment for his storied career.
"It's a must-win," Donaire said of the approaching confrontation with Mexico's Cesar Juarez on on truTV's MetroPCS Friday Night Knockout card. "I think from this moment on, every fight is a must-win fight."
At the age of 33, Donaire must prove he's still worthy of a place on the marquee, no matter how many times The Filipino Flash has won in the past.
That status was put in doubt when Jamaica's Nicholas Walters drubbed Donaire (35-3, 23 KOs) with a sixth-round TKO in October 2014. Donaire has since won a pair of TKOs but knows there are doubts about whether he still deserves elite billing and big-name opponents. The first crack in his air of invincibility came in 2013, when Guillermo Rigondeaux ended Donaire's 30-bout winning streak on a unanimous decision.
"Victory is a must," said Donaire of facing Juarez in San Juan, Puerto Rico. "That's the mentality I have now going into the ring. There's no time to waste."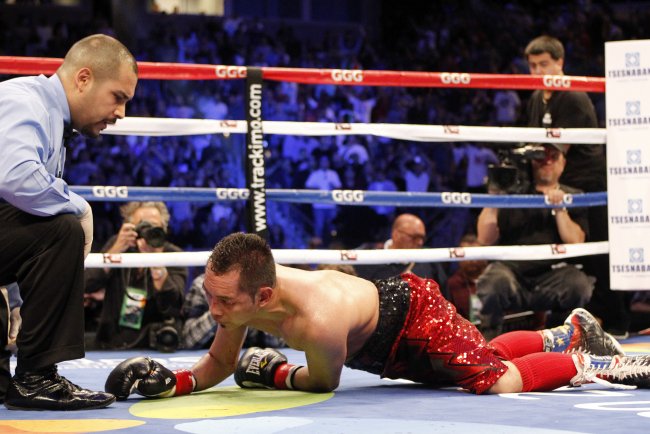 Alex Gallardo/Associated Press
And Donaire believes he can keep winning, thanks to a harsh self-appraisal that has led to a new outlook on life in the past year.
In a conference call this week, Donaire said he hit a plateau while climbing boxing's ranks and lost sight of what should really matter.
"I was unfulfilled. I was searching for something," said Donaire. "And each day when I woke up, I would be like, 'I'm so tired today.' It was actually work to get up in the morning. I was so ungrateful compared to now."
Donaire credits his new attitude to reading a book entitled The Power of Habit.
"It is about getting rid of bad habits and instead using good habits each and every day," said Donaire, who admits he let himself get out of the habit of fully engaging in training.
"Training each day before, it was a work day. Like, 'Oh God, I got to go to the gym.' It was always like that. I took everything for granted. But the difference now is that each day I'm energized. I'm excited for each day. I think that's the biggest difference that I have from back then to right now."
Donaire said he initially searched in the wrong place as he sought answers about his career after the loss to Walters.
"I realized it's not about my skills or my style that needs to be changed, it's about my mentality," said Donaire.
"Fulfillment is right around the corner. It's not about having the best things in life, or championships, or anything else. I will reach for them, but for me, just the fulfillment I have in my life—my kids, my wife, my friends, my family—those are the keys that will extend me to be a better fighter, a better person, a better husband, a better father each day.
"That's why I go to the gym and do whatever I need to do with pride, because I enjoy it now."
When his attitude was still adrift, Donaire said he had trouble just getting out of bed. He would wake up, knowing it was time to take a morning run, but then lose focus.
"I'd say, 'You know what? I'll do it later.'"
Now, he said, "When I wake up I don't think, I just go."
Besides bouncing out of bed faster, Donaire says he also is eating and hydrating better than ever and that making the 122-pound limit for this super bantamweight brawl will be no problem.
Donaire knows the boxing world will be watching on Friday to see if he's losing technique, response and power at 33, and he plans to dazzle his doubters.
"My reflexes are quick as ever," assured Donaire. "My speed is actually more incredible. The power is even stronger. The reflex is going to be there. The speed is going to be there. And I don't feel any slower than when I was 21."
Stage is set for Felix Verdejo in Puerto Rico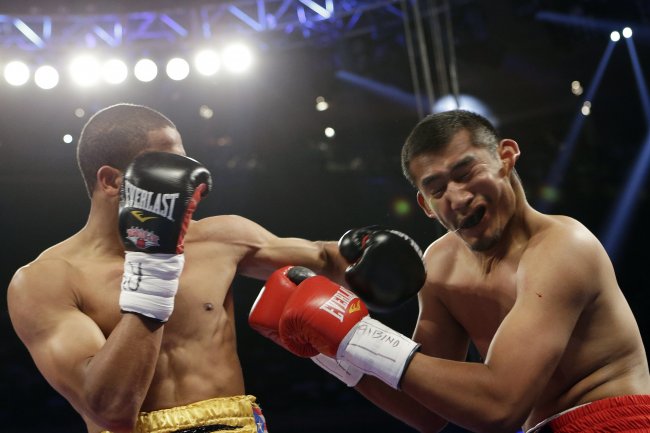 Frank Franklin II/Associated Press
A hand injury forced Felix Verdejo to bow out of this fight in October, but now the 22-year-old lightweight is ready to prove he's worthy of growing expectations that he can be the next face of Puerto Rican boxing.
Verdejo's bout with Josenilson Dos Santos will be the final fight on the truTV card and will take place in the Roberto Clemente Coliseum in San Juan, where so much Puerto Rican boxing history has taken place.
"I'm very happy and thankful for the opportunity Top Rank has given me to fight in front of my people at the Roberto Clemente Coliseum," Verdejo said through an interpreter during a conference call this week. "Fighting as a headliner at the Roberto Clemente Coliseum and in front of my people is a dream that I have always had since I was a little kid."
Verdejo (18-0, 13 KOs) was named the 2014 "Prospect of the Year" by ESPN.com and The Ring after mowing down all seven opponents he faced last year. But he has fought only twice in 2015 because of the injury he suffered to his left hand while winning a unanimous decision against previously undefeated Ivan Najera in June.
Verdejo eventually had surgery to remove bone spurs from the hand and was in obvious pain at times against Najera at Madison Square Garden. But with emotions from his compatriots running high during the weekend of New York's Puerto Rican Day Parade, there was no quit in him.
"I just concentrated and focused on the fight and forgot the pain," said Verdejo. "When the fight was over, there was pain again, but during the fight, I just remained focused and calm."
The Dos Santos fight originally was scheduled for Oct. 31, but Verdejo withdrew, he said, because his hand "felt less than 100 percent." He's defending his WBO Latino lightweight title (135 pounds).
Verdejo enters the ring ranked No. 4 by the WBA and No. 5 by the WBO.
"Thanks to God everything is fine with the hand," Verdejo said. "There's no pain whatsoever. I'm just ready."
There's a chance the crowd will include Verdejo's idol, Puerto Rican legend Felix Trinidad, who was inducted into the International Boxing Hall of Fame last year.
"He is the one who inspired me to become a boxer," said Verdejo. "I watched him when I was little. I saw the way he worked in the ring and how he united the people in my country, and that's why he inspired me to be a boxer too."
Verdejo said he's not afraid of the rising expectations of his countrymen.
"It really doesn't give me more pressure, it just has given me motivation to train harder," Verdejo said.
Donaire has spent the last week training in the same San Juan gym as Verdejo, and he has been impressed.
"The kids in Verdejo's gym, and Verdejo himself, they're all just so humble. They're amazing people, and we just came to respect each other," Donaire said. "He's a great kid, with great talent. He's going to be the future of Puerto Rico."
Fighting for a major title seems inevitable for Verdejo, but there's no rush said Carl Moretti, Top Rank's vice president for boxing operations.
"It's not a matter of a certain date against a certain guy," said Moretti. "The goal is to win a title and then defend it, not to just fight for it."
Juarez rated a "hungry wolf" by Donaire
Juarez (17-3, 13 KOs) is from Mexico City and will be fighting outside his homeland for only the second time. The 24-year-old has won his last four fights and vaulted up to the WBO's No. 1 ranking for the vacant super bantamweight title (122 pounds).
"He is ranked higher than I am. He's ranked No. 1 and I'm No. 2, and he deserves to fight this fight," Donaire said.
Donaire classifies Juarez as "a hungry wolf."
"Each round he gets stronger and stronger," Donaire said. "Juarez, being younger and hungrier, he's going to give it everything he's got."
Juarez's last fight was a unanimous decision in July over Juan Sanchez Jr. for the WBO International junior featherweight title.
Dos Santos hasn't fought in more than a year
Dos Santos, Verdejo's opponent, comes in as a bit of an unknown after taking a long layoff.
The 28-year-old Brazilian (27-3, 17 KOs) is a two-time WBO Latino junior lightweight champion and was on a 12-fight winning streak until getting knocked out by Miguel Angel Gonzalez in July 2013. Since then, he has fought only twice, winning once and losing once.
He hasn't been on a card since October 2014, when he suffered a sixth-round knockout at the hands of Namibia's Paulus Moses.
Tom Weir covered numerous championship fights as a columnist for USA Today. All quotes in this story were obtained firsthand unless otherwise noted.