Just like that, the first big trade of the winter meetings has turned into an uncomfortable situation for the Cincinnati Reds, the Los Angeles Dodgers and for Major League Baseball.
And for each of the three, it's one that may linger for a while.
Monday was the first day of baseball's winter meetings in Nashville, Tennessee, and the hot stove got going early. As Ken Rosenthal of Fox Sports was the first to report Monday morning, the Dodgers had agreed to acquire flame-throwing closer Aroldis Chapman from the Reds in exchange for two prospects.
Not long after, however, the deal hit a snag. Then came an even bigger snag Monday evening, when Jeff Passan and Tim Brown of Yahoo Sports reported that the 27-year-old left-hander was involved in an alleged domestic violence incident:
ICYMI - Police report: Aroldis Chapman allegedly fired 8 gunshots, 'choked' girlfriend. https://t.co/vJczwkRQNZ via @JeffPassan @TBrownYahoo

— Yahoo Sports (@YahooSports) December 8, 2015
According to the report, the incident in question involved Chapman, his girlfriend and several others and took place near midnight on Oct. 30 at Chapman's home in Davie, Florida. A dozen officers were involved, though the police report states that no arrests were made "due to conflicting stories and a lack of cooperation from all parties involved." Also, no charges have been filed.
But from the sound of things, some sort of unpleasant situation did take place.
According to the account of Chapman's girlfriend, she and Chapman got into an argument after she found something on his phone that she didn't like. She said this led to him pushing her against a wall and choking her by putting his hands around her neck, though he didn't stop her from breathing and police didn't note any visible injuries after the fact. Chapman's girlfriend said her brother then intervened, which allowed her to get away and attend to her 4-month-old child.
Chapman offered a different account, telling police that he "poked his girlfriend on the left shoulder and told her not to talk to him like that." He said that her brother came in and pushed him to the ground. Further, Chapman's driver said that his girlfriend returned and tackled him.
Elsewhere in the report, Chapman said that he wanted to drive away from the house but was kept from doing so by friends. He did, however, climb into the passenger side of his Land Rover and punch the window. He also admitted to retrieving a handgun from the glove compartment, locking himself in his garage and firing eight shots: seven into a concrete wall, and one through a window and into an open field.
This is the story as it appears in the police report. The fallout, however, is just beginning.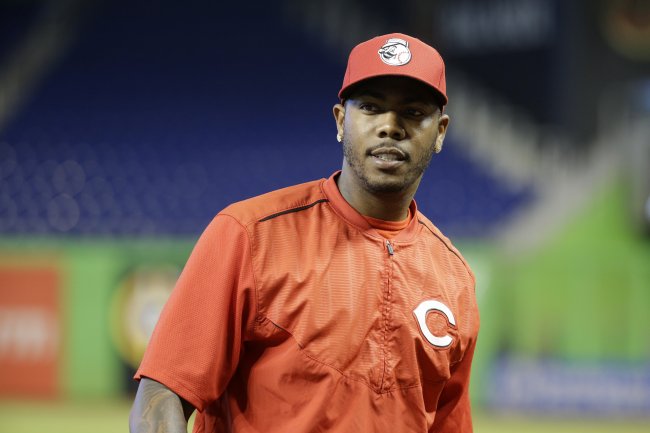 Lynne Sladky/Associated Press
Word of the incident involving Chapman—he of the 100-plus mph fastball and four All-Star selections—is news not just to the public, but apparently to Major League Baseball as well. According to C. Trent Rosecrans of the Cincinnati Enquirer, an MLB spokesman said Monday night that it just came to the league's attention.
As for the league's reaction to the news, one can only assume groans were involved.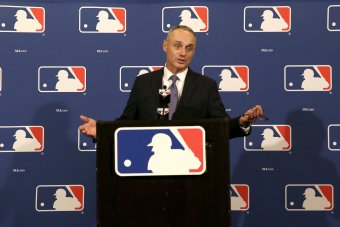 LM Otero/Associated Press
It's been a little over three months since MLB and the MLB Players Association announced the league's new domestic violence policy. In what is a clear attempt to make sure it avoids the trouble the National Football League has gotten into with its handling of domestic violence cases, the league outlined a comprehensive system that allows Commissioner Rob Manfred to make the final call on discipline for offenders of the policy.
Already, the high-profile cases are piling up. The league is investigating an alleged domestic violence incident involving Colorado Rockies shortstop Jose Reyes, and another involving Dodgers outfielder Yasiel Puig. With Chapman, the league has yet another high-profile case on its hands.
And this one seems to present a particularly difficult situation for MLB.
Though it's clear that something happened, the she-said, he-said component of the Chapman incident, the absence of visible injuries to his girlfriend and the lack of arrests and charges all make it difficult to get at what actually happened. And naturally, Chapman's attorney is denying everything.
"I've reviewed the facts as portrayed," Jay Reisinger told Yahoo Sports. "On behalf of Mr. Chapman, we vehemently deny the allegations as stated. Beyond that, we have no further comment at this time."
It could very well be that MLB already wants to make an example of Chapman, and it may very well be that it won't change its mind during its investigation. But if MLB's investigation comes to the same impasse that the police investigation came to, the league may not be able to do anything.
Maybe that changes in the coming weeks and MLB's decision becomes an easy one. But if not, MLB will essentially have to decide whether to discipline Chapman for bringing the league bad PR. That's a situation with no obvious "right" call for MLB to make.
In the meantime, of course, there's the matter of where the Reds and Dodgers go from here.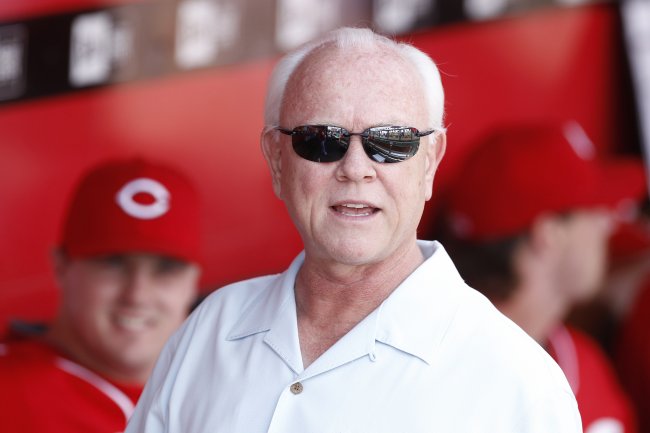 Joe Robbins/Getty Images
According to Reds president of baseball operations Walt Jocketty, the trade agreement with the Dodgers isn't dead yet. He told Mark Sheldon of MLB.com that it's only been delayed, possibly for a few weeks:
Trade not dead for Chapman but could be delayed couple of weeks, Jocketty said #reds

— Mark Sheldon (@m_sheldon) December 8, 2015
However, this is likely wishful thinking.
The Yahoo Sports report noted that word of the Chapman incident is what stalled the trade in the first place, and Passan said on MLB Network Radio that he "can't fathom" a scenario in which the trade goes through.
To be sure, the Dodgers are probably still in love with Chapman's arm and with the idea of what he could do in their bullpen alongside fellow relief ace Kenley Jansen. But they don't need the PR nightmare, and there's also a practical component at play. The 2016 season will be Chapman's last before free agency, and right now it's under threat of a possibly significant suspension.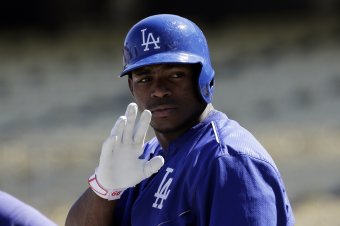 Chris Carlson/Associated Press
Granted, the Dodgers could wait and see if this situation blows over and then complete the trade. But they would still be signing up for a PR nightmare. In Puig, the Dodgers already have one player tied to a domestic violence incident. Even if Chapman's name is cleared, the Dodgers don't need another.
Besides, the reported incident may be a window into Chapman's personality regardless of where the investigation goes.
In what now sounds almost like a prophecy, Evan Drellich of the Houston Chronicle noted early Monday that makeup concerns were rumored to be a deterrent for Chapman's suitors at the winter meetings:
There's chatter that Aroldis Chapman's makeup may be a deterrent. Price on his character: "Really no impediments with him, he's a good guy."

— Evan Drellich (@EvanDrellich) December 7, 2015
If there were chatter about Chapman's makeup before the report, it figures that it won't be going away anytime soon in the aftermath of the report.
Because of that, the Reds may have trouble finding another taker for Chapman if the Dodgers do indeed back out. As Chris Cotillo of SB Nation opined, the Reds may be stuck with him on that basis alone:
Pending MLB investigation and PR nightmare that would come from acquiring Chapman will likely dissuade teams from trying to get him.

— Chris Cotillo (@ChrisCotillo) December 8, 2015
To boot, clubs may now be skeptical of the Reds themselves.
Another thing Passan said in his MLB Network Radio interview is that the Reds declined to comment when asked if they knew about the Chapman incident and for how long. It's possible that, just like Major League Baseball, they didn't find out about it until Monday night.
But there's a shred of doubt there.
According to Alex Speier of the Boston Globe, the Boston Red Sox learned of the Chapman incident when they were doing a background check on him in the midst of trade talks with the Reds in November. That means the information was available to MLB teams before Monday night, which may raise suspicion that the Reds knew about the incident and were trying to dump Chapman on another team anyway.
In all, this is a dark situation for everyone involved.
It sure sounds like Chapman has some demons he needs to get under control. The investigation MLB has on its hands may be a no-win situation. The Dodgers are out a dominant reliever. For the Reds, that dominant reliever might now be a problem child whom they're stuck with.
Welcome to the winter meetings, where the forecast is suddenly darker than usual.