Whether Cleveland Browns head coach Mike Pettine likes it or not, it looks like he has a quarterback controversy on his hands. And it couldn't have happened at a more convenient time, headed into the team's Week 11 bye.
According to Nate Ulrich of the Akron Beacon Journal, Pettine indicated after the team's 30-9 Week 10 loss to the Pittsburgh Steelers that he and his staff will discuss all options in the week off, and that will most certainly include the quarterback position:
#Browns HC Mike Pettine said staff will evaluate everything from A to Z during bye.

— Nate Ulrich (@NateUlrichABJ) November 15, 2015
With Johnny Manziel leading the offense to only nine points scored in Week 10, it would seem on paper like Pettine would be more than comfortable turning back to a presumably healthy Josh McCown come Week 12.
But the score doesn't convey what really happened in the game. It was easily second-year quarterback Johnny Manziel's best performance—one that may have been good enough to award him the starting job moving forward.
At 2-8, the Browns are rapidly having less and less to lose by evaluating their young players. But it's not just for evaluation purposes that Manziel could get the nod—he's clearly an improved passer with every first-team rep he gets, to the point where he may actually give the Browns the best chance to win going forward. That's a designation Pettine had reserved solely for McCown up to this point.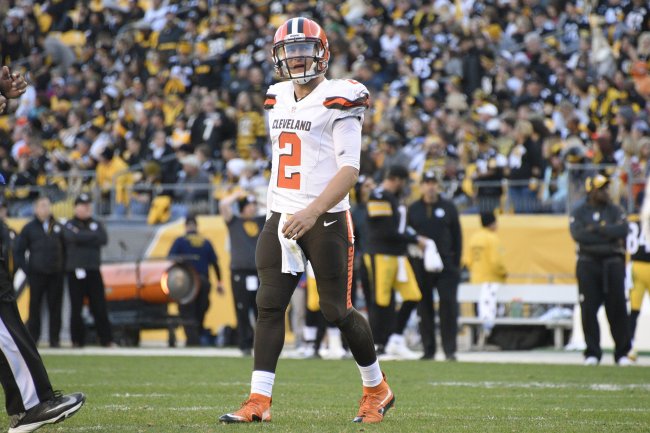 Don Wright/Associated Press
Manziel completed 33 of his 45 pass attempts on Sunday, for 372 yards, one touchdown, an interception and six sacks taken. The half-dozen sacks are a concern, but the fact he was still able to get the football out quickly, make plays and rack up so many yards under pressure is a sign of maturation.
Manziel's 73.3 percent completion rate was markedly better than the 51.8 percent it was on the season coming into this game. Manziel also led the team in rushing, with three for 17 yards and a would-be touchdown that was ruled short, despite a Browns challenge.
Pettine told Daryl Ruiter of 92.3 The Fan after the game that Manziel "improved greatly," compared to his disastrous Week 9 start against the Cincinnati Bengals. Still, any ruling on Manziel's and McCown's fate for Week 12 and beyond won't come until Pettine and his staff meet about it over the bye week, per Ulrich:
#Browns HC Mike Pettine said coaches will evaluate QB decision moving forward during bye, said it's too early for him to speak on it.

— Nate Ulrich (@NateUlrichABJ) November 15, 2015
He's right to do that. There's no reason for Pettine to make a sweeping proclamation regarding his quarterback moving forward directly after a game and before he has a chance to evaluate the film and see if Manziel's big Sunday is a sign of more to come or whether McCown is still their better option.
But at the very least, Manziel's Sunday performance is forcing Pettine to examine a position he was stubbornly unwilling to discuss changing except for during an injury to McCown (which is why Manziel started this week in the first place).
Pettine has worked hard to avoid a quarterback controversy since the Browns signed McCown in the spring, but now controversy has been thrust upon him, thanks to Manziel starting to figure out what it means to play quarterback in the NFL.
Manziel himself said he felt much better this week than in Week 9, telling Browns radio analyst Dustin Fox after the game that he wants to keep playing and that, "The more I play, the more the game slows down for me."
"I wanna keep playing, The more I play the more the game slows down for me" -Manziel #Browns

— Dustin Fox (@DustinFox37) November 15, 2015
There's no doubt that the more on-field work he gets, the more he's going to be comfortable doing that work. That's been one of the knocks on Pettine this season—Manziel is not getting any time in practice with the first-team offense when McCown is healthy, which then fails to get him ready to play in the league, whether this year or in the future.
Jason Miller/Getty Images
Once Week 12 comes around, Pettine and the Browns may indeed choose to stick with McCown. After all, he's averaging 271 passing yards per game, has a 95.2 quarterback rating and has thrown 11 touchdowns to four interceptions in seven games (he threw 11 touchdowns and 14 interceptions in 11 games in 2014).
Who should start at QB for the Browns after the bye?
McCown is also not the one costing the Browns so many games, but rather the only thing that has kept them competitive. And at this point, it's no big secret that Pettine has never been much of a Manziel supporter, as Lane Adkins' exclusive with a team confidant for Scout.com detailed last week.
Pettine's openness to discuss changes at the quarterback position is at least a concession that Manziel did enough things right. His stubbornness has been chipped away, but to what degree, we won't know for at least a week.
It's entirely possible that the Browns' internal debate on the quarterback situation sees McCown again serve as the starter after the bye. But Manziel's performance has forced them to take a hard, sincere look at the situation during the week off.
Whether Pettine likes it or not, Manziel's progress is speeding up. If Manziel is truly developing into the Browns' quarterback of the future, Pettine may have to embrace that fact sooner than later.