Sean Monaghan kept his undefeated record unblemished on Friday night in Brooklyn, but he left the ring with his reputation as a power puncher damaged.
The popular New Yorker scored a unanimous decision over Donovan George in the main event of the Metro PCS Friday Night Knockout card to improve to 26-0, but Monaghan may have to hear complaints that all he did was beat a one-handed fighter.
Monaghan humbly admitted as much in a post-fight interview with truTV in the ring, when he addressed the obvious injury to George's right hand, which plagued the Chicagoan for much of the 10-round light heavyweight bout.
"I know he's a right-hand puncher," said Monaghan, who is ranked among the world's top 10 light heavyweights by all four major boxing federations. "It's not really fair, to be honest."
Before the fight, Monaghan said winning by knockout was his best hope to move closer to a major title fight, but he also felt obligated to deliver a decisive, bout-ending blow for his fans. Three busloads of them made the trip from his hometown of Long Beach, New York.
"At the end of the day we're in the entertainment business, and people want to see a good show," Monaghan told me in a telephone interview this week. "Even if I'm winning every round I'm still going to try to knock you out in the 10th round. I don't dance around. I'm trying to get you out of there."
Monaghan, a former bricklayer, didn't come close to accomplishing that goal. Nor did he ever have George in serious trouble, even with a heavily partisan crowd at the Aviator Sports and Event Center urging on the native New Yorker with chants of "Seanie, Seanie."
He claimed the WBO's vacant North American Boxing Organization light heavyweight title with the victory. He also retained his WBC Continental Americas championship belt.
Monaghan was heavily favored going in, and for good reason, given George's recent history.
This was the first fight in 14 months for George, whose record fell to 25-5-2. He has had seven surgeries on the hand, according to the truTV broadcast team.
The hand appeared fine through the first three rounds, which saw Monaghan go on the defensive after suffering a cut to his right eye because of a second-round head-butt. But in the fourth George's problems with his right hand became pronounced and impossible to ignore. He winced openly when he threw the right, and between rounds the ring doctor checked with the fighter.
George was adamant that he could continue, and the fight went on. The grimacing continued when he used his right in the fifth and sixth rounds, but then the pain wasn't as obvious in the seventh, eighth and ninth rounds.
But when George, knowing he was behind in the judges' scoring, sought a 10th-round knockout, the agony was apparent in his contorted face after he attempted two big rights.
.@DonDaBombGeorge broke his right in the 2nd. He said the whole thing snapped.

— Top Rank Boxing (@trboxing) October 17, 2015
Asked how he had managed to hang in, the 30-year-old said it was all about family pride.
"Someday my kids are going to watch this fight, and they're not going to see their daddy being a quitter, ever," George told truTV. "I'll lose, but I'll never quit."
Monaghan made no secret coming in that he fully expected to add to his career total of 16 knockouts. He and trainer Joe Higgins both said they couldn't envision the bout lasting more than five rounds, because the 34-year-old Monaghan was in the best condition of his life.
George, even in defeat, likely breathed new life into what looked like a fading career. Nicknamed "Da Bomb," he was coming off a controversial outcome in his last fight in August 2014. George defeated Dyah Davis, but the result was changed to a no-contest when George flunked his post-fight drug test. George admitted he failed to notify officials he was using a prescription painkiller for his right hand but emphasized he took no performance-enhancing drugs.
With only three victories in his previous eight outings, George's career was definitely on the ropes entering the showdown with Monaghan. As truTV's Ray "Boom Boom" Mancini put it, George needed a victory to avoid becoming "a glorified sparring partner."
He didn't get that win, but he did earn some badly needed respect.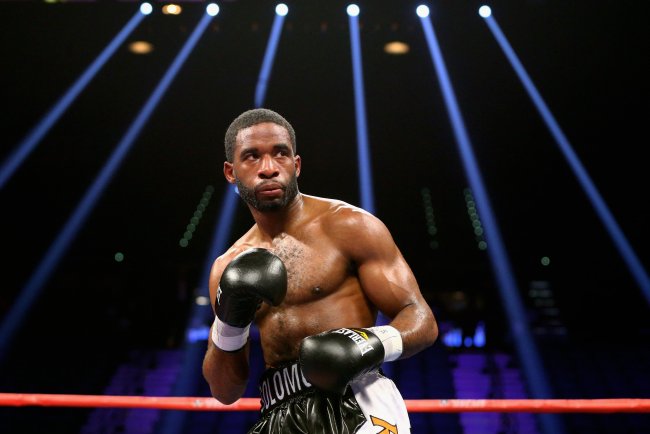 Mark J. Rebilas-USA TODAY Sports
Solomon weathers early slip, stays undefeated
In the night's other featured bout, welterweight Brad "King" Solomon pushed his undefeated record to 26-0 with a unanimous decision over Ray Serrano (26-3) but had to endure some early trouble.
Serrano dropped Solomon to the mat at the end of the second round with a left hook, but referee Harvey Dock surprisingly ruled it a slip. The ruling was hard to fathom, because Serrano clearly landed a shot to Solomon's chin.
Mancini was particularly miffed, and the commentator and former world champion told his truTV audience, "That's just inept refereeing."
But Dock's lapse ultimately had no effect on the outcome, with Solomon dominating from the fourth round on and winning by scores of 100-90, 98-92 and 97-93.
Serrano was fighting at 148 pounds for the first time and showed impressive flashes early, but Solomon steadily backed up the Philadelphian in the latter rounds.
Don't be surprised if Solomon, from Lafayette, Louisiana, has trouble booking fights against bigger names. He's difficult to attack, staying low and ducking away with a somewhat awkward, wide-open stance that's geared toward loading up for big rights.
As Mancini said, "He'll be a headache for a lot of guys."
Tom Weir covered numerous championship fights as a columnist for USA Today.