Sean Monaghan heads into the feature event of the MetroPC Friday Night Knockout on truTV with a 25-0 record as a professional. But his boxing career easily could have ended back when he was 1-0 as an amateur if there hadn't been a knock at his door.
The person knocking was P.J. Kavanagh, a bar owner in the New York shore town of Long Beach. Monaghan was sure Kavanagh was there to hold him accountable for causing damage while starting yet another bar fight.
But Kavanagh had a different message. He knew the gym where Monaghan trained had closed, and he wanted to encourage the young fighter not to give up on a promising career as a light heavyweight.
"He said, 'You got in a fight in one of my bars,'" remembers Monaghan. "I said, 'Yeah, maybe.' I didn't know what he wanted, and I thought I might be in trouble. But he said a bouncer who was working that night said he never saw anybody with hands that fast his whole life, and he had been a bouncer for 30 years. He was really impressed."
Monaghan was 20, and at that time in his life, he did most of his fighting while drunk. He readily admits to mixing it up in random brawls and anxiously jumping into the fray anytime he saw others throwing punches. It had been a way of life for him since he started drinking heavily as a teen.
"He said he thought I shouldn't quit boxing, and he drove me to another gym," says Monaghan, who spoke with me in a phone interview.
Monaghan, now 34, was hardly an overnight success. He was talented but raw. But after several years of working with noted New York trainer Joe Higgins, his skills took hold, his footwork sharpened and he learned how to throw efficient punches in the ring instead of wild haymakers in back alleys.
"Sean was a troublesome youngster, so I didn't get to work with him until he was 20," says Higgins. "He was a work-in-progress type of kid. But now he's the total package."
The rankings verify that as Monaghan seeks to claim the vacant North American Boxing Organization title. Monaghan, who is promoted by Top Rank, is in the top 10 of the four major boxing federations.
Sean Monaghan's world rankings

| | |
| --- | --- |
| WBC | 7th |
| WBA | 4th |
| IBF | 6th |
| WBO | 8th |
Fightnews.com
Monaghan's opponent Friday at the Aviator Sports Complex in Brooklyn is Don "Da Bomb" George, a fierce hitter from Chicago who has registered 22 knockouts while compiling a 25-4-2 record. In 2012, George took current WBC Champion Adonis Stevenson into the 12th round before losing on a TKO.
When Monaghan felt he was ready to go pro, it was his turn to knock on Kavanagh's door.
"I told him I was going pro and asked him if he wanted to manage me," says Monaghan. "He had never managed a fighter before, but he said yes."
The chance meeting with Kavanagh isn't the only fortuitous break to help shape Monaghan's career.
Both of his parents are Irish, but he was born in the U.S. because his mother wanted her son to be an American citizen. She had lived in the U.S. earlier in her life, and while pregnant with Sean, she convinced her husband they should move. The Irish ties have given Monaghan a strong fanbase while fighting at Madison Square Garden and other New York venues.
"This is my biggest fight. Donovan George is very tough and he can punch." - @SeanieMono #truTVboxing https://t.co/qQNK73wPwu

— Top Rank Boxing (@trboxing) October 13, 2015
And Monaghan never would have taken up boxing if not for the encouragement of his best friend from boyhood, Bobby Calabrese.
"It sounds stupid, but it never dawned on me to get in the boxing ring, even though I was fighting all the time," says Monaghan. "Bobby took me to the gym, and it was like a revelation, that hey, I could do this in the ring and get paid."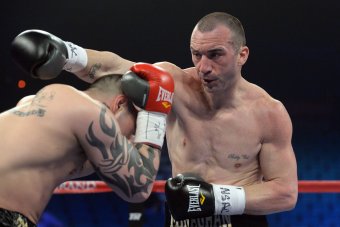 Jayne Kamin-Oncea-USA TODAY Sports
Sadly, Calabrese got caught up in being a "runner" for an illegal bookmaker, and was murdered in 2004 while attempting to collect a payment. Monaghan has a "Bobby Cal" tattoo on his chest and says he thinks of his friend before every fight.
"He's the one who brought me to the gym, and it's important to honor his memory," says Monaghan. "I think about him a lot. It keeps me going when I feel like taking my foot off the gas. I just keep going."
If not for Calabrese's influence, Monaghan knows his life could have totally spun out of control.
"I had no real interest in anything, but boxing was the one thing I really liked, and I was willing to make sacrifices for it," he says.
The first sacrifice was to part ways with alcohol, which was always a factor in his brawling.
"I wasn't really looking for trouble, but Long Beach is a bar town, with about 20 bars along a strip," says Monaghan. "I wasn't a bad guy, but I had a reputation around town, and I'd never walk away from a fight."
Monaghan openly laughs at himself when he explains how he realized it was time to stop drinking.
"Everybody was going out one night and it just dawned on me. Hey, what if I don't drink tonight? It was like rocket science. Holy cow, what an idea. I was 20. I quit drinking before I reached the legal age. I haven't had a drink in years, and it's a much better life."
Now he and his wife Beverly, a physical therapist, have two children. Son Sammy is four years old, and daughter Malia is one-and-a-half.
No matter who wins Friday, the Monaghan-George bout figures to be an entertaining match between two fighters who don't hold back.
"I don't think it's going to go more than five rounds," says Higgins. "Sean is in monster shape and he's going to back the guy up. I think George's aggression is going to work against him."
Monaghan is equally confident.
"I can go all day long, and I'm as ready as I've ever been," he says. "People like the way I fight. I mean business, and I give it everything I've got every time."
George: Failed drug test wasn't because of PEDs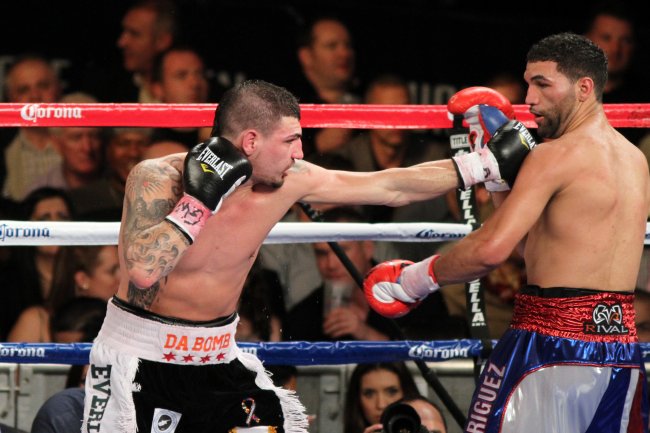 Gregory Payan/Associated Press
For George, this fight is a chance to remove a cloud that has been lingering over his career.
One significant blot on George's record is having a 2014 victory against Dyah Davis ruled a no-contest because he failed a post-fight drug test. George has explained that no performance-enhancing drug was to blame, and that he was flagged for taking an anti-inflammatory prescription to help with an injured hand.
George failed to disclose the medication to the Illinois Boxing Commission before the fight, which led to a suspension. George told BoxingScene.com about the situation:
The bottom line is I hurt my hand the week before my fight and there was no way I was pulling out so I didn't tell anyone or the commission. So I tested positive for Tylenol 3 that my doctor prescribed and told me to take for the pain. It's a total joke. All these guys (are) using PEDs, and I get popped for a baby pain medication. That's life, man.
If George can get past Monaghan—and then pass his drug test—it might put that whole matter to rest.
Solomon faces Serrano in other top bout
The other featured bout Friday pits welterweights Brad "King" Solomon of Lafayette, Louisiana, and Philadelphia's Raymond "Tito" Serrano.
Solomon is 25-0 with nine knockouts, and this will be his first fight since winning a split decision over Adrian Granados on the undercard of the May 2 Floyd Mayweather-Manny Pacquiao showdown. Solomon had to tough it out down the stretch of what was the night's first fight but raised his profile by being part of the biggest boxing card in history, in terms of money.
Now is his chance to capitalize on that increased exposure.
"It means a whole lot to me being on the best card in history," Solomon told New Orleans newspaper the Times-Picayune. "It shows me that if I keep working, then the opportunity will always be there for you. God has His time for each and every one of us."
Serrano is 21-2 and has a three-fight winning streak going after suffering his only two defeats back-to-back.
Tom Weir covered numerous championship fights as a columnist for USA Today. All quotes in this story were obtained firsthand, unless otherwise noted.