How do you know what you're building if you're not sure which blocks actually fit? The Minnesota Timberwolves have plenty to choose from, but their 2015-16 season will be that critical moment between full-blown renovation and "coming soon."
After finishing 16-66 through yet another stumbling, injury-plagued slog, the T-Wolves can still keep their heads up. The roster is incredibly young, talented and has a bright future not too far off in the distance.
Getting there requires figuring out which pup is actually the lead dog, who else can be a productive member of the pack and just what their roles will be. What's more, this process will begin without president and head coach Flip Saunders, who continues to battle Hodgkin's lymphoma. Former Coach of the Year Sam Mitchell (Toronto Raptors, 2007) is running the show indefinitely, with the help of mentor-in-uniform (and former teammate), Kevin Garnett.
Minnesota is expected to lose less in 2015-16. Winning big in the near beyond requires growing up fast. These Wolves will be scary good as soon as they do.
Key Additions/Subtractions: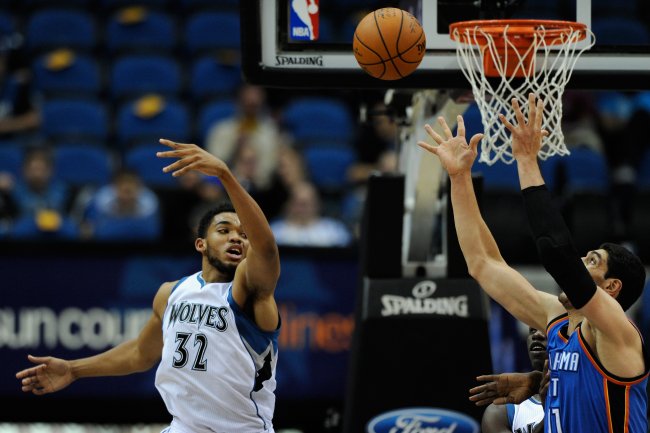 Hannah Foslien/Getty Images
Additions: Nemanja

Bjelica

(draft rights signed),

Tyus

Jones (draft), Andre Miller (free agent), Tayshaun Prince (free agent),

Damjan

Rudez

(acquired from Indiana), Karl-Anthony Towns (draft)
Subtractions: Jeff Adrien (signed with New Orleans), Anthony Bennett (waived, signed by Toronto), Chase

Budinger

(traded to Indiana), Justin Hamilton (signed overseas), Robbie

Hummel

(signed overseas), Gary Neal (signed with Washington)
It hasn't taken long for 2014 Euroleague MVP Nemanja Bjelica to start turning NBA heads. Between his strong showing at the FIBA Eurobasket tournament and welcome introduction to the T-Wolves, it's looking more and more likely that the 6'10", 27-year-old, multidimensional forward will be a key rotation player.
Text from NBA scout at Serbia-Spain: "(Bjelica) flat-out stud. Better than Mirotic. Knows how to play. Has a feel one can't teach." #twolves

— Darren Wolfson (@DWolfsonKSTP) September 5, 2015
All eyes are squarely on No. 1 draft pick Karl-Anthony Towns, however, and rightfully so. The 7-footer's offensive versatility and defensive DNA are immediately tantalizing. Despite some caveats, he's already been given the green light and is likely to wind up starting at one of the front-line spots before long.
As Bleacher Report's Josh Martin pointed out, Towns has all the tools, but he still has to put in the time. And oftentimes, that time will be tough:
Even with a teacher of Garnett's caliber in his ear, Towns won't become a maestro on either end of an NBA floor overnight. It's not as though Garnett can simply download all of his knowledge into his newest pupil's brain like Morpheus teaching Neo kung fu. If he could, the Wolves would really be on to something.

In the absence of that dystopian technology, Towns will have to learn the ropes of the NBA the hard way: through first-hand experience and, despite all the preparation in the world, trial and error. He'll have to endure the same frustrations that plague every rookie, in addition to all the pressures particular to No. 1 picks tapped as saviors of sunken franchises.
He's joined to a much lesser degree by rookie point guard and Duke champion, Tyus Jones. The Minnesota native's role remains initially unclear with both Ricky Rubio and Andre Miller firmly ahead of him on the depth chart.
Storylines to Watch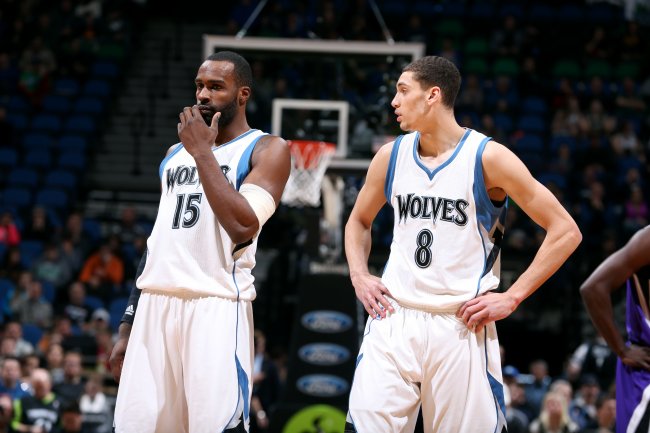 David Sherman/Getty Images
What role will the veterans play, and for how long? Despite all the youth, there are plenty of old hands on the roster. Between Garnett (39), Kevin Martin (32), Nikola Pekovic (29), Andre Miller (39) and Tayshaun Prince (35), Minnesota has some insulation against inexperienced mistakes.
However, the youngsters have to play a LOT for this to be a successful season, and it sounds like they will, according to Sam Mitchell. So the bigger question is, how long before some of the veterans sit too much and get a little grouchy?
There are no worries about KG (he's always grouchy), but don't be surprised if Miller and Prince are flipped for a pittance to contenders near the trade deadline while Martin (who has already been demoted in favor of Zach LaVine at shooting guard) and Pekovic don't last beyond next offseason, if that. Their fate will depend on when and where the young studs step up.
Is Andrew Wiggins (20) ready to be a true two-way star in just his second season? Is Towns (19) able to hold down a starting spot, and is Gorgui Dieng (25) taking another mental step to ensure he's entrenched at the other? What position is LaVine (20), and can both he and Shabazz Muhammad (22) help fill the scoring void while playing big minutes overall? Are Adreian Payne (24) and Tyus Jones (19) real NBA players or just college ball names?
At some point, even if a few veterans go, there will come difficult decisions between starting LaVine or Muhammad alongside Wiggins on the wing. Or whether KG can live with himself coming off the bench behind Towns, Dieng or (BIG maybe) even, Bjelica. But those are fantastic problems to have by season's end versus still wondering who's a long-term fit after all.
X-Factor
Jim Mone/Associated Press
This was the hardest nominee to settle on—Minnesota has so many developing players who could seriously change the franchise's trajectory. However, Ricky Rubio is really the only one who is running out of time to do so.
Maybe it's not fair. After all, his shot selection and form had quietly improved for three seasons until last year's injury-stunted numerical disaster. Plus, as Kelly Scaletta and I recently discussed on Will Reeve's All Weather Fan podcast (at the 11:07 mark here), Rubio has strong defensive instincts to go along with his well-known passing chops.
But as everyone is quick to point out (nee: pile on), there's no way you can shoot 36.7 percent overall (35.6 percent last season), or 31.4 percent from three (25.5 percent last), or 45.8 percent within the restricted area (31.7 percent last) as a starting NBA point guard on a successful team, even if your run-and-gun distributing is an absolutely perfect fit otherwise:
After logging four injury-riddled seasons—appearing in only 65 percent of possible contests—on Wolves rosters that have lost 64 percent of their games, it's fair to wonder whether Rubio's patience is proportionally wearing thin as well.
A clear-cut step forward as a shooter and complete player will inspire confidence that further levels can be reached. Continued investment will then be gladly warranted. However, the usual frustrations for or from Rubio will likely reboot trade rumors and require a change of scenery for all involved.
Recalling the pains and Steph Curry-sized oversights it took to acquire the one-time prodigy, it would be a serious shame if the Wolves are searching for a new long-term point guard solution in 2016.
Making the Leap
It has to be Andrew Wiggins. LaVine, Dieng and Muhammad showed flashes and should continue to improve as the game slows down for them. Towns will have his moments too. But this team still firmly remains the Canadian's canvas.
His ultra-smooth athleticism sometimes overshadowed fantastic defensive instincts last season, though the learning curve was real. However, as Bleacher Report's Grant Hughes detailed in the chart below and here, it was offensive progress that was both needed and made.
The physical tools remain as enticing as ever, but one has to hope (nay, expect?) that an explosive improvement is nigh for Andrew Wiggins. He has much better protection in the lineup on both sides of the court this season, all the responsibilities and opportunity he can handle, another eye-popping show for Team Canada this summer, plus a support system from Mitchell and Garnett that has seen this story before (with young KG).
While "the leap year" is usually made during most youngsters' third campaign, Wiggins is not most youngsters. True superstardom may indeed be another calendar away, but All-Star conversation is already well within his reach for Season 2.
Best Scenario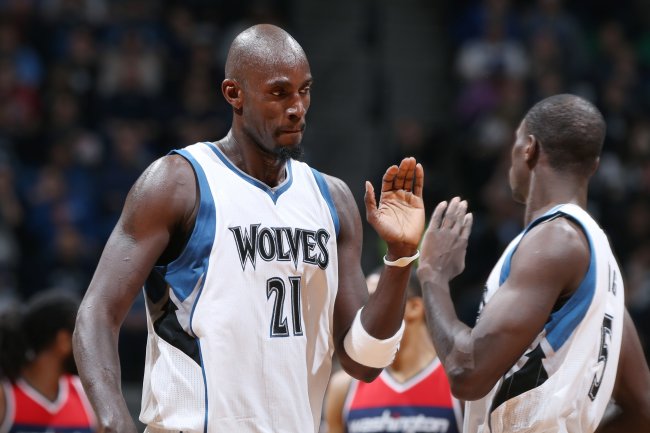 David Sherman/Getty Images
Wiggins, LaVine and Muhammad can make threes. From what we gather, so can Towns. You can throw in to Dieng, and good things can happen on the block. Andrew Wiggins can be a crunch-time scorer while carrying an offense that Ricky Rubio can orchestrate.
Both Wiggins and Dieng showed last year they can anchor a defense if teammates actually stick to their assignments every now and then. Rubio can also be a huge defensive plus. Kevin Garnett can still provide productive, cerebral minutes if healthy. Ditto sharp-shooting Kevin Martin, cagey Andre Miller and hulking Nikola Pekovic.
This becomes a successful season if everyone who can instead does on a consistent basis. If Towns and Wiggins are ready as a true 1-2 punch (in whatever order) on both sides of the floor, while Dieng, Muhammad, Bjelica and LaVine prove they're key cogs and both Jones and Payne handle rotation minutes, this group will push past 37 wins, generate endless highlights and surprise a ton of people. What's more, they'll be the "it" team by next offseason, with everyone predicting them as the next big thing.
Worst Scenario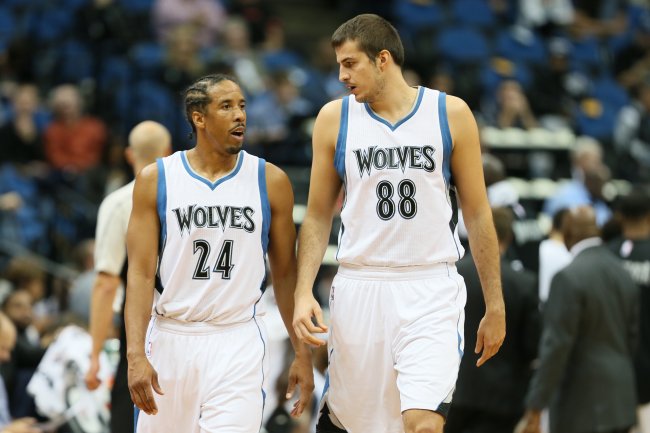 Jordan Johnson/Getty Images
What if all the aforementioned maybes remain just that, and Towns just flat-out isn't ready yet? Rubio proves once and for all that he's hit his ceiling and is nothing more than a flashy, middling point guard? Wiggins remains somewhere in limbo between star and stud prospect? The NBA game, and especially its nuances, remain far too fast for all the other youngsters, including Bjelica?
Then it's likely that Sam Mitchell panics and starts yanking minutes amid all the losing, thereby conscripting the old guys into key, duration roles they no longer can, should or really want to be filling. The logjams become a problem as youthful confidence is shattered and long-term futures remain uncertain, (especially for LaVine and Muhammad).
After another 23-wins-or-fewer campaign, the Minnesota Timberwolves look another year away from answering anything. They head back to the draft with a top-five pick and far too many frustrating questions.
Predictions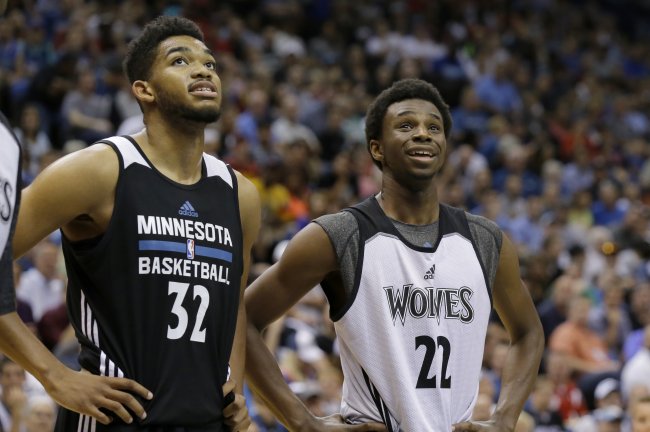 Ann Heisenfelt/Associated Press
Successful development is about more than just increased production from the main characters. It's also about players like Shabazz Muhammad embracing a gig as the team's super-sub, rather than pining for a starting spot. It's about Zach LaVine channeling his insane athleticism and length to a defensive pest role that starts the big plays he's already equipped to finish. It's about Jones and Payne not being caught in the headlights when finally on the floor.
Pekovic's health will largely determine his saleability, but the other three veterans not named Kevin Garnett are probably more than happy if they're wearing new uniforms by February, knowing they helped train a generation of winners back in Minnesota. If they haven't left by then, it's because there was still too much learning left to do, and that won't be good for anyone.
Future wins will be leavened with a lot of mistakes yet this year, but they should lessen as the weeks go by. Expect a slow start due to close losses, missed opportunities and gradual injury recoveries for Rubio and Pekovic. Momentum should be expected early in 2016, coinciding with Towns' sea legs and Wiggins' great leap forward. This will prompt the veteran jettisons along with a strong epilogue as an every-night competitor and late-season spoiler.