Even those fans who have ardently rooted against Floyd "Money" Mayweather Jr. must admit that the undefeated champion's retirement leaves boxing with a gigantic void to fill.
But Mayweather returning to the ring for a rematch with Manny Pacquiao isn't the answer.
That's the solution many in boxing will campaign for now that their sport is left without a recognized pound-for-pound champion or even someone who has the proven ability to fill the house.
But trying to sell the public on another Mayweather-Pacquiao fight could hurt the sport more than help it.
It would be a money grab, pure and simple, and pursuing it would only rekindle the feeling so many fans had of being ripped off by the first Mayweather-Pacquiao matchup. That so-called "Fight of the Century" wasn't even the best fight of the night back on May 2.
For the history-making price of $99.99, the only thing fans were treated to was an endless exhibition of Mayweather's shoulder-roll defense. The fight was boxing's best chance in years to bring fringe fans back into the fold and show them what they had been missing. But it ended up being the most elitist event in boxing history, with almost zero tickets made available to the public.
And instead of seeing Mayweather and Pacquiao decide the pound-for-pound title with intense exchanges of punches, we mostly just watched Pacquiao swing at air, as if he were chasing phantoms. There were no knockdowns and very few moments that even qualified as mixing it up. By the end of the night there were more yawns and complaints than cheers.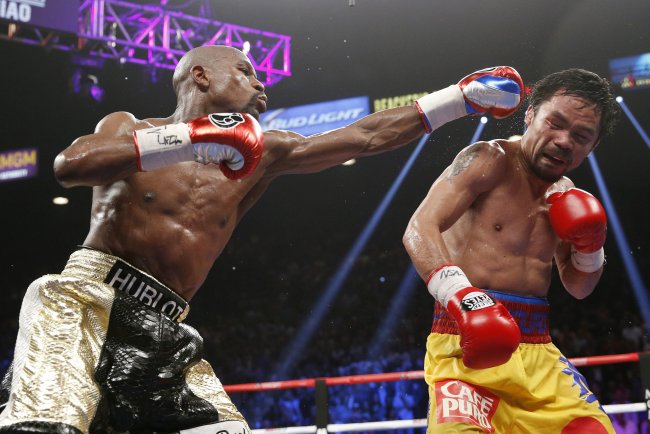 John Locher/Associated Press
Pacquiao was out-punched and outmaneuvered at every point while losing a unanimous decision. He was slower and weaker, didn't beat Mayweather in any regard and at times looked downright disinterested in hunting down his opponent. Maybe that's what happens when a guy is paid $100 million before he even steps in the ring.
Ah, but here come the murky explanations of why we should do it all over again.
Pacquiao protested afterward that a torn rotator cuff transformed him into a one-handed fighter. Pacquiao also portrayed himself as being wronged when he was denied a pain-killing shot before the fight, but the Nevada Athletic Commission pointed out that none of the proper procedures were followed to allow the injection.
And Pacquiao certainly didn't offer any refunds to those fans who paid top dollar and thought they were about to see the two best fighters of their generation go at it.
Do you want to see a Floyd Mayweather-Manny Pacquiao rematch?
But now there's another reason being proposed for why we need a sequel to what turned out to be the most disappointing fight of this century: Mayweather reportedly used an IV solution to rehydrate after the weigh-in, according to noted boxing journalist Thomas Hauser of SB Nation.
Get upset about that if you want, but this really is just boxing's equivalent of Deflategate.
And unless the U.S. Anti-Doping Agency (USADA) changes its opinion that there was no problem with the IV usage, it's time for Mayweather's haters to give up on this argument.
USADA has been as dogged a chaser of drug cheats as there is on the planet. It chased Lance Armstrong the way the FBI's Untouchables hunted Al Capone back in the day of bootleggers.
The agency insists that America's prospective Olympians make their whereabouts known at all times so that it can launch surprise tests. The USADA workers charged with the task of collecting urine samples have been known to knock on doors at all hours. Snowboarder Kelly Clark was once directed to give a sample right before her church services were to begin.
Being under USADA's control is akin to having the IRS show up for audits on a regular basis. So if the agency says it has no quarrel with Mayweather, then no one else should either.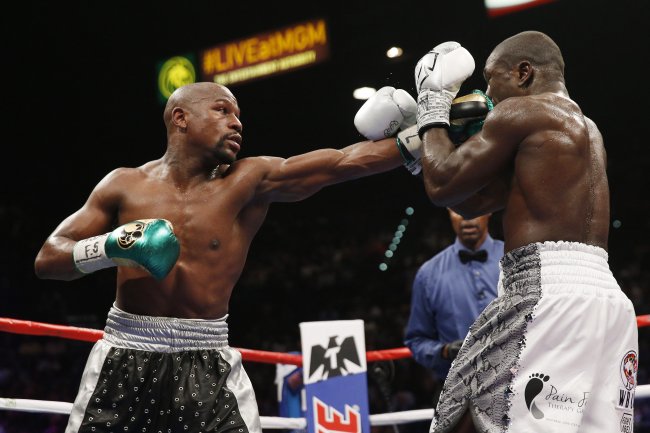 Steve Marcus/Associated Press
Fighters sweat like crazy to make weight, and Mayweather used modern science to replenish his fluids and electrolytes. Call it an explanation or an alibi, but who cares? There's not enough smoke there to justify putting Mayweather and Pacquiao back in the ring for another overpriced dance-a-thon.
So here we are. The ring rust is building up on Pacquiao as he recovers from shoulder surgery and approaches his 37th birthday in December. Mayweather is 38 and headed out to pasture after a farewell fight that was dominating but hardly crowd-pleasing. His unanimous decision over Andre Berto on Saturday night drew boos in the late rounds as Mayweather failed to deliver knockdowns or any serious brawling.
Negotiations took forever to get Mayweather and Pacquiao in the ring the first time, and there's little reason to think it wouldn't be contentious the second time around.
But boxing has been down this road many times before, when it looked like the sport had run out of names to put on the marquee.
There was no one with the charisma to replace Muhammad Ali, but the sport went on. Likewise after the golden age of middleweights in the '80s—when Sugar Ray Leonard, Marvelous Marvin Hagler, Thomas Hearns and Roberto Duran all were in their primes. And boxing also survived after Mike Tyson went to prison.
Maybe the sport will never have another golden goose like Money, but that doesn't mean it needs the turkey that Mayweather-Pacquiao II would be.
Tom Weir covered numerous championship fights as a columnist for USA Today.