If indeed Floyd Mayweather Jr. has dropped the curtain on his boxing career, the one thing that has to be said about his final performance is that he was unerringly true to himself and his history.
Mayweather walked out of the MGM Grand Arena still undefeated Saturday night after putting on a 12-round clinic against Andre Berto that epitomized the style, tactics and skills that took him to his 49-0 career record.
Mayweather yet again was the moving target who never stayed in place long enough to truly get hurt with even a single punch. He took a few shots on the ropes here and there, but nothing that was memorable or will even make him wake up with a headache the morning after his unanimous decision.
Oh, there were boos from many in the crowd who felt Mayweather's ever-elusive style was to blame for his failing on promises to at least deliver knockdowns against Berto. That never came close to happening, which really shouldn't come as a surprise.
Mayweather leaves with no genuine knockout since he flattened Ricky Hatton at the end of 2007. (Does anybody really count the Victor Ortiz fiasco in 2011 as a true knockout?) And if he didn't acknowledge the boos, maybe it was because he was busy counting up yet another big payday in his head.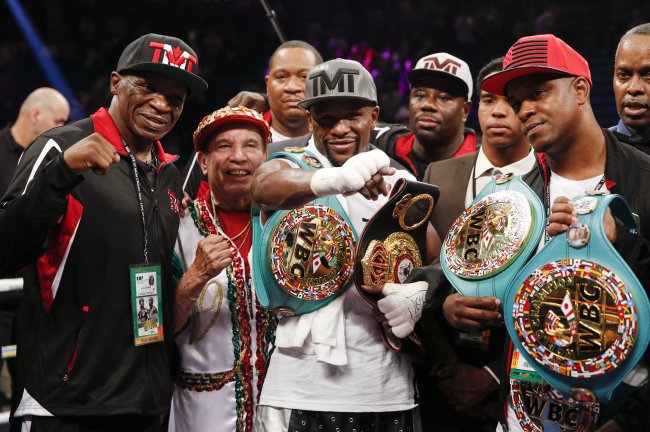 John Locher/Associated Press
That's Mayweather. He fights the way he wants and inevitably gets the results he wants.
This bout was essentially over after the first round, as was Mayweather's previous fight, the all-time money-maker against Manny Pacquiao last May.
In both of those fights the onus was on Mayweather's opponents from the opening bell to demonstrate that they could land blows and amass accurate power punches that would influence the judges. But both Berto and Pacquiao got off to miserable starts that showed they had arrived on fight night with game plans that couldn't work.
Against Berto, Showtime stats showed Mayweather landing 56 percent of his total punches (232-of-410), while Berto connected on only 16 percent (83-of-495).
That's the story of Mayweather's career. He throws strike after strike while the other guy whiffs.
The best Berto did on any scorecard was with judge Dave Moretti, whose 117-111 card awarded three rounds to the loser. That may be as generous an act as the boxing world has ever seen. Judge Adelaide Byrd gave every round to Mayweather (120-108), and Steve Weisfeld had it at 118-110.
Personally, I'll give Berto the seventh round, and only the seventh, and only as an act of charity. This fight was even more one-sided than the Pacquiao disappointment. Mayweather took his standard early lead while Berto looked like he was chasing a phantom. And once it got to the eighth round, everyone in the building knew Mayweather needed only to remain on his feet in order to win.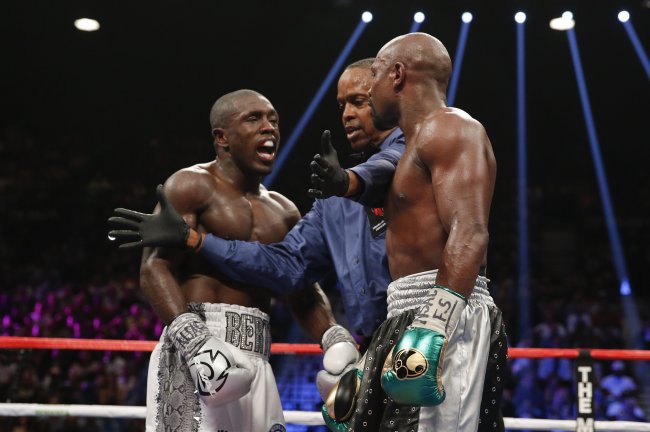 John Locher/Associated Press
The only dramatic moments that occurred had little to do with punches landing. As Mayweather sat in his corner between the ninth and 10th rounds, Showtime's ringside microphone picked him up telling his father, Floyd Sr., "My hand hurts. My left hand."
But there were no signs of pain from Mayweather the rest of the way. No wincing and no holding back as he continued to add to his advantage for punches landed. He did, however, spend so much of the 10th round jabbering at Berto that referee Kenny Bayless felt compelled to call a timeout and warn both fighters to quit jawing.
A round later, Mayweather used his allegedly ailing left hand to unleash a damaging series of combinations late in the 11th. He also shuffled his feet, Ali-style, and all but begged the crowd to get into it. In the 12th, some fans did rise to their feet as the last seconds ticked off, but there was a heavy shower of boos from fans who were heading home unsatisfied. And, as reported by ESPN's Darren Rovell, the lack of a full house speaks to Mayweather's waning crowd appeal.
Announced attendance for Mayweather-Berto is 13,395, which means that 20% of the arena is empty.

— Darren Rovell (@darrenrovell) September 13, 2015
That's the Mayweather way. Love him or loathe him, so long as you pay him.
So yes, if future generations want to understand Mayweather's greatness, the video of this fight is as good as any to put in a time capsule to show why Money leaves as the undisputed greatest fighter of his era.
But it also shows why he was such an exasperating champion for many fans, a defensive genius who rarely delivered the overt violence that the bulk of boxing spectators expect from their champions. Mayweather was undoubtedly the best pound-for-pound boxer of the last two decades, but he didn't create enough carnage to rank alongside the likes of a Sugar Ray Robinson.
Which brings us back to whether this really is his farewell.
In the ring afterward, Mayweather told Showtime's Jim Gray that he is "officially retired." If he comes back, it will be strictly to scratch his perpetual itch to cash big checks. Going 50-0 or even 55-0 isn't going to change his historical ranking, and in fact it might only serve to magnify his lack of a knockout punch.
We've seen the best of Floyd Mayweather. A ton of it, actually. And it was what it was—magnificently efficient and totally unbeatable—but never totally crowd-pleasing. And given the size of his bank account, it's a good bet Mayweather won't have any trouble living with that.
Tom Weir covered numerous championship fights as a columnist for USA Today.