If Floyd Mayweather Jr. makes good on his promise to retire after Saturday night's fight, the biggest debate in boxing will be who succeeds Money as the world's great fighter pound-for-pound. Oscar Valdez isn't ready to claim that title yet, but on Friday night the young Mexican showcased himself as someone who could seriously enter the discussion with another year of seasoning.
Valdez dispatched the more experienced Chris Avalos with unbridled authority in the co-feature event of truTV's MetroPCS Friday Night Knockout card at the Cosmopolitan in Las Vegas.
The 24-year-old Valdez was impressively explosive with both hands while winning a fifth-round TKO against Avalos, who is 25 and has fought professionally for seven years. Valdez, in only his fourth year as a pro, looked more polished and schooled. The two-time Olympian had near-faultless footwork and took advantage every time Avalos opened up.
Valdez also made a believer out of truTV commentator Timothy Bradley Jr., who was surprised at how one-sided the fight was.
"He fought against a tough, rugged, experienced guy, and he got rid of him," said the WBO welterweight champion. "I didn't think he'd be able to do it."
The fight easily could have ended after the third round, when Valdez rocked Avalos with a lightning left hook that his Californian opponent never saw coming. The blow instantly put rubber in Avalos' legs and sent him wobbling backward. Avalos got up and was fortunate the round ended, which allowed him to stagger back to his corner rather than try to dodge more punishment.
The knockdown brought Avalos' mother out of the stands. She stood near his corner and shouted encouragement to her son, but no amount of cheerleading could have helped Avalos overcome Valdez's superior skill set.
Referee Russell Mora checked Avalos again at the end of the fourth, when his legs teetered again after a straight shot to the jaw just before the bell. Without hesitation, Mora ended the fight at 1:17 of the fifth round when it quickly became apparent that Valdez could land skull shots at will.
Now 18-0 with 15 knockouts, it's legitimate to consider Valdez worthy of fighting for a world featherweight title. He's a crowd-pleasing attacker, and his mechanics are fluid and efficient. Furthermore, he appeared smart in the ring after needing little time to pick apart Avalos' defense.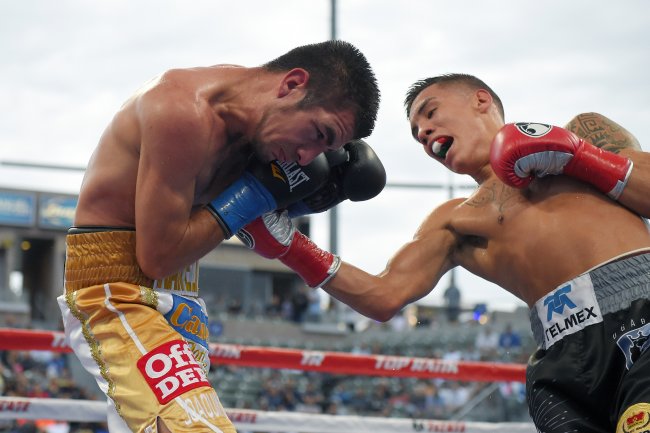 Mark J. Terrill/Associated Press
Also weighing in as a truTV analyst was Ray "Boom Boom" Mancini, and the former world lightweight champion sees an equally bright future for Valdez as Bradley does.
"Oh, absolutely," said Mancini. "This kid is one of the great future Mexican champions."
One out-of-the-ring intangible that figures to help Valdez is that he received his elementary schooling in Arizona, and his excellent English should help his marketability.
"It doesn't end here," Valdez told truTV after the fight. "I'll take maybe one day off to rest and then be back in the gym."
Perhaps the biggest factor in how soon Valdez lands a title fight is the opinion of his promoter, Bob Arum, and the Top Rank boss was clearly impressed.
"He's going to be terrific," Arum told the Los Angeles Times. "Not an easy fight tonight. He made it look easy."
Jesse Hart TKOs Aaron Pryor Jr.
In the other co-feature event, Jesse "Hard Work" Hart had little trouble with Aaron Pryor Jr. before winning with a ninth-round TKO. But even though Hart improved to 18-0 while defending his USBA and NABO super middleweight titles, he showed he has a ways to go before he'll be ready to contend for a major title.
Hart relied heavily on a wild overhand right. Many of those landed against the 37-year-old Pryor, who was on the defensive from the opening bell and never looked like he had a plan of attack. But if Hart goes at a more skilled fighter with those same big windups, he'll be asking for trouble and risking an easy KO.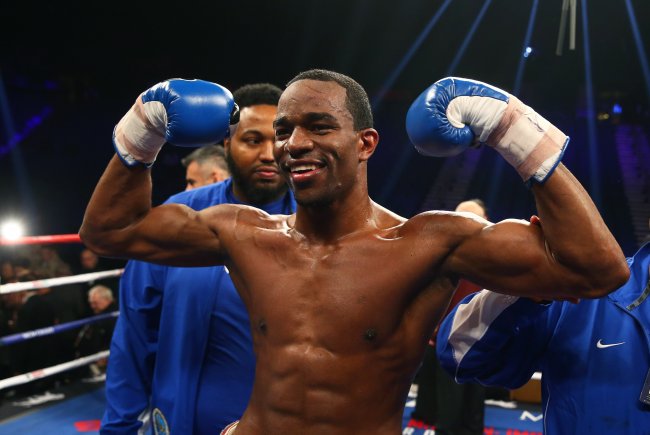 Mark J. Rebilas-USA TODAY Sports
Hart left himself vulnerable throughout the fight and will be predictable for his next opponent if his style doesn't evolve. The big, looping punches missed more often than they landed, but he kept throwing them.
Pryor told me in a phone interview this week that he hopes to fight two more years before retiring. But if Friday night's effort was representative of what he has left, Pryor needs to rethink that timetable. He failed to win a single round and never landed a meaningful punch. After the seventh round, one of his cornermen said "show me something!" and threatened to end the fight if Pryor didn't respond.
Pryor failed to bounce back in any regard and was put away in the ninth by a wicked flurry of six punches that all landed solidly. His record falls to 19-9-1.
Michael Reed turned in another notable performance of the night, with a fifth-round TKO of Antonio Canas in a super lightweight contest. Reed, from Waldorf, Maryland, kept his undefeated record intact, going to 16-0 with nine KOs.
Reed dominated the 10-2-1 Canas throughout and consistently pounded the Chicagoan after bullying him into the ropes.
Tom Weir covered numerous championship fights as a columnist for USA Today.