When Jesse Hart is introduced before Friday night's championship bout on a truTV card, the ring announcer no doubt will bellow that the fighter from Philadelphia's rough north side has an untarnished record of 17-0. Yet Hart says it's wrong to refer to him as undefeated.
"I've already taken my first loss," says the 168-pound Hart, who will fight Aaron Pryor Jr. in one of the headlining bouts at the Cosmopolitan in Las Vegas. "I took the hardest shot in life. Nothing in the ring could be a greater loss than the one I already took with my brother."
Hart's older brother Damon was murdered in 2010 as he sat in the passenger seat of a car and was shot in the head from behind during a robbery. The killing sent Hart spiraling into depression so deep that he nearly quit boxing. Hart says he knew the identity of the shooter, who eventually was convicted and given a life sentence. But Hart's first reaction to the loss of his brother was to plot avenging Damon's death in the most violent way possible.
"I wanted retaliation at the time," says Hart. "I carried an illegal gun. I'm not proud of that, and I hate that I was in that kind of mind frame. If I had gone through with it, I probably would have wound up dead or in jail."
Instead, friends and family got him out of Philadelphia and into the U.S. Olympic Education Center in Michigan, where he trained for two years with Philly native Al Mitchell.
"That was a hard time in my life, and I still struggle with it," says Hart, whose nickname is "Hard Work."
Hart will defend his NABO and USBA super middleweight titles against Pryor. He earned his spot on the marquee for the MetroPCS Friday Night Knockout card with a sixth-round TKO of previously unbeaten Mike Jimenez in May.
That was Hart's first 10-round fight and raised his profile significantly, as it came on the undercard of the Floyd Mayweather Jr.-Manny Pacquiao superfight. Top Rank promoter Bob Arum made a point of adding Hart to that historic night.
"He's one of my favorites," Arum told ESPN.com's Dan Rafael. "I really, really like the kid."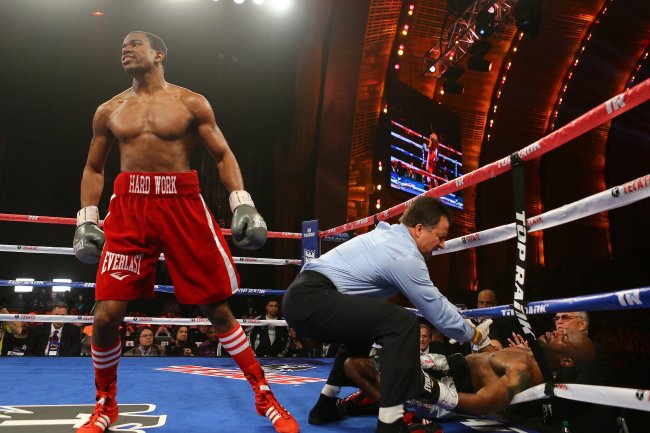 Al Bello/Getty Images
The promoter also is an admirer of Hart's father Eugene, who went by the name of "Cyclone" when he fought in the '70s. Hart's father is the guiding influence in his son's career and still trains him, but the start was rocky.
"At first, I was forced into it," Hart says of his introduction to boxing at the age of six. "But then I grew to love it."
His father always had Hart working on his footwork or other fundamentals, and Hart remembers resisting at first but then falling in love with boxing about the time he turned eight and started developing skills.
"I'd be standing in front of the mirror until 3 a.m. when I was eight, working on my jab," says Hart. "That's the punch I think I've perfected. Sometimes my dad would tie my right hand behind my back and say, 'The left is all you got. Now make it work.'"
Being the son of Cyclone meant Hart regularly talked with many of Philadelphia's boxing legends, including former world heavyweight champion Joe Frazier.
"My dad surrounded me with those guys," says Hart. "As a kid Joe Frazier drove me to school. He'd drive by in a flashy Cadillac and say, 'Yo, kid, get in.'"
Two other famous Philly fighters he grew close to were Bennie Briscoe, one of the most feared middleweights in the '70s, and Matthew Saad Muhammad, who once reigned as the world light heavyweight champion.
Hart's father always emphasized boxing history, which led to his son studying films and stories about the fighter he considers the greatest of all time, Sugar Ray Robinson.
"My dad told me not to become just another fighter," says Hart. "He taught me I have to work twice as hard as my competition and that I have to be perfect at everything, not just boxing. That's how Sugar Ray Robinson was. He could talk, he had charm, people loved him. And he never quit signing autographs."
Aside from his brother's murder, the other big challenge in Hart's career came after he missed making the 2012 U.S. Olympic team by the slimmest possible margin. Hart thought his place was secured when he won at the Olympic trials in 2011, but then there was a controversial change in the selection process. Fighters who didn't place high at the world championships were forced to qualify again at a "reload" tournament in 2012.
The scoring was dead-even in Hart's championship bout of that second tournament. The first tiebreaker, for punches landed, also was even. The second tiebreaker was a poll of the judges, which Hart lost 3-2.
"I definitely feel I got robbed," says Hart. "How can I win the Olympic trials, and then I have to fight for my spot again? I was crying, because I had told my brother I was going to make the Olympic team."
It was a bitter end to Hart's amateur career.
"They gave me the silver medal, but I left it there," he says. "I threw it on someone's roof."
He also considered giving up the sport and went about three months with no training.
"I was done. I didn't want to box ever again," Hart says. "But then I had a dream about my brother, and he told me, 'You're supposed to be a champion. You got to get up.' It was for him that I came back."
And his brother no doubt will be on Hart's mind again Friday night.
Aaron Pryor Jr. took a different path to this fight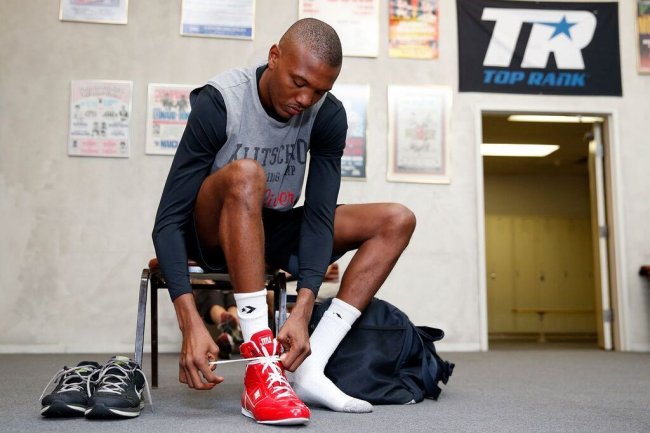 Credit: Mikey Williams/Top Rank
Pryor is the son of a boxing Hall of Famer, but unlike Hart, he didn't get an early start in the sport. At 6'4", Pryor believed he had better prospects in basketball and didn't take up boxing until he was in his late 20s. His father Aaron, who at 5'6" has a far different physique, didn't take his son's boxing aspirations seriously at first.
"Being older, he didn't really believe me, and my first couple of fights he wasn't there," Pryor said. "But then he started hearing on the street that his son was a pretty good fighter."
Now 37, the Cincinnati-based Pryor has a 19-8-1 record, with 12 knockouts. He expects to fight about two more years and then call it a career.
Because of his name, legendary trainer Emanuel Steward took in Pryor at his Kronk Gym in Detroit.
"He was such a great guy," Pryor says. "I even lived in his house for four years."
To make ends meet during the early years of his amateur career, Pryor worked odd jobs at a nursing home and at a restaurant, where he bused tables.
"Of course I had to pay some dues, but it was all worth it," says Pryor.
He says his greatest strength is the footwork that makes him elusive. He says he believes Hart "is going to be a great fighter at some point" but adds "I think he has a lot of flaws."
"I'm definitely going to be the toughest guy he's fought," contends Pryor. "He's kind of flat-footed. I think it's going to be more of a learning experience for him."
Oscar Valdez will do his celebrating at the dinner table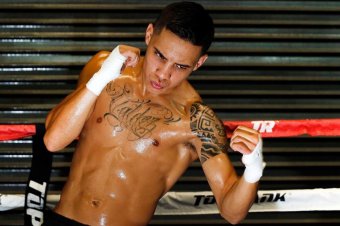 Credit: Mikey Williams/Top Rank
Oscar Valdez brings a 16-0 record into the ring against Chris Avalos (26-3, 19 KOs), and if he wins Friday's other headline bout, he'll reward himself with a traditional feast back in Sonora, Mexico.
"That's one of my favorite things, just going back and eating all day," says the two-time Olympian. "Once the fight is over I can eat whatever I want."
The 24-year-old is ranked No. 2 by the WBO at 126 pounds. His family lived in Arizona for several years, which allowed Valdez to do all of his elementary schooling in Tucson.
"Knowing English has been a great plus in my career," says Valdez. "It helps me a lot with making relationships in boxing."
Fourteen of his victories have come by knockout, but the featherweight says he'll gladly settle for a decision against the 25-year-old Avalos.
"The important thing is winning," Valdez says. "In all of my fights, I've never had the mentality that I have to win by a knockout."
Tom Weir covered numerous championship fights as a columnist for USA Today. All quotes were obtained firsthand in phone interviews, unless otherwise noted.