Texas and Notre Dame each will battle for second place on the all-time wins list on Saturday, but that's the only thing these two teams have in common.
After a finishing the season strong against LSU in the Music City Bowl, Notre Dame's Brian Kelly returns one of the most experienced rosters in the country. That, along with the emergence of quarterback Malik Zaire, has the Fighting Irish within a stone's throw of a top-10 ranking.
Charlie Strong doesn't have it quite so good. A weak 2014 finish has many looking down on the Longhorns, who will replace 10 starters from last year's 6-7 squad. With 24 freshmen on the two-deep, the rebuild is still very much on.
#Texas has 24 frosh/RS frosh on depth chart. Connor Williams, Patrick Vahe, John Burt, Malik Jefferson, John Bonney are all starting.

— Wescott Eberts (@SBN_Wescott) August 31, 2015
So while the all-time implications may not live up to the hype, the first impressions provided by these teams should be plenty interesting.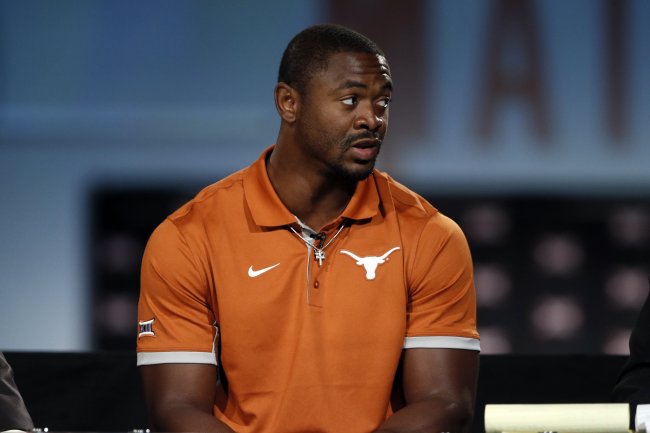 Tony Gutierrez/Associated Press
When Texas Has the Ball
The Longhorns' best hope on offense is to find success against Notre Dame's depleted defensive front. If they can't, then they're going to put a ton of pressure on their defense.
As noted by the Austin American-Statesman's Brian Davis, it hasn't been a great offseason for the Irish up front. NFL prospect Ishaq Williams has been declared ineligible for this season, Jarron Jones tore his MCL in fall camp, two pass-rushers transferred out and one JUCO recruit never enrolled.

Kelly still has seniors Sheldon Day and Romeo Okwara holding it down, but everyone else is a sophomore or younger. That's where Texas will try to assert its edge and spring its running backs, especially senior Johnathan Gray.
The question is whether the Longhorn line is up to the task. Texas returns three starters up front, but will trot out two true freshmen who will be charged with trying to create running lanes against the likes of Jaylon Smith.
Notre Dame LB Jaylon Smith...this should be a teaching tape. https://t.co/xraShjozVH

— Daniel Jeremiah (@MoveTheSticks) June 13, 2015
If the running game can't get going, the onus falls on Swoopes, who struggled when he had to be a one-man show in 2014. It's no coincidence that against TCU and Arkansas, his two worst performances of the year, the Horns ran for a total of 92 yards on 54 attempts.
But if Texas can create room, and possibly keep the Irish guessing by deploying Swoopes on a runner, this team's defense gives it a chance.
Joe Raymond/Associated Press
When Notre Dame Has the Ball
Make no mistake—the Irish can hurt the Longhorns in a variety of ways.
Led by running back Tarean Folston, the Irish return all six of last season's leaders in yards from scrimmage. On top of that, dual-threat terror Malik Zaire returns after a full season to learn Kelly's system.
Heading into this matchup, Kelly feels good about where Zaire is with the offense:
Yeah, it's a totally different Malik Zaire. A lot of it was first start [against LSU], not sure what to expect from him. We knew that he was a young man that had the ability to do some things in the run game. Weren't sure what he could do in the passing game. We saw that certainly he was capable.

But his development has been so much more since that game through the spring, through the summer and now in pregame, he's much more developed in all phases of the game, a lot more confident and certainly a lot more in tune with all of the receivers and the offensive line and just much more comfortable.
And while Kelly feels like he sees a different Zaire, it's the junior's legs that should scare the Longhorns. Taysom Hill, Sam B. Richardson and Trevone Boykin all had big games against the Horns in 2014, and that team had far more veteran talent than this squad.
The Longhorn defense should be fine next season, but corralling all this explosive talent with nine freshmen on the two-deep will be tough. Texas' best bet is to crowd the line of scrimmage and force Zaire to prove how much he's really developed.
If Zaire can pick the Horns apart with his arm, then so be it.
Key Players for Texas: The Offensive Line
Nothing takes the air out of an opposing stadium like some old-fashioned ground-and-pound. And that's the only way Texas is going to take out the Irish on the road.
I believe that Tyrone (Swoopes) can win the game. I think our whole football team has seen him ascend and really grow. - Coach Watson

— Longhorn_FB (@Longhorn_FB) September 1, 2015
Texas has to be able to run to win this game. Even if Tyrone Swoopes is a new guy, he's missing his top-two receivers from last season, and he has a freshman protecting his blindside in Connor Williams. He can't win this game throwing 40-plus passes.
On the flip side, Williams and fellow freshman starter were brought up because they're real maulers. They're also going to be blocking for a probable 1,000-yard back in Gray, a rising star in D'Onta Foreman and a freak-show athlete in Chris Warren. Against a depleted defensive front, this team has a chance to move the chains.
Truly, it'd be one of the year's bigger upsets for Texas to run up to Notre Dame, with one of the nation's youngest rosters in the country, and tie up the all-time series. If it happens, it'll be because the offensive line set the tone.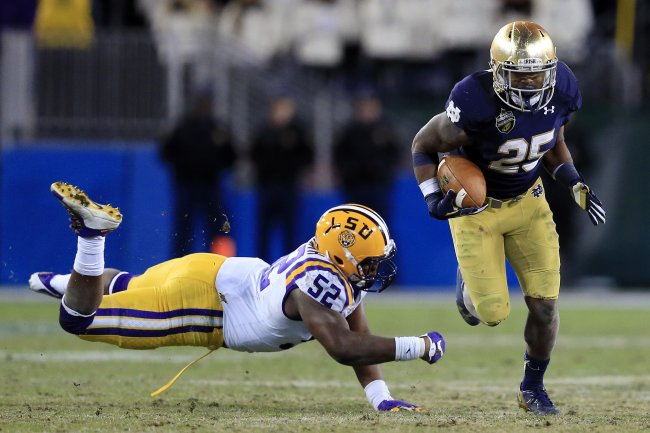 Mark Humphrey/Associated Press
Key Player for Notre Dame: RB Tarean Folston
With Greg Bryant possibly gone for good, it's Tarean Folston's show in the backfield. That means it's his job to make Zaire's job easy in the first game of the season.
Kelly says Tarean Folston had really good weeks of practice. Thinks there's more for Folston to achieve this year. Kelly w/ high praise

— Angelo Di Carlo (@angdicarlowndu) September 1, 2015
Running behind an elite offensive line, Folston can end this one early. He's going to get the ball for as long as he's productive, and that will open things up for his quarterback down the field.
If Folston can't break through Texas' sneaky deep defensive line, then this offense could be in trouble. Not only are Horns underrated up front, but they return three starters from a secondary that gave up only 5.7 yards per attempt last season. That was good enough to tie for fourth in the nation, per cfbstats.com.
So, much like Swoopes, Zaire could easily throw his way into a lot of trouble. Or Folston can run like the feature back he wants to be, and the Irish will handle their business.
Prediction: Notre Dame 31, Texas 23
Two things are pretty obvious about this matchup.
The first is that whoever can control the ball will force the other team to get away from what it really wants to do. The other is that Notre Dame has much more talent and experience that says it'll get this done.
However, Texas isn't going to lay down. This is a young team, but it's a young team composed of exactly the type of players Strong wants to go to war with. Even last season, when his defense was shoving opposing offenses into quicksand, there were still some issues with guys being fully committed to the team.
Quandre Diggs: There are guys in this locker room that don't deserve to be there. #HookEm

— Adam Winkler (@WinklerKEYE) December 30, 2014
This time around, Strong feels like his team is buying in:
It's been fun to watch, even with the offensive linemen where guys are still coaching the younger players. But when you take on that type of personality and you start seeing it form as a team, that's what you want to see. What you're developing for them as a team and you watch the confidence, you watch the consistency and you watch guys just all of a sudden begin to pull everybody in and become as one.
These Horns will figure out a way to make this closer than it should be, but the Irish will emerge with a comfortable win. There's just too much skill and experience on that sideline.
Unless otherwise noted, all stats and information courtesy of TexasSports.com and UND.com.