LAS VEGAS — There were only six minutes when LeBron James appeared as if he'd rather be anywhere else Wednesday, and those ticked off—painfully slowly—after USA Basketball's light practice session concluded and after he changed his shoes and clothes while flanked by both his sons. Now LeBron Jr. had taken his tablet elsewhere, so the senior James sat against the wall, rhythmically stroking the face of youngest son Bryce, while fielding media questions about his Olympic intentions.
It hadn't been a surprise James had shown up at the Mendenhall Center since that had always been the plan. But it was a bit of a surprise he had taken the floor even if it was only to test some three-quarters speed low-post moves against 43-year-old Thunder and USA assistant Monty Williams.
James likely could have skipped the entire exercise and still not been subject to the same banishment from USA activities that Derrick Rose received for his unexcused absence here. He's LeBron James, after all, and that means accommodations must be made.
Still, he showed, and he sweated—if just a little—and he smiled with Carmelo Anthony, Chris Paul, Stephen Curry, Russell Westbrook and others, at least until the press session. So in that sense, he met more than the minimum requirement.
"When you're a part of Team USA and you represent your country, this is all part of the process," James said. "I've been part of representing the red, white and blue since I was 18 years old, 19. So it's great to be back and to have an invitation as well."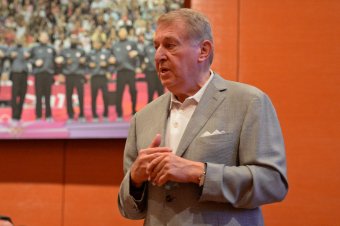 Andrew D. Bernstein/Getty Images
He has another standing invitation, one from Jerry Colangelo, the managing director and chairman of USA Basketball, to be part of the 12-man team that takes on the world in Brazil in 2016. That is already more than many expected considering in the summer of 2013, Colangelo and USA Basketball reportedly had accepted James' international career was complete.
Instead, now there's a chance, whether realistic or remote, James will make his fourth Olympic appearance. He'd pass David Robinson and, provided Anthony receives and accepts an invite, match him with the New York Knicks forward for the most in USA history.
James knew if he arrived here, he would be pressed about his participation, from the media for certain, if not USA officials. And he made it plain that everyone will need to be patient.
"I'm not penciled in as of right now for next summer, but this is the start of the process for all of us," James said. "There's 34 guys here who are going to compete and try to be part of that team for next year, so we'll see what happens."
Well, James is not really competing. He, like seven or eight others here, the elite of the elite, doesn't need to. Nor is he committing, or will he anytime soon.
"All of my decisions start with my family, seeing how my family feels about it," James said. "Then with my health. Going through another NBA campaign, seeing what I can do as far as my team back home in Cleveland, and we'll go from there."
So what if he decides not to go to Brazil as anything more than a spectator?
What if his Olympic record will rest, with 21 wins in 24 games, including 17 straight victories?
That decision shouldn't be controversial in the slightest.
It's not just that he's earned the right to decide how to spend his summers after spending part of 2004, 2006, 2007, 2008 and 2012 playing for Team USA in Athens, Japan, Las Vegas, Beijing and London, respectively, winning bronze, bronze, gold, gold and gold, the last two golds in Olympic competition.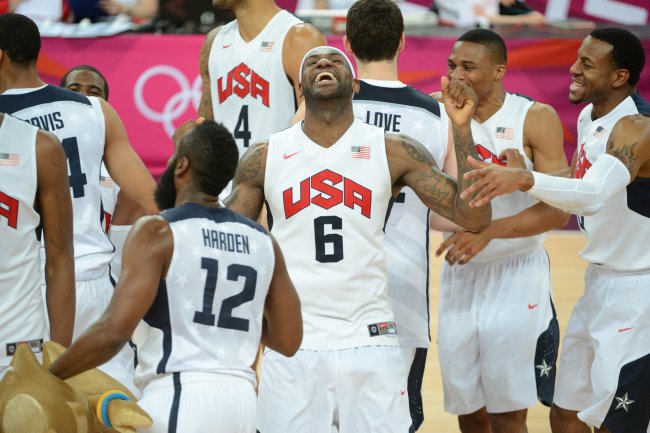 Garrett Ellwood/Getty Images
Though he has.
And it's not just that he will be 31 in December—two years older than when Michael Jordan last represented USA Basketball—or that he's logged more than 43,000 minutes for NBA teams in the regular season and playoffs.
Though all of that is true, too.
The primary point is this:
If the USA Basketball program is truly working as well as even James argued Wednesday that it is, then the presence of the world's best player shouldn't be necessary in 2016. There should be enough young players with whom Colangelo and coach Mike Krzyzewski are sufficiently comfortable, in terms of their play and personality, that at least one more can be elevated to the ultimate international stage as a reward for committing to the country's basketball cause.
So no, it shouldn't be an obligation for the holdovers, the veterans, the known international quantities. Not for James. Not for Anthony. Not for Paul. Not for those who have already hung gold around their necks at least once, and especially if it's been twice.
"I don't think they have an obligation," Colangelo agreed. "I think they are part of USA Basketball because they have really enjoyed their time with USA Basketball. And once they get back in the environment, it's like Carmelo said yesterday, 'I felt like a kid in a candy store, being back.' We know there's a lot of pluses. There's great relationships that have been forged with a lot of these players."
Still, at some point, it makes sense for some new players to get a payoff. That's not to say James, Anthony, Paul or others should be blamed for taking a spot and another shot. But they shouldn't be shamed if they ultimately pass, and it means someone like John Wall, Mike Conley, Kawhi Leonard, Draymond Green or Jimmy Butler gets a chance.
Naturally, if there's no hope of advancement from practice sparring partner to Olympic participant, then more rising stars are likely to do what Damian Lillard did this summer and skip the warm-up proceedings.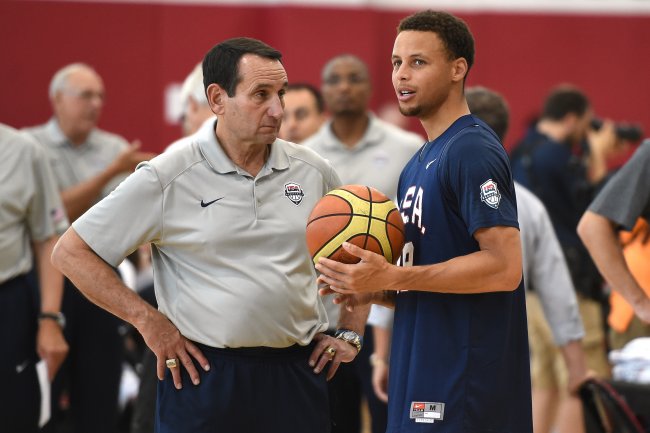 Ethan Miller/Getty Images
Krzyzewski spoke of how, with each of the past four USA teams he's coached, two in the Olympics and two in the World Championships, "There's always been somebody new. Even in '12 in London, you had a number of Beijing guys, but then you had World Istanbul guys, but then you added two guys called [James] Harden and Anthony Davis.
"And all of a sudden, this past summer, this is the first time [Kyrie] Irving is playing. Curry for the second time. Klay Thompson is valuable. DeMarcus [Cousins] made a huge impact on the team. So now we not only have a pool of players, we have a pool of gold-medal winners. But you still have to bring new guys in because it's going to keep coming."
So how does Colangelo balance the roster between proven Olympic winners and promising newcomers?
"You've asked a very good question," he said. "It's very hard to keep all the balls in the air and satisfy all the different things that you would like to. Every time we talk, we could conceivably get down to 16, 17, 18 players on the top 'A' team. Getting to 12 is a killer. It really is.
"Part of it will be done for us: contract situations, injuries; things are going to happen between now and next summer. So maybe some key guys won't be available for one reason or another. That opens the door for someone else.
"And we keep saying that it's not an All-Star team. It's not the 12 best players. We do want role players. We have to determine what's the most important thing. Do we want an extra big? Do we want another defender? Do we want another three-point shooter?"
They want James, though.
Of course they do.
Of course they should.
Krzyzewski even said, when asked about the significance of James and Anthony potentially playing a fourth time, that it showed "what kind of guys they are."
"There are a lot of people who are one-way," Krzyzewski said. "What's in it for me? Not two ways. They are two-way guys. They want something good, but they want to give something, too. They're terrific. They're not good. They're terrific. And they're great, great guys."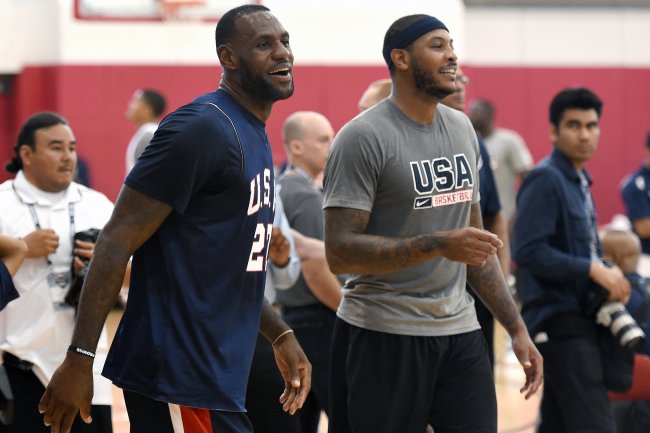 Ethan Miller/Getty Images
They've provided great international memories.
They've done so in part because, as James said again Wednesday, Colangelo and Krzyzewski brought back pride "in what it truly meant to represent your country."
"Once they implemented the system," James said, "everyone fell into place."
So what if he doesn't next time?
It's foolish to consider that a failing.
It's just due to the passage of time and provides a chance for a rite of passage for others.
"I've given everything to the NBA, and I gave it all to USAB as well," James said. "If I'm fortunate enough, if I'm healthy enough, and my family is willing to allow me to be part of it, that would be great. But we'll see."
We'll wait.
Ethan Skolnick covers the NBA for Bleacher Report. Follow him on Twitter, @EthanJSkolnick.