After his Golden State Warriors reached the NBA Finals for the first time in four decades, their first-year coach, Steve Kerr, summoned a statement that, as he acknowledged, originated with Pat Riley. It was the quote about how, in sports, there is winning and there is misery, and there is no in-between.
That's the view of many coaches on a game-to-game basis. But, for an NBA franchise in a macro sense, the truest misery may actually be the in-between, in the NBA's vast, vacuous middle, above the teams clearly taking a rebuilding posture but still beneath the short list of legitimate contenders.
Those "good" teams don't generally have it so good.
"Every situation is a little bit different, but the one place you don't want to be in the league is in the middle," said Bryan Colangelo, a former GM for the Suns and Raptors. "If you just get to the playoffs, and your fanbase is comfortable with that—which you know is not the case anywhere—that's a bad place to be."
Seemingly solid ground can quickly turn to quicksand.
"The old theory is that being stuck in the middle is the most difficult thing to get out of," said John Hammond, GM of the Milwaukee Bucks since 2008. "At some point, you've got to make that decision: Is there a decision to rebuild?"
That choice comes down to honest examination of this question:
Does the team, as currently constructed, truly have the capacity to get from good to great?
"It's the hardest thing," said ESPN analyst Amin Elhassan, a former Suns executive. "There's no how-to guide or anything like that."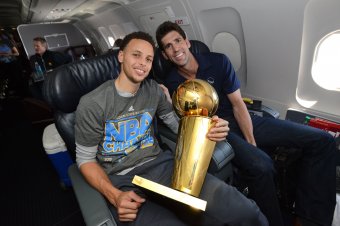 Noah Graham/Getty Images
It's a question that Bob Myers, the Warriors GM, always knew he would need to ask himself at some point after his initial hire as Golden State's assistant GM under Larry Riley in April 2011, and especially after his promotion, one year later, to the top post. Before leaving the agent space to join the Warriors front office, he had sought the advice of many executives, including Chris Wallace, a longtime veteran of NBA front offices.
"He said something that resonated with me: 'It's a lot harder to go from good to great than from bad to good,'" Myers said. "Because, when you're bad, you throw anything at the wall and see what sticks, because if it doesn't work, you're still bad. But when you're good, it's a lot harder to take risks, because, if it doesn't work, you may go back to bad. So getting from good to great requires luck, it requires health, it requires probably drafting well. ... A lot of different ways to do it. Hard work, perseverance, I don't know—there's no easy shortcut to it."
Myers' Warriors did it last season, elevating from 47-35 and 51-31 seasons to a 67-15 romp, and a championship.
But the path isn't so clear for every team trying to escape the depths of the NBA's "Middle Earth."
---
What is a good team, and how does it differ from a great one?
That's a bit difficult to define.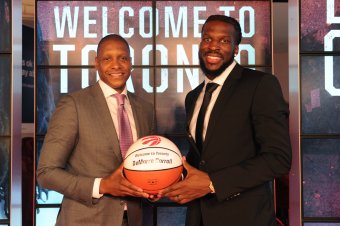 Ron Turenne/Getty Images
Take the Hawks. They were great for most of the regular season, but most observers never quite bought it, to the point that ESPN analyst Jon Barry told Bleacher Report during the conference finals that it would be a "tough decision" to decide whether to bring back the group intact, since "there's no guarantee they would be as good next year." And they didn't, re-signing Paul Millsap but letting DeMarre Carroll go to Toronto, while trying to shore up their interior defense by trading for Tiago Splitter.
Or what about the mass of teams out West, those not in Golden State or San Antonio—which even in a down year seems just great-in-waiting—that keep winning 50 or more games but clearly have needed tweaks to take the next step?
The Trail Blazers and Mavericks certainly qualified in that category, and you can argue that the Grizzlies, Clippers and Rockets did too, even with their lofty victory totals, since none of their current cores have reached an NBA Finals together. The Pelicans and Thunder, with 45 wins apiece, were "good" too, though, again, the Thunder's talent level, when healthy, puts them on a higher tier. And in the East, the Bulls, Raptors and Wizards, with 50, 49 and 46 wins, were good last season, with the Bucks (41) and Celtics (40) only qualifying on the East's generous grading curve.
Of all of those teams, only one, Portland, has clearly tapped out of the fight, at least for now, even if that wasn't its original intention. This was evident even prior to free agency starting on July 1, when the Trail Blazers, who had gone 105-59 the past two seasons but won just one playoff series during that time, traded longtime starting small forward Nicolas Batum to Charlotte for Gerald Henderson and young piece Noah Vonleh. As former Brooklyn Nets executive Bobby Marks observed on Bleacher Report Radio on June 28: "Well, it usually comes with your star player. I think what we're seeing in Portland is that they realize there's a strong chance that LaMarcus Aldridge can go to another team in free agency. And it's when do we cut bait, and start building around some other players?"
That assessment proved correct, when not only Aldridge left for San Antonio, but Wesley Matthews left for Dallas and Arron Afflalo and Robin Lopez left for the rebuilding Knicks, leaving Damian Lillard as the only stalwart holdover. Portland's predicament represented one of the hard truths of team-building or, in this case, team-toppling.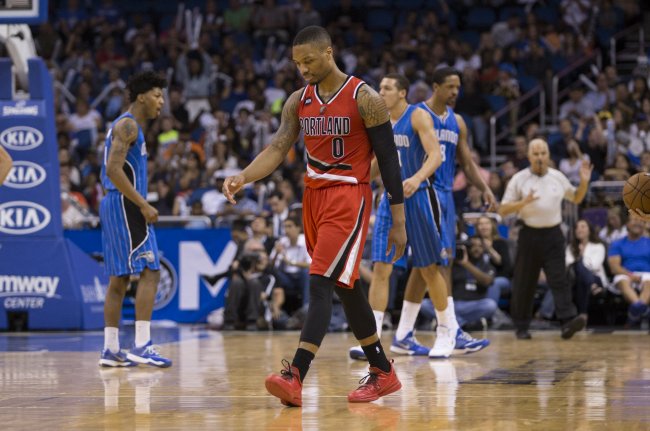 Willie J. Allen/Associated Press
"You just kind of have to go with the flow," Elhassan said. "And sometimes that decision isn't made by you as an organization. Sometimes circumstance pushes you into that direction."
The "Seven Seconds or Less" Suns won 62, 54 and 61 games in 2004-05, 2005-06 and 2006-07, and were 35-15 in 2007-08 when Kerr, then their GM, made a major move.
"We were very competitive, had a couple of cracks at winning the title and, for whatever reason, things would happen and we just couldn't get over the hump," Elhassan said. "We ended up trading Shawn Marion for Shaquille O'Neal. And a lot of people saw that as a panic move."
One meant to finally cross the rickety bridge from good to great.
"The thing that a lot of people don't realize..." Elhassan continued. "Yes, on some level, we were tired of getting posted up by Tim Duncan and we were tired of that being an issue. But on a completely different level, Shawn Marion wanted a maximum-level extension and that was something we weren't prepared to pay him. So his agent and his representatives basically made life miserable for us, and that was something where we wanted to get out of dealing with that situation."
Not just that one. Phoenix wasn't enamored with the contract it had given Marcus Banks.
"We wanted to get rid of that situation as well," Elhassan said. "Those things all conspired to Miami saying, 'Hey, we'll give you Shaq, we'll give you our problem for your problem.' Deal. And basically our franchise changed drastically overnight after that, and it didn't quite work out as far as us getting better or winning a championship."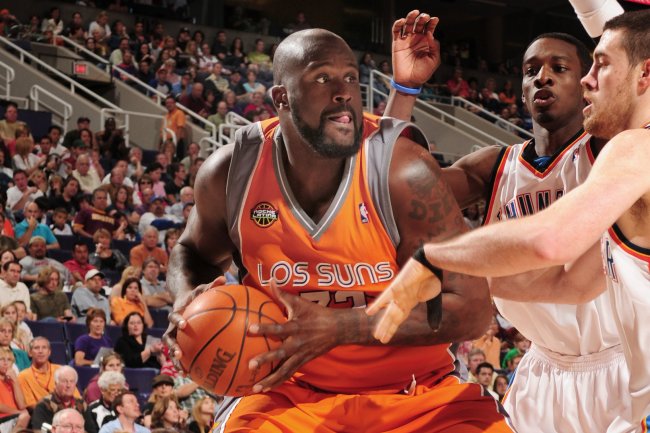 Barry Gossage/Getty Images
Eliminated in the first round that postseason, the Suns reached the conference finals two years later but haven't made the playoffs in the five seasons since, even as they got back to "good" in 2013-14.
"But sometimes that's not up to you," Elhassan said. "Sometimes the basketball gods have other plans."
Sometimes, they are so powerful that even the most powerful men in the sport must fall in line. ESPN analyst Tom Penn, who worked in the Trail Blazers' front office from 2007 to 2010, noted that the build-up-or-break-down decision is typically "very owner-driven," based on the identity and tenure of the man who signs the checks. "Paul Allen is not into a five-year plan," Penn said of the Microsoft co-founder, who has owned the Trail Blazers since 1988 and has guided the Seattle Seahawks to two straight Super Bowl appearances.
And yet it may take that long, even after reacting to the Aldridge departure by adding some functional pieces such as Ed Davis, Al-Farouq Aminu and Mason Plumlee, rather than taking the Philadelphia route and totally blowing everything up.
"(Owners) Josh Harris and Dave Blitzer (in Philadelphia), for the long haul, totally bought into that as the way to do it," Penn said. "The challenge is, when you dig the valley so deep, there's no guarantee you get out on the other side either way."
---
Jon Barry played for eight different organizations during his NBA career, and Atlanta twice. The best of those teams was in Sacramento, a three-season stint in which the Kings, around a nucleus of Chris Webber, Vlade Divac, Jason Williams and Peja Stojakovic, climbed to the second round in 2001. There they were swept by the Lakers. Barry was traded to Detroit the following September and watched from afar as the Kings lost again to the Lakers in the playoffs, this time in the Western Conference Finals in seven games.
The Kings took a couple more shots with that same core, losing in seven games to the Mavericks and Timberwolves in the second round each of the next two postseasons.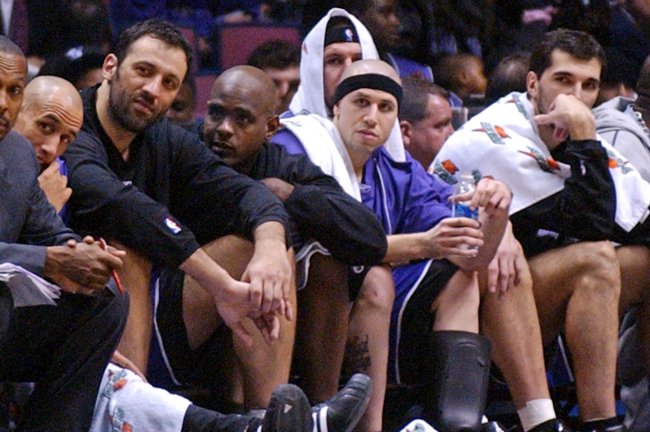 BILL KOSTROUN/Associated Press
When should a team break it up and start from scratch?
"It all depends on who you are," said Barry, now an ESPN analyst. "If you're an owner, and that's what you want, you want to win 50 games a year, and you want to have fans in the stands that are happy. Or do you want to roll the dice and try to win a championship?
"(Clippers owner) Steve Ballmer, to me, is the guy who is going to be like: I don't give a s--t, whatever it takes, here's the money, go do it, at all costs. It depends on what you want as a franchise. You remember Milwaukee, for all those years? They were great teams. Moncrief, Paul Pressey. They were always great. They could never win. But they were content in Milwaukee, because it's Milwaukee. But I don't know how that's accepted in New York."
It's complicated. While Barry warned that all teams should avoid too-quick teardowns just because they're having trouble getting over the hump ("typically, you've got to take your lumps," he said, mentioning the trouble that Celtics and Pistons champions encountered in the 1980s), he acknowledged that modern-day Memphis "has kind of been the same for like five years now. Good team, no one wants to play them, but not good enough to win it. They are kind of locked into that. They haven't really changed the makeup of their team."
In fact, the Grizzlies, with winning percentages of .561, .621, .683, .610 and .671 the past five seasons, doubled-down on "grit and grind," re-signing cornerstone center Marc Gasol and adding another agitator in Matt Barnes.
Penn had no problem with that.
"There's a difference between being a good team and being very good," Penn said. "When you're very good, you've got a chance to be great."
Or, as Marks put it: "If you're in Memphis, the big thing with them is health. How can you stay healthy for an 82-game season? When you get to the playoffs, have a healthy team? That team is built, right now. So it's tricky there, in they are a little bit depleted too, because they've traded a bunch of first-round picks in the future. So it's not like they were gonna say, 'Hey, you know what, we're gonna let Marc Gasol walk, and we're just gonna break it down and rebuild it.'"
The Grizzlies have already tried one of the other increasingly common tricks: changing coaches during the course of a successful run. They did that after winning 56 games in 2012-13, switching from Lionel Hollins to Dave Joerger. They've been roughly the same since.
Of course, the counterexample—and one the Bulls and Thunder are following—is Golden State, which made only minor changes to personnel (adding Shaun Livingston and Leandro Barbosa) but a major one on the sideline, from Mark Jackson to Kerr.
FREDERIC J. BROWN/Getty Images
Myers called that all part of the evaluation process, of everyone in the organization, when a team seems stalled at "good." And he called changing the coaching staff "one way to do it. But I don't know that it's a panacea. I don't think it fixes everything. You still have to have a good roster. It's just another factor in determining whether you think your organization is in a place where it can sustain itself or you have to make a change."
Chicago determined it was time to move on from Tom Thibodeau after a 255-139 record, and Oklahoma City determined the same about Scott Brooks after a 338-207 record, including 316-160 over the past six seasons. Still, that wasn't enough for either man to keep his job, not with Oklahoma City trying to win a title before Kevin Durant becomes a free agent, and not with Thibodeau sparring with Bulls management about nearly everything.
Should either Fred Hoiberg in Chicago or Billy Donovan in OKC get his new team to take the step toward great, you'll probably see even more teams taking this approach, a trend that will be troubling to many current and former coaches, including ESPN analyst Hubie Brown.
"One thing you can't do is you can't underestimate what management is thinking, whether attendance is not matching the cap, all things that go in the boardroom that the coach and the players have no control over," Brown said. "Then it comes down to, is the coaching staff getting the most out of the talent? Now I want to know, who is evaluating that? Because many times it's unjust. They fire the coach, they bring in another guy, they win less games. They fire the coach, they bring in a coach that is making less money. There's all kinds of things that go into this. And if you have a general manager and player personnel guy [who are] more influential...and [those two guys] have a higher opinion of the talent, the coach is in trouble."
Brown said that for all the financial perks, loyalty doesn't work both ways. "A year ago, if [Andrew] Bogut and [Festus] Ezeli play in the playoffs, who is coaching Golden State this year?" Brown said, rhetorically referring to Jackson. "That solved that. [Golden State management] would have backed right off, because the Warriors would have kept going. You look at Oklahoma City. Overvalued. Because they got there once. And now they can't handle the injuries. And all right, what happens now, the coach has gotta go. They got to blame somebody here. And then look at what happened in Chicago. That's a disgrace. ... You name the top two or three coaches, [Thibodeau] has got to be one of them."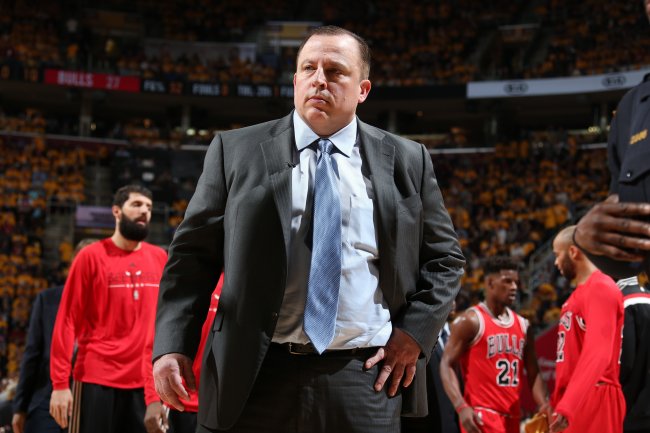 Nathaniel S. Butler/Getty Images
And yet, the cold, hard facts say that Thibodeau never quite got them to the place that may have saved his skin, even as he feuded with the front office.
He never got them to great. Neither did Brooks. So both got axed.
---
There was talk that the Raptors might take that same tack this offseason, especially when, after their hot start petered out, they were swept in the first round by another "good" team, the Wizards. Toronto's GM, Masai Ujiri, decided otherwise, so Dwane Casey will return to coach a team that appears about equal in overall talent, with DeMarre Carroll and Bismack Biyombo in for Lou Williams and Amir Johnson, but which hopes to stop going sideways by shifting its emphasis to the defensive end.
Toronto is an interesting case study in the difficulties of going from good to great, largely because the Raptors, under a number of regimes, have never actually done it. A promising future in the late 1990s and early 2000s was short-circuited by the departures of Vince Carter and Tracy McGrady. They won 47 games in 2006-07 before slipping some the next three seasons and then losing Chris Bosh to the Heat. Now they've gone 97-67 the past two seasons, but it's a stretch to see how they elevate to another level.
Colangelo, who was the GM from 2006 until Ujiri replaced him in 2013, had helped build a very good team in Phoenix and won his second Executive of the Year award while with Toronto in 2007. He knew too well how tough it was to take the final step and the tough decisions that would come at some point, especially when your team doesn't play in a traditional power market.
"You want to try to get to the top, but the reality is if you decide to break it down, you better have a plan of patience, you better have some time, you better have the stomach for it and, if you're the executive, you better have a contract where you are going to outlast it," Colangelo said. "It's sometimes not the case."
It wasn't for him, especially after Bosh bolted.
"When I decided to finally break things down in Toronto, I knew it would take a few years," Colangelo said. "And I didn't, quite frankly, think I was going to make it to the end, and I didn't. But at the end of the day, the pieces that I was acquiring, the decisions that were being made, they were long-term decisions. Drafting (Jonas) Valanciunas, knowing he wasn't coming over (the first season). Signing DeMar DeRozan to a contract that was really on the come, so to speak, where you were waiting for him to develop into the player that the contract justified. Making selections and going about it the right way. Sometimes, again, you don't have enough rope to get to the end. But if you are really thinking about breaking it down, you better have the stomach for it."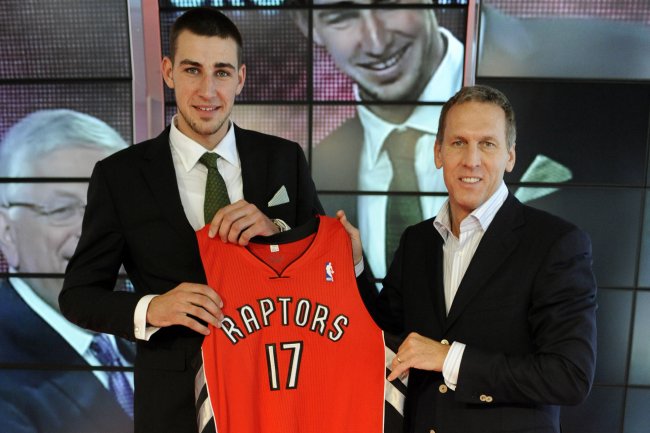 Ron Turenne/Getty Images
Ujiri had just won the 2013 Executive of the Year award when Toronto hired him away from Denver. He was expected to reshape Toronto even more than Colangelo had, and he didn't disappoint early, trading Rudy Gay. But then the team surprisingly took off, and so Ujiri has mostly tweaked around the edges since, re-signing Kyle Lowry while keeping DeRozan and Valanciunas.
He agrees with Myers that it's much easier to go from bad to good than from good to great.
"There are so many things—luck, injuries, expectations," Ujiri said. "It does take a lot of mental capacity. You have to be strong-minded. Then you think about chemistry. You think about philosophy. You think about your style of play, the offensive end, the defensive end. So many things have to come together to go from good to great. That's what we should be able to do, but that's the tough part."
The average age of the core matters, as well, Ujiri added, as does "where our players rank among other teams and NBA teams, and what the results have been for us."
So far, Ujiri is trying to do what's known as "building through the middle," even though he believes, as others do, that teams typically need some top-five, or even top-three, picks to reach the pinnacle.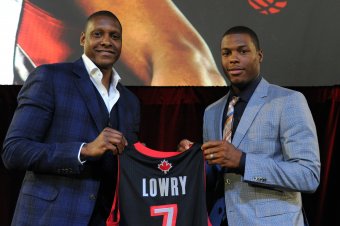 Ron Turenne/Getty Images
"But at the end of the day, you have to draft well, you have to pick good players," Ujiri said.
Golden State stands as the shining example for "building through the middle," though Myers concedes that "it's easier to draft an impact player from one to five than six through 12."
"But I think it was fortunate for the regime prior to me to get Steph (Curry) at seven, for us to get Klay (Thompson) at 11, Harrison (Barnes) at seven, even Draymond (Green) later," Myers said. "So you have to hope you draft well and you can put a string of good drafts together. But the Warriors drafted in the lottery for many, many years, so you figure at some point, the luck will turn your way. But it is probably easier to somehow fall into that No. 1 spot and grab an Anthony Davis and that be your path. But that's hard to do too, because you've got to have some luck to get that pick. And get the one pick in the year where there is a great player."
And of course, for that, the 76ers are the current cautionary tale. After the organization was good in 2011-12, went for broke with Andrew Bynum and then hired GM Sam Hinkie to sink the team to the bottom, the lottery has not fallen their way the past two seasons, yielding a pair of No. 3 picks.
So maybe good isn't so bad for everyone.
The Suns and Bucks, at their current stages of development, are two of the teams that wouldn't quarrel with that label this season.
Phoenix was the NBA's biggest surprise with 48 wins in 2013-14 before slipping to 39 last season. Milwaukee carried that unofficial title last year after winning 41 games after a 15-win campaign the season prior. Both know that building through the middle may be the reality for a while.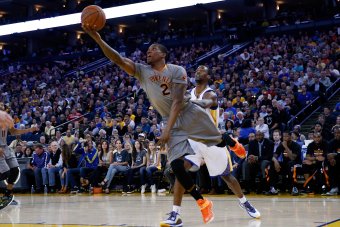 Ezra Shaw/Getty Images
"If you look at the recent history in the NBA, I think there are a few teams that have built through the middle, as we call it, pretty well, picking in the late lottery," Suns GM Ryan McDonough said, mentioning Indiana and Houston also, even as both have typically picked later. "It is a challenge. But at the same time, if you bottom out and pick in the top five, there are no guarantees that way either."
McDonough insisted that the Suns have "done a pretty good job of balancing it. We've acquired draft picks and young players. We've tried to develop them. At the same time, with a young team in the Western Conference, we've won 87 games in the past two years. And we've taken big swings in free agency. I think we were one of the few teams that was in the mix for LeBron a year ago, and LaMarcus Aldridge this past year."
They didn't get either, of course, and weren't especially close with James. But McDonough thinks the Suns are positioned to rise from pretty good to borderline great by keeping the core together and adding one premium piece "just by virtue of the salary cap spiking next summer."
The Bucks have the benefit of playing in the weaker East, and their young core—with Jabari Parker and Giannis Antetokounmpo—appears to have even more upside than Phoenix's. They've also recently undergone an ownership change, one that GM John Hammond suggests has altered their philosophy some.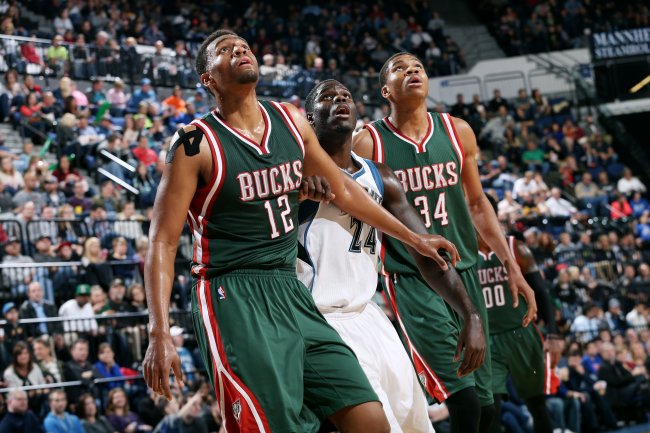 David Sherman/Getty Images
"(Former owner Herb Kohl's) philosophy was, at that time, to be as good as we could possibly be," Hammond said. "And there's the word: as good as we could be. And I think the change in ownership, we're not talking about trying to be good anymore. We want to try to be a championship-caliber team."
That may play out slowly. Hammond noted how Bucks coach Jason Kidd recently said they "may have to just go from good to good."
"And I think some people took that the wrong way," Hammond said. "But his point was that we still have to take that next step. And that next step is to be good again. One year being good is not enough. So we may need to be good again, and good the year after that, and maybe the second or third year. Then maybe you are trying to move toward that greater mark."
Will they get there?
Will any of the aforementioned teams?
"It's a tough thing, you know," Ujiri said. "Sometimes you build and build and there's a lot of luck to it, because other things now come into play, like injuries, and that slows it down, or a bad year. So I don't think there's an exact science to it. We all have what we think in our heads."
He laughed.
"I'll keep that one to me."
Good—rather, great—idea.
Ethan Skolnick covers the NBA for Bleacher Report. Follow him on Twitter @EthanJSkolnick.