Amid the endless stretches of brown at Chambers Bay, another color rose just as the sun set on the 2015 U.S. Open. It was gold, the color of the new era that dawned for golf on Sunday.
Jordan Spieth's survival in golf's toughest test unmistakably signals that the game has moved on to new hands. New and young.
With victories in the year's first two majors, Spieth has served notice he'll be around for a lot longer than 15 minutes of fame. At 21, he showed remarkable technique, drive and resilience, winning with a clutch birdie on the 18th hole right after he butchered No. 17 with a double bogey.
So don't be afraid to say it. The coming years for golf could be every bit as good as the era of Jack vs. Arnie, or Tiger against the world. That's how good the future looks after seeing Spieth blindside the game's veterans twice in a row for two of the sport's biggest prizes.
The kid is a lovable robot. Wind him up and he goes on attack, jabbering all the way. He agonized over missed putts but never pouted. His body language begs for an audience, and he never sulks. His two majors before the age of 22 also give him an accomplishment Tiger Woods never managed.
And he is playing so incredibly well at the moment that there's a tremendous temptation to declare him one-of-a-kind. Except for one thing, or rather one human.
That would be 26-year-old Rory McIlroy, winner of the last two majors of 2014.
If golfing gods truly exist, then they will be certain to have these two unstoppable forces collide next month, when the game returns to its most sacred turf.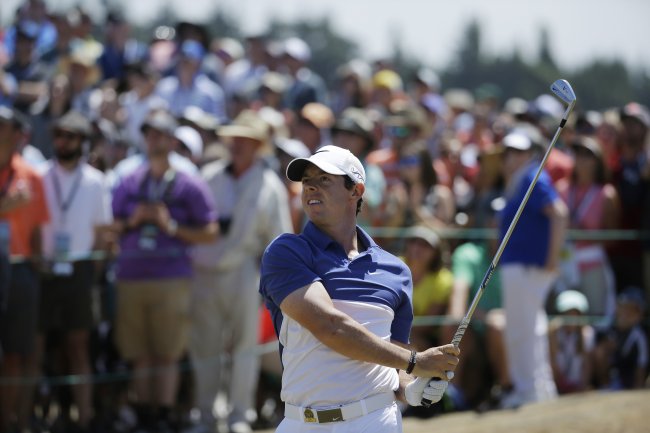 Ted S. Warren/Associated Press
The British Open at St. Andrews appears fated to at least temporarily settle the score between the game's two greatest young guns.
McIlroy will try to become the British Open's first repeat winner since Padraig Harrington in 2007-08, while also seeking his fifth major.
Spieth, who will still be eight days shy of his 22nd birthday when the Brit ends, will attempt to become the first player since Ben Hogan in 1953 to win the first three majors of the year. Doing so would position him to be the first player to sweep all four of today's majors in a single year and complete the Grand Slam.
Spieth and McIlroy both have looked invincible once they've gotten into the thick of the hunt for a major title, as if the more that's at stake, the more bulletproof they become.
Think that will provide enough drama going in?
As BBC Sport golf analyst Iain Carter wrote:
This was one of the great final days in major championship golf. It confirmed, if confirmation was needed, Spieth's superstar status. He has proven himself in vastly different environments of the Masters and the U.S. Open. Now all four major titles lie in the hands of two men and there is no doubt golf is currently all about his rivalry with McIlroy.
But the golden era that's dawning for golf isn't dependent on Spieth and McIlroy staying hot every weekend. The number of new Jason Day fans might be in the millions after seeing the Australian make uncanny shots even while swirling with bouts of vertigo at Chambers Bay.
The storyline of Dustin Johnson also grew more prominent. Seeing Johnson three-putt away a chance for his first major was painful. But now it's even more compelling to see whether he can shed the dreaded title of greatest active player never to win a major.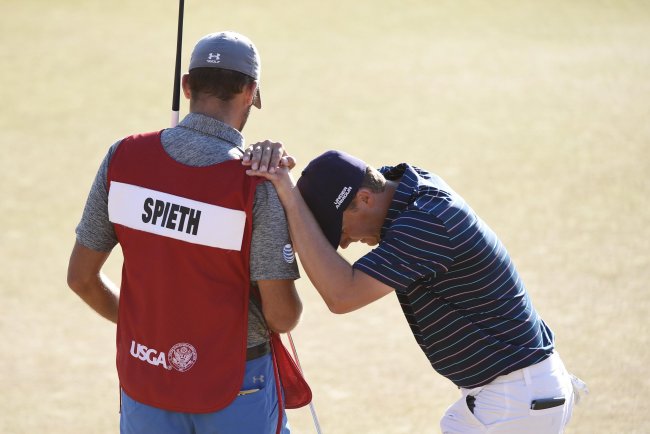 Kyle Terada-USA TODAY Sports
The real winners of this youth movement and overhaul of the marquee will be golf fans, who no longer have any need to toss and turn about what will happen when Tiger exits the main stage.
Spieth and McIlroy are rendering the old guard irrelevant, and it's a joy to see. Monday morning conversations about a golf tournament are far more enjoyable when they focus on triumphs rather than a fading star's latest round of 80.
There are times when Spieth's boyish face looks like it hasn't sprouted whiskers yet, but there's no doubting he's already wise beyond his years. Sunday's round called for extra patience, because many of his putts weren't falling and some of his drives were swallowed up by Chambers Bay's strange contours, but it was like he tapped into a secret supply of maturity.
You can see that his mind is always working, and that he's probably already contemplating St. Andrews instead of counting the $1.8 million he won Sunday.
Spieth has a piercing stare when he eyes the cup, and there's purpose in every stride he takes. He's a Texan all the way, with an abundance of confidence, but none of it is brash or offensive. Get ready to see plenty of his engaging smile, because he's the new face of American golf.
And even if St. Andrews doesn't deliver a Spieth-McIlroy showdown, it's inevitable that we'll see these two in the final pair at a future major, and perhaps many of them.
Tom Weir covered several majors as a columnist for USA Today.